At Tokyo's Hie Shrine, celebrating the full moon
---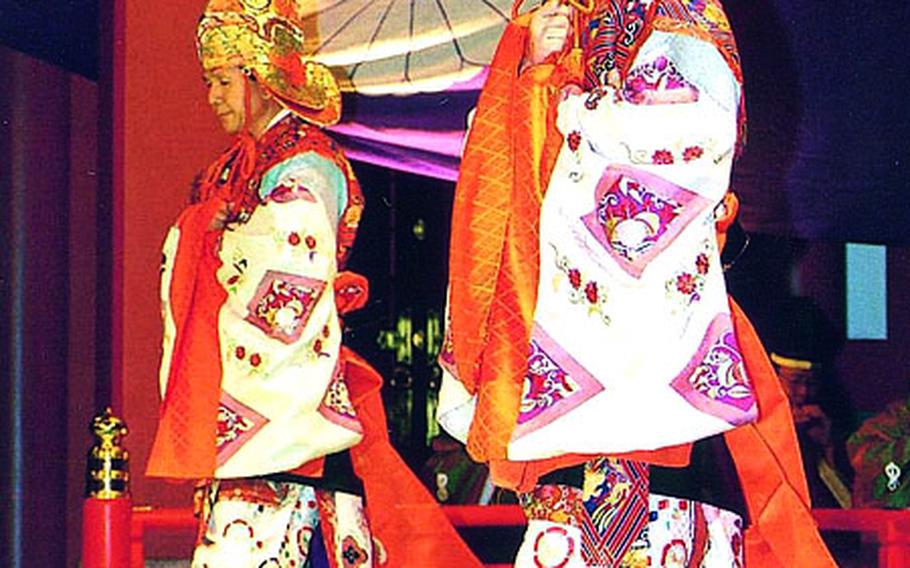 Tsukimi, or moon viewing, is a popular poetic and elegant pastime in Japan.
Cool breezes and the chirping of insects announce the arrival of autumn, and the sky is clear and high with a bright moon.
During the Heian period (794-118), the Japanese adopted the Chinese custom of moon viewing on the 15th day of the eighth month in the lunar calendar. The day was celebrated by writing poems and playing music. The custom spread among the nation in later years.
Now, people place ornaments and offerings next to windows and on verandas where one can see the moon. Vases are filled with pampas grass and autumnal herbs; seasonal foods such as dumplings, pears, persimmons and grapes are placed on dishes.
Hie Shrine at Akasaka, Tokyo, revives the ancient celebration of the autumn full moon, holding a concert of ancient court music and dance Sept. 11. Traditional court dances accompanied by an ancient Japanese orchestra will be performed from 6 to 9 p.m. at the compound of the shrine. Kagura dance by miko (shrine maidens) will also be performed. Moon viewing is a common theme in Japanese poetry in Waka and Haiku and many good poems were written.
Haiku greats, Matsuo Basho (1644-1694) and Kobayashi Issa (1763-1827), wrote famous poems about the full moon in September.Matsuo Basho:Meigetsu yaIke o MeguriteYomosugara.(The Full Moonpromenading the pondthe whole night through.)Kobayashi Issa:Meigetsu o TotteKurero toNaku Ko kana.("Catch it for me!"the child criesfor the Full Moon.)
¶ Hie Shrine in Akasaka, Tokyo; Access: Chiyoda Line to Akasaka Station, Marunouchi Line to Akasaka Mitsuke Station, Ginza Line to Akasaka Station, and Hanzomon Line to Nagatacho Station; admission 3,000 yen; 03-3581-2471
---
---
---
---