At Ronneburg Castle, medieval characters come out to work and play
by
Michael Abrams
September 27, 2007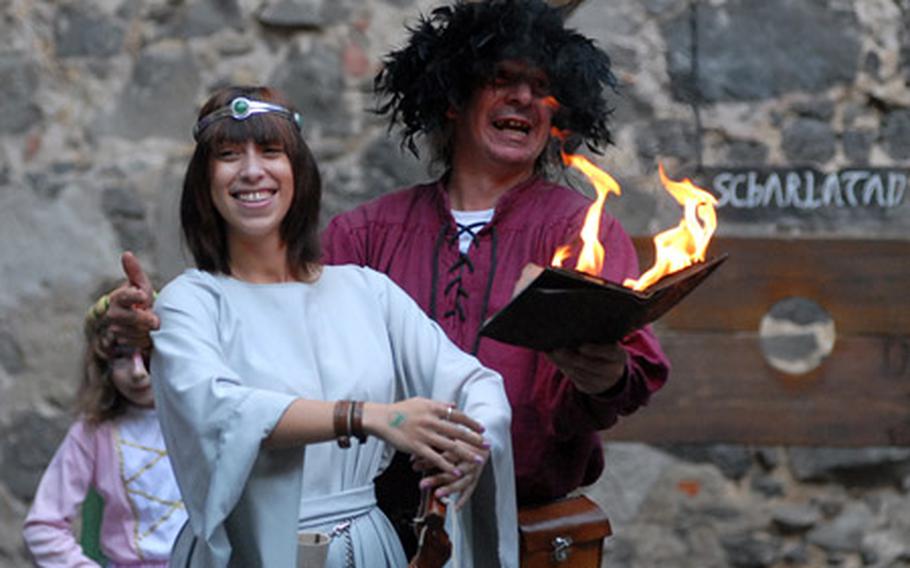 When people talk about the "good old days," they probably do not mean the Middle Ages. It was a time of plague and cholera, Crusaders and invaders. Peasants worked from dawn 'til dusk and lived in houses with dirt floors. Even the nobility lived in castles with little sanitation and limited heat.
Yet thoughts of medieval times conjures up knights in shining armor and the age of chivalry — a dashing man in chain mail saving a damsel in distress.
On the next two weekends, you can travel back in time to the Middle Ages at Ronneburg Castle's Medieval Castle Festival in Honor of the Holy Grail.
There you will find sword-fighting knights, jugglers, thespians, magicians and musicians, all dressed in period costume. There also will be blacksmiths, a spoon-maker, a shoemaker, a bow-maker, a jeweler and a spinner, all practicing their trades.
There is plenty to eat and drink, too. Dark Ritterbier, or knights' beer, served in clay mugs; mead, the wine of old, made from honey; skewers of grilled meat; Dinnerle, flats of dough topped with cream, onions and bacon; and sausage baked in bread dough, to name a few medieval treats.
If you want to look the part — and have some money to spend — you can buy all a knight or a peasant needs at the market on the castle grounds. Merchants sell everything from armor and swords to medieval-style shirts, blouses, dresses and shoes.
While you are enjoying your stroll through the Middle Ages at Ronneburg, watch out for Bernhard de Gault, the self-proclaimed beggar king. If you don't put a coin in his purse, he will put a curse on you.
E-mail Michael Abrams at: abramsm@estripes.osd.mil.
Know and go ...• Dates: The medieval festival takes place 11 a.m. to 7 p.m. Saturday and Sunday (Sept. 29-30) and Oct. 3, 6 and 7.
• Costs: Entrance fee is 10 euros for adults and 6 euros for children 5 years old and older. A family with one child pays 23 euros and families with two or more children pay 28 euros. Parking at the castle costs 1 euro.
• Getting there: To get to the castle, exit Autobahn A 66 at Langenselbold and follow the signs to Ronneburg and Burg Ronneburg. It is well marked.