Apulia: Car trip to Italy's 'heel' has its ups and downs
by
Leah Larkin
July 7, 2005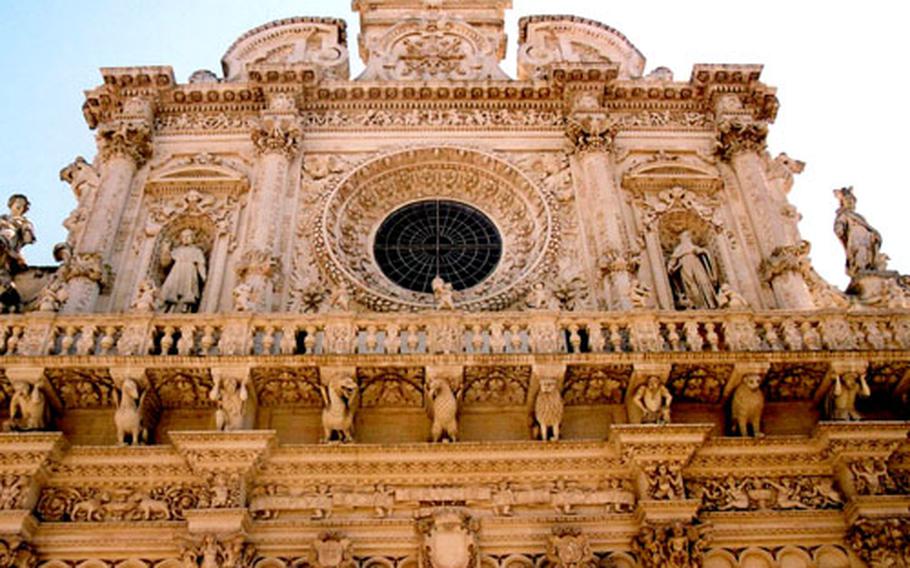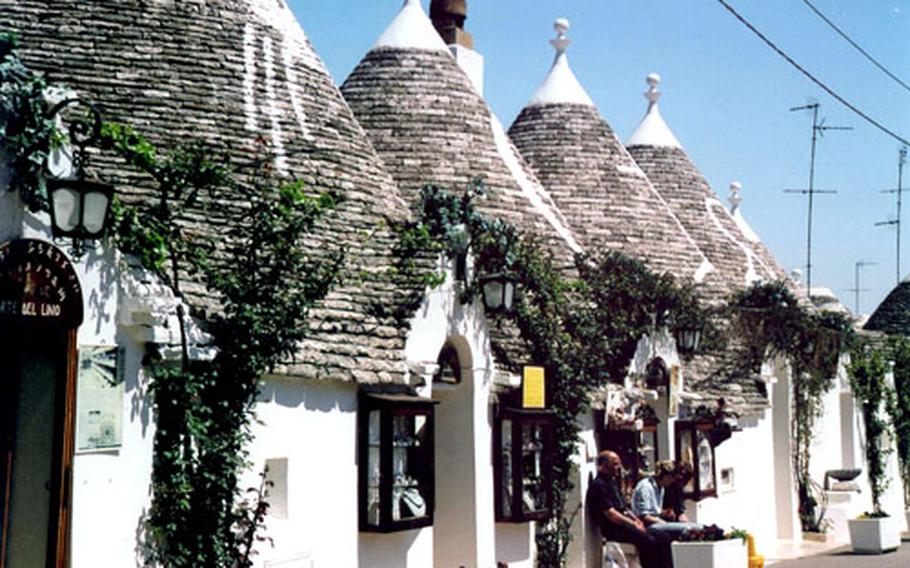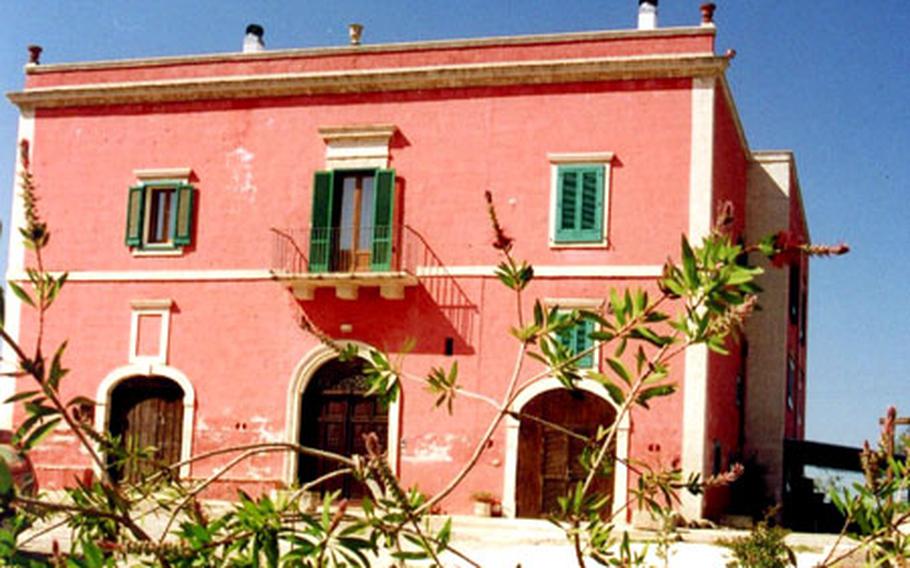 We drove some 3,100 miles and spent 446.26 euros on gas, 85.60 euros on tolls and much more for food and lodging on a two-week trip in late April to the bottom of Italy.
Was it worth it? Probably not.
That's not to say that everything about the trip to Calabria and Apulia was bad. My husband and I saw some interesting sights and beautiful scenery. But we had expected more — and far too much driving was involved to get to the main attractions.
A German wine merchant, who felt the wines from Tuscany and Piedmont were overpriced, told us southern Italy produces great and reasonably priced wine. That did it. My husband, who has a passion for wine, wanted to go to the source. Besides, we both love Italy, and this was a part of the country we had not seen.
Unfortunately, we found no estates where we could taste and buy wine. We stayed mainly in agriturismo lodging, where bed, breakfast and home-cooked meals are offered. The food was good, but not scrumptious. In the towns along the route, ancient churches beckoned for a visit. We found most closed.
On a positive note, some of the countryside and beaches are lovely. But we didn't travel that far for a beach, and we think the scenery in northern Italy can match — or top — that of the south.
We started our trip in the middle of the country, in the province of Le Marche, with an overnight stop in Sirolo, a coastal village south of Ancona. It was not until Day 3, after some difficult driving through hills and along the coast, that we finally made it to the northern part of Apulia, the province of Italy's heel.
It's a long strip of land, 248 miles from north to south, which, throughout its history, was invaded and conquered by just about every major power of the day. The Greeks to the Spanish all left their mark, but it was the Normans who left what is considered the province's rich treasure: ornate cathedrals.
In the north of Apulia, the coast juts out into a large bump, the Gargano Promontory. We followed a scenic route around the peninsula. At first it is flat, through territory where olive tree stands seem to stretch forever. Then the route starts to climb, twisting and curving above the coast with breathtaking views. In the distance was a cluster of white houses atop a rocky precipice — the town of Peschici, where we stopped for lunch.
We had been spending too much time in the car. We needed a break and decided to seek out a beach hotel. The nearby town of Vieste had what we wanted. It was too cold for swimming, but we took a long walk on the beach, watched kids play soccer and enjoyed just hanging out.
We continued around the peninsula the next day, driving past gorgeous beaches, campgrounds and vacation villages, all waiting for the tourist season to begin. We stopped twice on our way south to Monopoli and the agriturismo where we had reservations. The first was at the town of Trani. Our guidebook recommended a visit to the cathedral, but it was closed. We settled for a nice lunch and a walk around the harbor.
Next was Bari. Here we were lucky. Both the cathedral and the Basilica of San Nicola were open. In the crypt of the latter, a stark, simple Romanesque structure, is the tomb of Saint Nicholas. Nicholas is the patron saint of sailors and pawnbrokers and is considered by many the model for Santa Claus.
The historic old town is typical Italy, a labyrinth of alleys with laundry hanging from balconies and out windows. On many corners, small shrines to saints, complete with candles and flowers, decorate the sides of buildings. Nonetheless, except for the churches, we did not find Bari that enticing. Even our scoops of gelati — the famous Italian ice cream that we consumed frequently on our trip — were disappointing.
Our agriturismo, the Masseria Curatori, is a huge pinkish house dating to the 17th century and surrounded by gardens, olive trees and fields. It's a fun place — mainly due to its menagerie: 11 dogs including five collie puppies, two horses with foals, a donkey, cows with calves, cats, chickens and rabbits.
We had dinner with the owners, the Contento family, who patiently helped me make conversation in my beginning Italian. The food was OK, but not special: pasta with fresh peas from their garden, turkey stew and cooked peppers. We drank their homemade wine. My traveling companion was unimpressed.
Fabrizio, the youngest son, helped plan an itinerary for the next day. First we drove to Alberobello, the capital of trulli, cone-shaped stone houses that dominate the landscape surrounding the town, as well as the town itself. Alberobello has about 1,500 of these curious dwellings made of the local limestone without mortar. Some are said to be 500 years old. Many are souvenir shops whose proprietors sit outside knitting as they wait for customers.
Since we'd found no wine estates driving through the countryside and no wine shops in the towns we had visited, we bought wine in a souvenir shop — three bottles of the local red at about 10 euros each. We tasted first, and the shop owner told us that wines from Apulia are especially strong, some with as much as 20 percent alcohol.
Our next stop was Locorotondo, a town we did not find that special, and Martina Franca, one we did. It appears more prosperous than others in the area, with several impressive old buildings, baroque and rococo town houses, as well as the church of San Martino, a Romanesque-Gothic structure that was open so we could admire its richly decorated interior.
After two more stops — and two more closed churches — we returned to the Contento farm, and relaxed over dinner: polpette de uova e formaggio — a mixture of cheese and eggs formed into small balls that are breaded and fried, then smothered with tomato sauce.
Lecce, a major town in Apulia, was the highlight of our visit to Italy's heel. It's known as the Florence of Baroque with opulent 17th- and 18th-century churches and palazzi. The city is lively with lovely shops and a castle, even a touch of elegance that sets it apart from other places in southern Italy we had visited.
There we visited three churches: Santa Croce, the Duomo (cathedral) and Santa Chiara — all open. The best part of Santa Croce is the facade, lavishly decorated with a frenzy of flowers, curls and swirls. Santa Chiara is also overloaded with ornament, side chapels with garlands and gilt. The Duomo, in addition to an ornate façade, has a five-story campanile that towers over the square.
We left Lecce's delightful streets and continued around the tip of the heel. This was resort territory, still quiet, before the busy season.
Our destination was an agriturismo, Masseria Lo Prieno, outside Galatone. Our room was in a motel-type building in a grove where olive trees and giant cacti shared space. Even though we were the only guests in a mammoth dining room, we were treated to a multi-course Italian meal.
It began with a savory antipasti course — five hors d'oeuvres from spinach and ricotta pie to a mixture of fava beans and peas. This was followed by two kinds of pasta, orecchiette and fusilli, in a tomato sauce; then the main course, frittata, a type of omelet, with mint; a dessert of sliced oranges in lemon liqueur; and an after-dinner grappa.
Our hostess, energetic and charming Maria Grazia, has three children, and her oldest, a 9-year-old daughter, helped serve.
It was a delight, the best meal of the trip so far, and a pleasant way to end our visit in Apulia.
Leah Larkin, a member of the Society of American Travel Writers, is a journalist living in France.
Agriturismo lodging
Agriturismo (agriculture tourism) is the Italian version of bed and breakfast offered at sites that are supposed to be some type of farm raising its own produce and/or livestock.
Today the term is applied loosely and not all using the title are in the agriculture business. Some may even be small hotels. Many, in addition to breakfast, offer evening meals, often a chance to dine with the family.
I used two guides, both available at Amazon.com, to find the agriturismo where we stayed on our recent trip to Apulia and Calabria:
Karen Brown's "Italy: Charming Bed & Breakfasts." I used the 2000 edition, but a new edition appears every year.Frommer's "Italy's Best Bed & Breakfasts and Country Inns." The books give descriptions of the establishments, price range, telephone numbers and directions. Frommer's includes pictures. The Web site also has information on this type of lodging.Leave yourself ample time to find your agriturismo, and have detailed directions to it printed out, as these places are often well off the beaten track.
— Leah Larkin
---
---
---
---