Antwerp: There's more sparkle here than just diamonds
---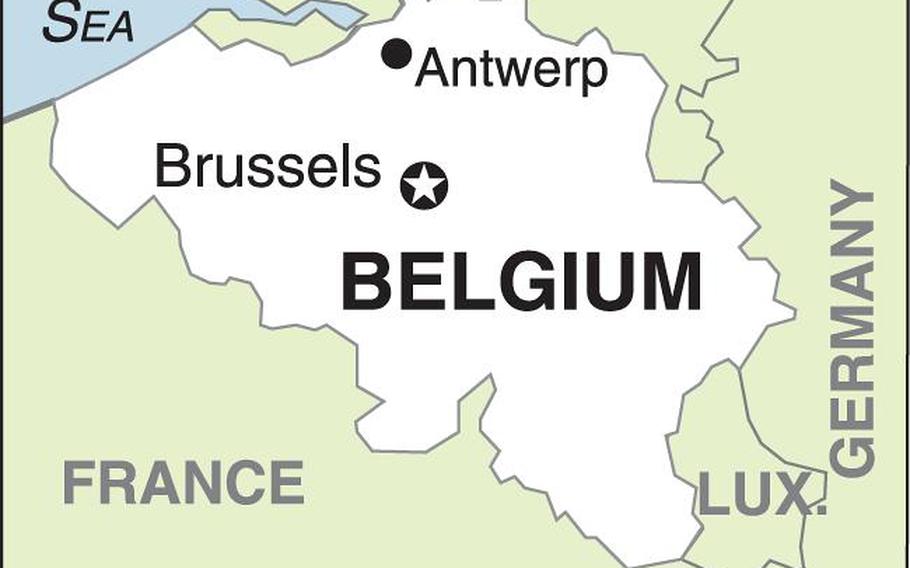 It could have been a scene from a James Bond movie. Two shiny black limousines crept down the narrow street. Then came a monster white armored truck, followed by a smaller version of the same, and then more limos. Several stern, black-suited men walked alongside the vehicles. It was all very eerie, mysterious.
The white truck stopped in front of a nondescript building. Three hulks (you would not want to fool with these brutes) jumped out. A woman with a wad of papers surveyed the scene, as well as more of those ominous-looking men and a small crowd of curious onlookers. The muscled trio dashed to the back of the truck, opened it, and rapidly tossed out large canvas bags, at least a dozen. These were rushed inside the building.
I wanted to take pictures but was firmly warned, "No photos." The contents of the bags? "Diamonds," the woman replied.
Antwerp, Belgium's second city, has been associated with diamonds since the 15th century.
"By 2007, more than half of the world's consumption of rough as well as polished industrial diamonds is traded in Antwerp, realizing an annual turnover of $42 billion," explained Sylvie Van Craen of the city's tourist office. She said 1,800 diamond companies have their headquarters in the city. While the business of the glittering stones was originally associated with the Jewish community, today it's run by people of numerous nationalities, including Jews, with Indians in the majority.
I did not come to Antwerp to buy a diamond. Husband Bob and I came to visit the city and my Irish friend Isabel who lives there with her Dutch husband, Carlo. She was our guide extraordinaire.
"We like Antwerp," she said. "It has culture. There's always a holiday atmosphere. The Belgians enjoy food and drink."
Antwerp is the capital of Flanders, the part of Belgium where Flemish, a language much like Dutch, is spoken.
We walked down the main shopping street, the bustling Meir, for a mouth-watering stop at one of Antwerp's numerous chocolate shops, The Chocolate Line, which offers chocolate pralines with 60 kinds of fillings: wasabi, Sake, cabernet-sauvignon, Earl Grey tea and cannabis, to name a few. For 45 euros you can buy a "Chocolate Shooter," a snifter with three flavors of cocoa powder to shoot up your nose for a nonaddictive jolt to "maximize the chocolate experience."
Belgium is noted not just for chocolate but also waffles. Isabel insisted we try a "Wafel warme Noorse Krieken" (cherry waffle) at Desire de Lille, "the only place for waffles." Exquisite.
Back to sightseeing and the Grote Markt, a triangular public space that is the heart of the city with its restored gabled guildhalls dating to the 16th and 17th centuries and the flamboyant Renaissance town hall.
Nearby is the city's architectural piece de resistance, the Cathedral of Our Lady, a Gothic temple whose towering spire dominates the city skyline. Inside are awe-inspiring masterpieces by Antwerp's most famous son, Peter Paul Rubens, and other noted artists of the 16th and 17th centuries.
A few steps away is Abbey No 8, a beer store with "100 of the best beers out of 2,400 brewed in Belgium," boasted salesman John. The most popular Antwerp beer is De Koninck, an amber brew served in a "bolleke," a goblet-shaped glass.
We met Isabel's husband for lunch at their favorite restaurant, Dock's Cafe. Antwerp, located on the River Schelde just 50 miles from the North Sea, is known for fish and seafood dishes, both of which are favorites at Dock's.
Next on our agenda was the city's newest sensation, the Mas, a striking and unusual edifice along the river that houses a five-story museum illustrating the story of the city and the port. But it was closed on Monday, the day we were in Antwerp. There is a boulevard walkway around the building to the top where the views are said to be extraordinary. It, too, was closed.
However, we found extraordinary views in the nearby Schipperskwartier (Seamen's Quarter), the red-light district where sex goddesses ply their trade (prostitution is tolerated in Belgium), posing in doorways and windows with little covering their bodies. Male "shoppers" stroll by, stopping now and then to converse and perhaps negotiate a price.
The district's church, St. Paul's, owes the salvage of some of its treasures to the prostitutes. During a huge fire in 1968 that destroyed much of the structure, the ladies of the night helped save valuable paintings. The church is a treasure trove of the latter, 50 paintings by notables such as Rubens and Van Dyck.
We saved Antwerp's most popular attraction, the Rubens house, for last. The prolific artist obviously did well. His home for 24 years (1616-1640) is an elegant palatial residence with a lovely garden, room after room where his paintings hang, and a few pieces of exquisite furniture. Rent the headset to learn more about the artist and his work.
Our visit to Antwerp ended where it had begun, at the city's impressive central train station, which was constructed in 1902 and recently renovated. Newsweek called it "the fourth most beautiful station in the world."
"I went to several cities looking for a place for a business," a young Nepalese woman named Beauty told me. She now has a shop in the city where she sells crafts from Nepal. "I liked Antwerp. It's not too big, not too small. It has a cozy feeling and nice people." And interesting sights to admire, good food, great beer.
I, too, like Antwerp.
Leah Larkin lives in France and can be contacted through her website, leahlarkin.com, or blog address, http://talesandtravel.com.
Getting there
Getting to Antwerp from within Belgium or from bordering countries is simple. Drive, take the train or fly.
Accommodation
Park Inn by Radisson boasts an ideal location adjacent to the train station and an ample breakfast buffet. Rates vary depending on season and promotions available. Doubles from 89 euros; parkinn.com/hotel-antwerpen.
Shopping & eating
• The Chocolate Line, Meir 50, where you can watch chocolates being made. However, I was disappointed with the expensive box of exotic chocolates I purchased; thechocolateline.be.
• Desire de Lille, Schrijnwerkersstraat 16; desiredelille.be.
• Friktot Max for french fries, Groenplaats 12. While our friend Isabel recommended this, she confesses she does not eat fries. Some Trip Adviser followers gave it a poor review. One said the best fries can be found at Frituur Kattekwaad, Verbondstraat 112.
• Abbey No 8, Handschoenmarkt 8; belgianbeersandbrews.be.
• Dock's Cafe, Jordaenskaai 7. Two-course lunch special, 18 euros; docks.be.
New in September
Red Star Line Museum, opening Sept. 28, will tell the story of thr shipping company that carried some 2.6 million fortune hunters, businessmen and wealthy travelers to America between 1873 and 1935. The museum is located at the Rijnkaai, next to where the ships used to dock.
Tips
The Antwerp City Card, at 28 euros, provides free access to all museums and three churches, as well as discounts on many attractions. Available at Antwerp Tourism and Convention offices in the Central Station and at 13 Grote Markt.
More information
Go to the city's website: visitantwerpen.be.
— Leah Larkin
---
---
---
---