Annual Bad Hofgastein trip a Presidents Day pleaser
by
Jennifer Lear
December 15, 2005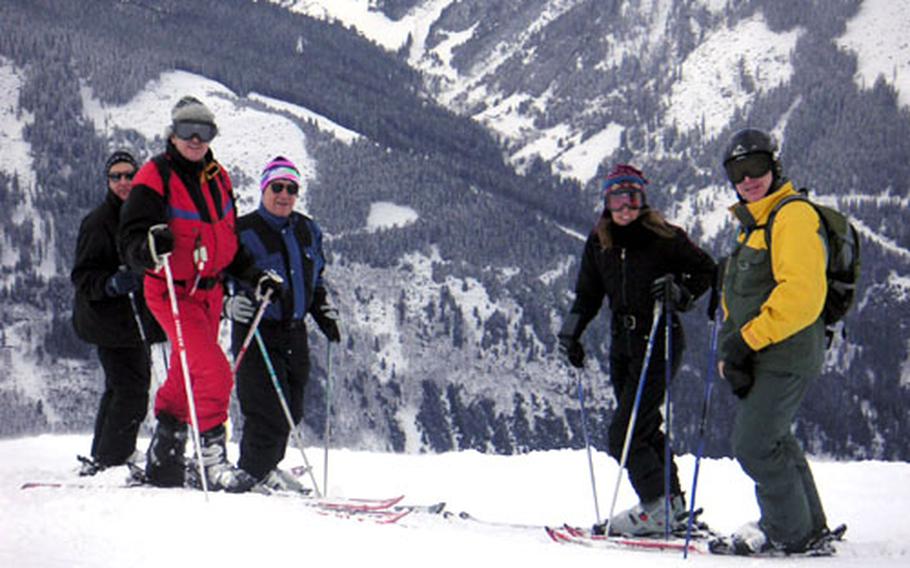 Nestled in the heart of the picturesque Salzburger region of Austria, beautiful Bad Hofgastein is the destination for a family-friendly trip offered by the Heidelberg International Ski Club on Presidents Day Weekend, Feb. 17-20.
Originating as a spa resort, Bad Hofgastein is a part of the Gastein ski area, along with Bad Gastein, Sportgastein and Dorfgastein. It is at the entrance to the Hohe Tauern National Park and surrounded by the scenic snow-capped peaks of Austria's Hohe Tauern Mountains. Guaranteed to have snow when the HISC trip is scheduled, the Gastein region receives about 236 inches annually. Fresh powder can be found between mid-January and the end of March, when the region receives most of its snow.
There is terrain for everyone. Most of the runs in the Gastein region are either at the intermediate or beginner level. Bad Gastein and Bad Hofgastein are connected, with three mountains between them offering novice slopes and long, fresh runs both above the tree line and through the quiet woods.
Dorfgastein's mountain, which lies at a lower altitude, can be easily accessed by public transportation, which is free for ski pass holders. More advanced and expert skiers can find the most challenging runs and off-piste skiing on the Sportgastein and Stubnerkugel Mountains in Bad Gastein.
Barb Ellis, along with her husband Dave and three children, had the good fortune of taking a trip to Bad Hofgastein while living in Stuttgart a few years ago. She remembers it fondly.
"There was something there for everyone, not just skiers," she said. "We had friends on the trip who do not ski and they had a great time. There were tons of kids of all ages, too. There was sledding, ice skating and great shopping with big-name stores."
This year's trip includes bus transportation and three nights at the luxurious four-star Astoria Hotel. The price also includes a light dinner and drinks on the bus, three breakfasts and two dinners at the Astoria, and the fabulous recreational activities on site.
Mike Willoughby, president of HISC, called the Astoria Hotel "one of the best if not the best hotel that HISC stays in this season." It is centrally located in town on the free city bus route. It also boasts a magnificent wellness center where guests can enjoy hours of relaxation. After a long day on the slopes, skiers can take a soothing plunge in the thermal indoor pool, Jacuzzi, herbal steam bath and sauna.
Kerry Gallagher has gone on the HISC trips to Bad Hofgastein for the past two years and stayed at the Astoria both times. "The hotel was comfy, the town has great discos and typical German cuisine, and it's all right outside the door of the hotel," Gallagher said.
She said the skiing was so fantastic, she never took advantage of the thermal baths. But there's always next time. "I definitely plan to take another trip there," she said.
Bad Hofgastein has a variety of lifts to suit all skiers: a gondola, chair lifts to include a high- speed quad, T-bars and, for those wishing to ride to the top, a cog train like the familiar Zugspitzbahn in Garmisch. From on high, you can enjoy the panoramic view below. Lifts are plentiful, so lines are seldom a problem.
There are ski schools in the area to suit skiers of all ages and abilities. Lessons are reasonably priced and the majority of instructors speak English. Lessons can be easily arranged when you arrive.
The Gastein ski area also caters to snowboarders, who can be accommodated on all of the lifts. There are even snowboard schools in the area for those who want to learn. Carrie Fain, who attended last year's trip, enjoyed snowboarding there.
"Bad Hof has many off-piste opportunities. Tons of untouched powder! On-piste isn't half bad, either," she said. "Bad Hof also has a great variety of slope choices. You can snowboard one side one day, and hit the other hill another day. They have this run that is at least 15 kilometers, it takes you from the top of the mountain to the parking lot. The scenery on the way down was great. It's awesome!"
Rental equipment is readily available and conveniently located in Bad Hofgastein, or you can rent from Mannheim Outdoor Recreation (DSN 38l-7215/7232). Inexpensive ski clothing can be found throughout stores in the Heidelberg area.
This year's HISC trip closes for sign-up on Feb. 1, 2006. For more information, log on to www.heidelbergski.com or www.kur-sporthotel-astoria.com.
Jennifer Lear is a member of the Heidelberg International Ski Club.