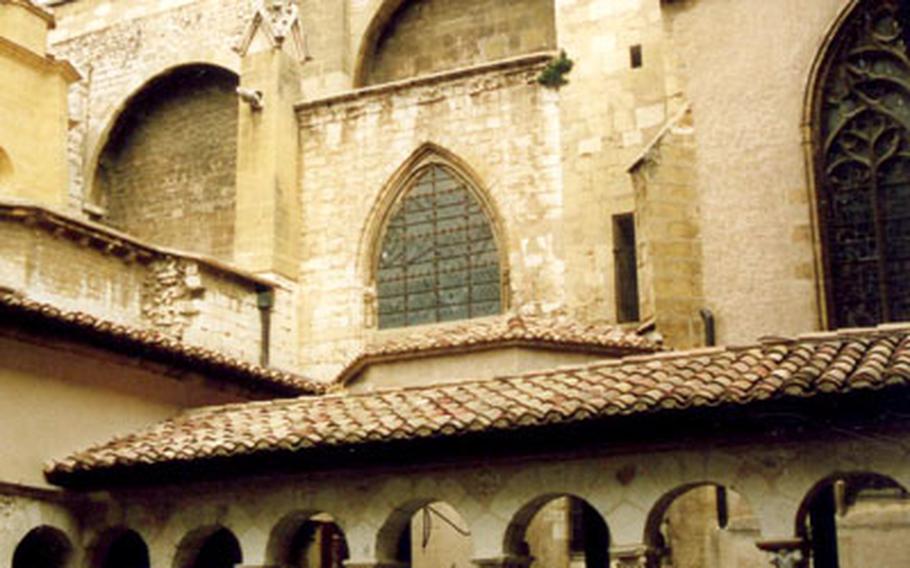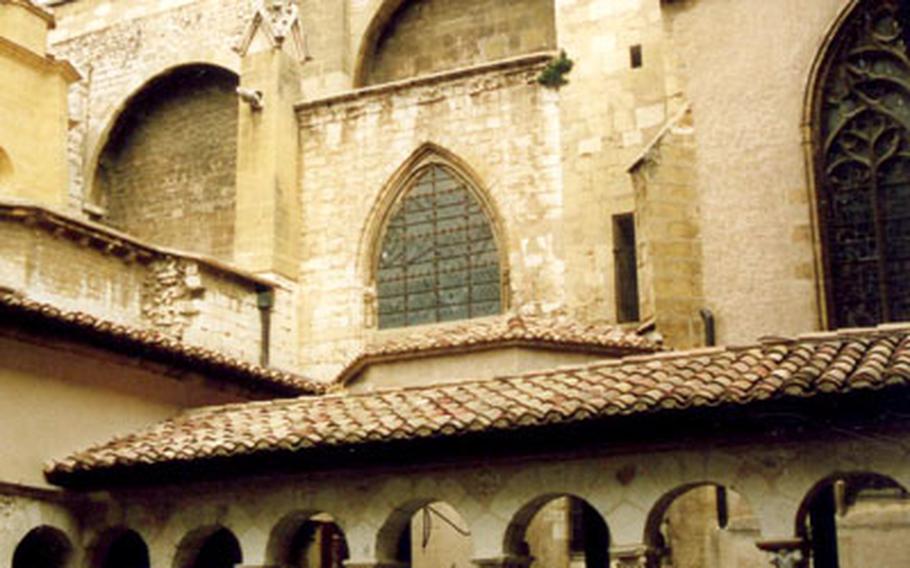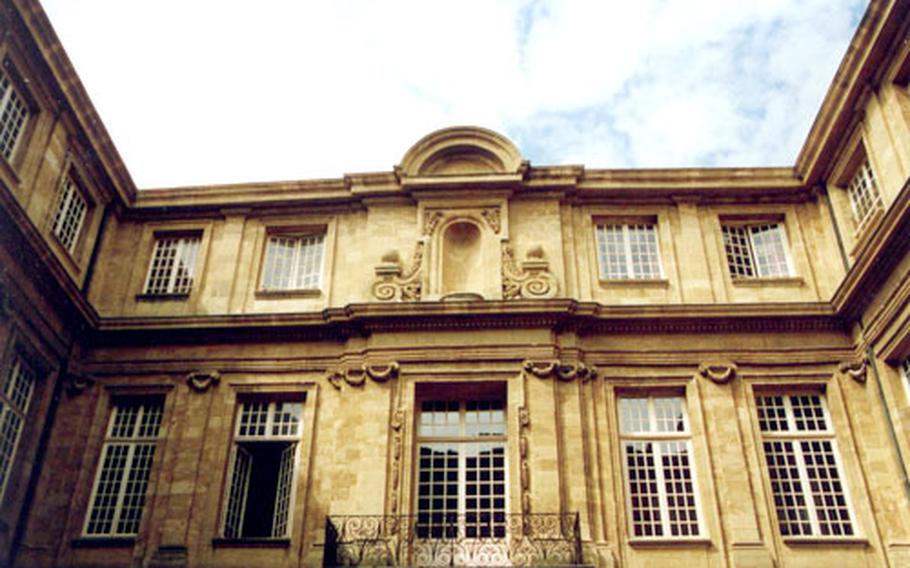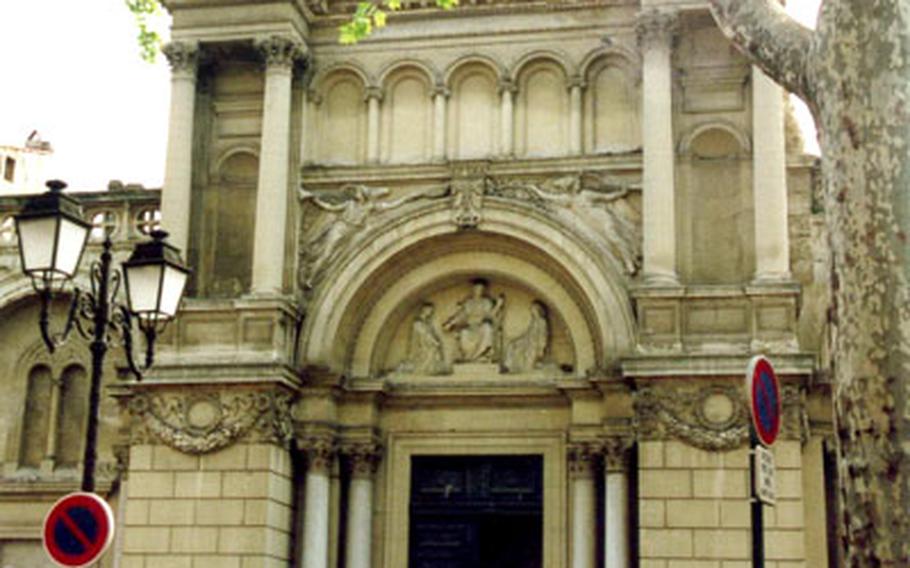 French artist Paul Cézanne, who died 100 years ago and is being honored this summer in Aix-en-Provence, the city of his birth, is known to have spent many hours in its cafes on the Cours Mirabeau.
This broad boulevard lined with plane trees is sometimes called the Champs-Elysées of Provence. It is the place to be, especially in summer when the tables in front of the cafes are full, when the trees form a canopy over the street and provide shade from the warm sun, when tourists pose for photos in front of its fountains and the parade of people is incessant.
This is street life at its best, as it was in the mid-17th century when it was constructed as a road where the aristocracy of Aix-en-Provence could parade in their carriages and sedan chairs. Today the classy folk, as well as tourists clutching guidebooks, gather at Les Deux Garçons, a watering hole that was a favorite of Cézanne. Waiters are chic, clad in black trousers, short black vests and jackets, white shirts, aprons and bow ties. You can spot the regulars. The well-dressed personnel greet them with the obligatory kiss — really just a brushing of skin — on both cheeks.
Aix, as it's called, is a vibrant, delightful Mediterranean city of 135,000 25 miles north of Marseille. It is perfect for meandering about and absorbing the flair of southern France. It's a university city with some 40,000 students, including many Americans who go to learn French. It's a city of art and culture. The Aix summer festival of music, the International Festival of Lyric Art, is legendary. Art gets special attention this year with the focus on Cézanne.
Aix won't wear you out. There's no long list of must-see attractions. Wander off the north side of the Cours Mirabeau into the old quarter where the Romans once lived. They loved the city's hot springs and named the town Aquae Sextiae in honor of Consul Sextius Calvinus, who founded it in the second century B.C. as a rest and recuperation outpost for exhausted legionnaires. Today the Thermes Sextius baths, built on the site of ancient Roman baths, allow bathers to enjoy modern hydrotherapy facilities.
The city cathedral, Saint Sauveur, according to legend was built on the site of a temple to Apollo. Construction went on from the fifth to the 18th centuries with the styles of different architectural periods leaving their mark. The church's treasure, a triptych of the burning bush, was painted by Nicolas Froment for King René, the last monarch of the Kingdom of Provence, in 1476. The cloister, a place of tranquility and elegance, was built in the 12th century.
The winding streets of the old town are full of tempting stores — dazzling patisseries, wine and cheese boutiques, trendy clothes shops, gourmet stores. You won't walk far without coming upon a street market, bustling commercial hubs offering local specialties such as goat cheese, honey, soap and colorful fabric, as well as fruits, vegetables and flowers, all nourished by the powerful sun of Provence. There are also markets with bric-a-brac, antiques, secondhand books and crafts.
To the south of the Cours Mirabeau is the Quartier Mazarin named for Archbishop Michel de Mazarin, who came to Aix in 1646. He was authorized to absorb the diocesan-owned meadows south of the soon-to-be Cours into Aix proper, giving his name to what became and still is the city's swankiest residential quarter.
He sold the property to parliament members and the bourgeoisie, who built their mansions where they would gather up to 30 or more family members. Today these handsome buildings with their carved walnut doors and facades of ochre from the nearby quarries of Bibémus are considered architectural treasures. The architects made their designs especially for the stone of Bibémus because of the way it reflects shadow and light, changing in color throughout the day with the changing angle of the sun.
Many of the buildings lining the streets of this quiet, refined neighborhood house offices and apartments today. Those along the south side of the Cours Mirabeau are homes to banks and financial institutions.
Aix is a city of fountains, and is said to have 100 of them. The most famous, the Quatre Dauphins (four dolphins), is in the middle of an intersection in the Quartier Mazarin. The most prominent, La Rotonde, which was constructed in 1860, sits at the base of the Cours Mirabeau in the middle of a chaotic traffic circle. Its three statues (law, agriculture and fine arts) are symbols of the main activities of the town.
Literature from the Aix-en-Provence tourist office calls the city a "source of inspiration." Sitting under the leafy trees on the Cours Mirabeau while sipping a pastis (anise-flavored drink of Provence) and watching the happy parade of people — students with cell phones, locals with dogs, tourists with maps, young and old — is enchanting, if not inspiring.
According to a guide, now that the fast TGV train links Aix to Paris in three hours, many Parisians are so inspired by this city they are moving south and commuting to jobs in Paris.
Leah LarkinLeah Larkin, a member of the Society of American Travel Writers, is a journalist living in France.
Follow CézanneThe Aix-en-Provence Tourist Office at 2 Place du Général de Gaulle has copies of the brochure "In the Steps of Cézanne's Aix-en-Provence" and can make the mandatory reservations for visiting the three Cézanne sites. Telephone number: (+33) (0) 4-42-16-10-91; Web site: www.aixenprovencetourism.com.
Tours
Guided city tours in English are offered throughout the summer: An overall visit at 8:30 p.m. Tuesdays; "In the Steps of Cézanne" at 10 a.m. Thursdays; and "Discovering the Old Town," at 10 a.m. Saturdays. Cost is 8 euros per person.
The exhibition
"Cézanne en Provence" at the Musée Granet is open 9 a.m. to 7 p.m daily through Sept. 17. Reservations are recommended at www.fnac.com. Admission is 10 euros.
Admission to each of the three Cézanne sites is 5.50 euros for adults, 2 euros for ages 13-25, free for 12 and younger; family rates available. If time is limited, forget Jas de Bouffan and the studio. They are pleasant places to visit, but not sensational. The Bibémus quarry, however, is a worthwhile excursion.
Carrières de Bibémus (the quarry) is open daily 8-11 a.m. through Sept. 9, and daily from 10 a.m. until noon and 2-5:30 p.m. Sept. 10 through Oct. 31. Take city bus No. 4 from the Place du Général de Gaulle (where the La Rotonde fountain is) to the car park, Les Bons Dieux. From there, free shuttle service is offered to the site. It is best to take the free bus, as parking at the site is very limited.
The studio Les Lauves is open 10 a.m. to 7 p.m. daily through Sept. 30; it opens at 10 a.m. daily the rest of the year, but closes from noon to 2 p.m. and an hour or two earlier at night. Take city bus No. 1 from Place du Général de Gaulle.
Jas de Bouffan is open 10 a.m. until 12:30 p.m. and 2-6:30 p.m. daily. Take city bus No. 6 from Place du Général de Gaulle.
Good eats
¶ An excellent reasonable restaurant is Chez Denis at 7 rue de la Couronne. I had a delicious fish main course and dessert for 10 euros. It's tiny; call for reservations, (+33) (0) 4-42-29- 21-55.
¶ Pricier but trendy and popular is Chez Antoine. You have the feeling you're in with the in-crowd at this bustling place at 19 Cours Mirabeau. Go through a courtyard to get to the restaurant in the back. Food is very good. (+33) (0) 4-42-93- 12-51.
¶ Also good is the Bastide du Cours, 43-47 Cours Mirabeau. Not only an excellent place to eat (three-course menu for 19.50 euros) but ideal for taking in all the action on the famous boulevard as its outdoor tables spill onto the sidewalk. (+33) (0) 4-42- 26-10-06
Good sleeps
Recommended hotels include L'Hotel Cardinale, 24 rue Cardinale, doubles from 68 euros, (+33) (0) 4-42-38-32-30; and L'Hotel des Quatre Dauphins, 54 rue Roux Alphéran, doubles from 78 euros, (+33) (0) 4- 42-38-16-39
More culture
Aix's International Festival of Lyric Art from July 3-22 features classical music and opera. More info at www.festival-aix.com.
— Leah Larkin
---
---
---
---