Alps make fine break for airmen
by
Rick Scavetta
October 30, 2003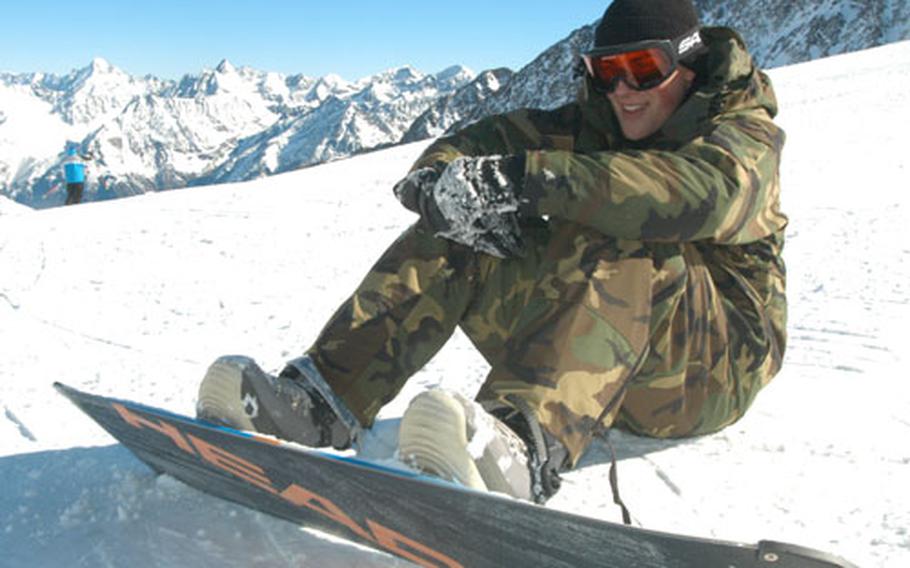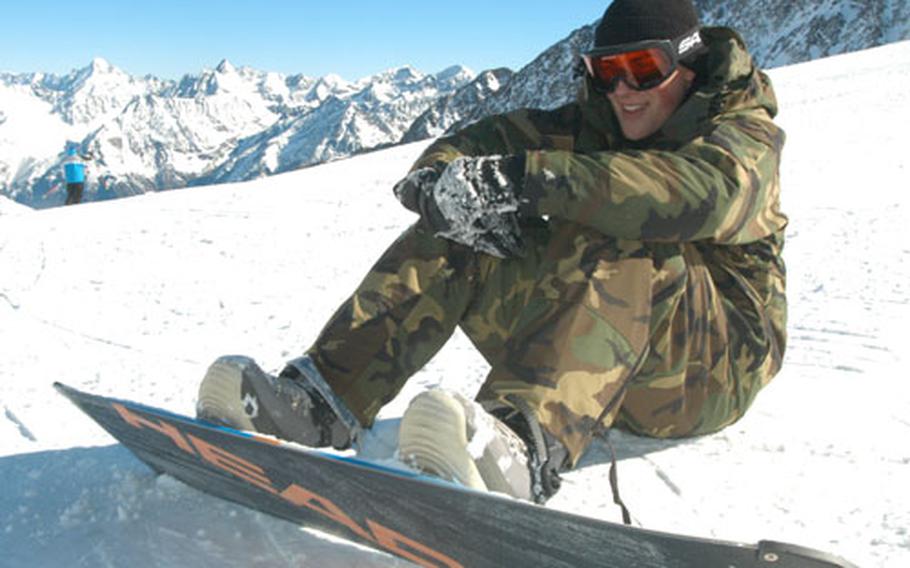 As ski club members disembarked from posh touring buses below the Rettenbach glacier, four camouflage-clad troops nearby climbed out of their rented station wagon lugging snowboards.
The aircraft mechanics from Ramstein Air Base, who spent the night in their car after partying in Sölden's bars, were just looking to fill a four-day weekend when they packed their issued Gortex gear and drove south to the Tirolean Alps.
Someone had told them about opening ski weekend in Austria, a popular destination for U.S. ski clubs from military communities in Germany.
Snowboarding in the Alps was a great break from repairing engines on C-130 cargo planes, said Airman 1st Class Matt Parker, 19, who is at Ramstein on temporary assignment from Dyess Air Force Base, Texas.
"I've never seen anything this big before," said the native of Daytona, Fla., who learned to snowboard on fake snow in North Carolina. "This is awesome."
Two buddies, Airman Thomas Carrozolo, 21, of Buffalo, N.Y., and Airman 1st Class Mark Davies, 19, of Charlotte, N.C., both stationed at Ramstein, had never been on snowboards.
Although it was his first time snowboarding, he "might as well do it in Austria," Carrozolo said.
Davies wasn't as sure.
"I don't know what to think," he said, looking up at snow-covered 10,000-foot peaks. "I don't see a bunny hill, so I guess I'm ready to get messed up."
The base of the Rettenbach glacier starts at 8,800 feet above sea level.
Downhill enthusiasts climb to over 10,800 feet using chair lifts and T-bars. From there, they can ski to the base, or head through a tunnel to make their run down the Tiefenbach glacier.
The village of Sölden, which rests in the Öztal Valley at 4,500 feet above sea level, is packed with ski shops, cafés and nightclubs. Large family-run hotels dot the valley floor in an area that just 50 years ago was poor farmland.
Most American skiers were impressed by the troops' initiative, although one officer, Capt. Mark Neumann, 35, a 1st Infantry Division soldier from Kitzingen, Germany, warned that their use of camouflage gear violated force protection, as it made them stand out as Americans. However, as at least one observer pointed out, Neumann's tight-cropped hair, designer sunglasses and baseball cap had the same effect.
Others among the ski clubs, such as West Pfalz and Tannenbaum from Kaiserslautern, had different advice. They suggested that troops become more active in a ski club, which can book hotels at group rates and offer transportation, giving skiers a chance to enjoy a trip without any hassles.
Airman 1st Class Alex Levy, 20, of Oakland, Calif., has been snowboarding for eight years and held season passes to slopes in Tahoe and British Columbia. A C-130 crew chief on temporary assignment to Ramstein from Little Rock Air Force Base, Ark., Levy said he and his friends just jumped at the chance to snowboard in the Alps, without much thought.
"I never thought I'd be here," Levy said, during a break mid-run down the Rettenbach glacier. "I was so lucky."
Behind him, Davies was having a hard time standing up, let alone surfing down the mountainside. Later, Levy coached Davies down the glacier, and the gang met up for munchies at the snack bar.
"At one point I came off the T-bar and all the girls were laughing," Davies said, after dumping backward along the slope. "But this is definitely good times — stories to tell the folks."