Alacati: A windsurfer's paradise in Turkey
by
Terry Boyd
July 15, 2003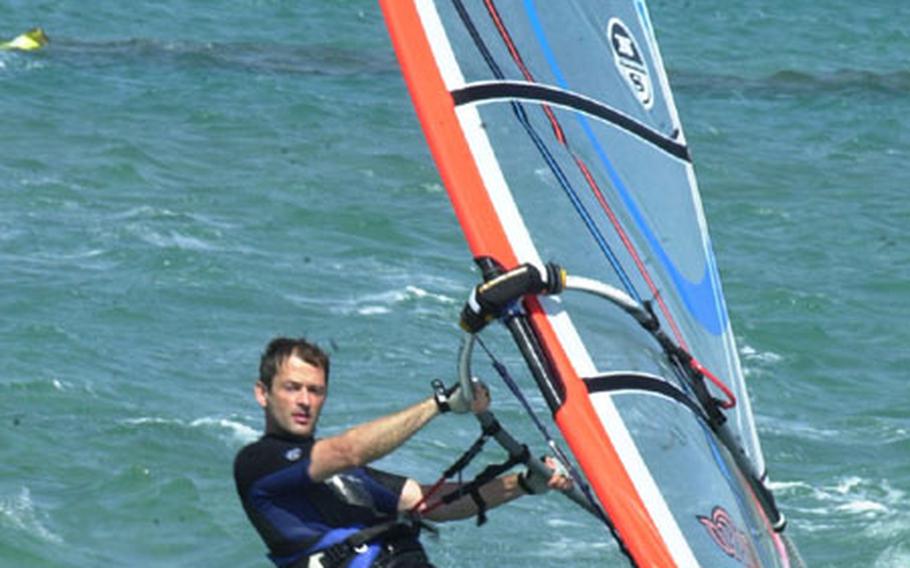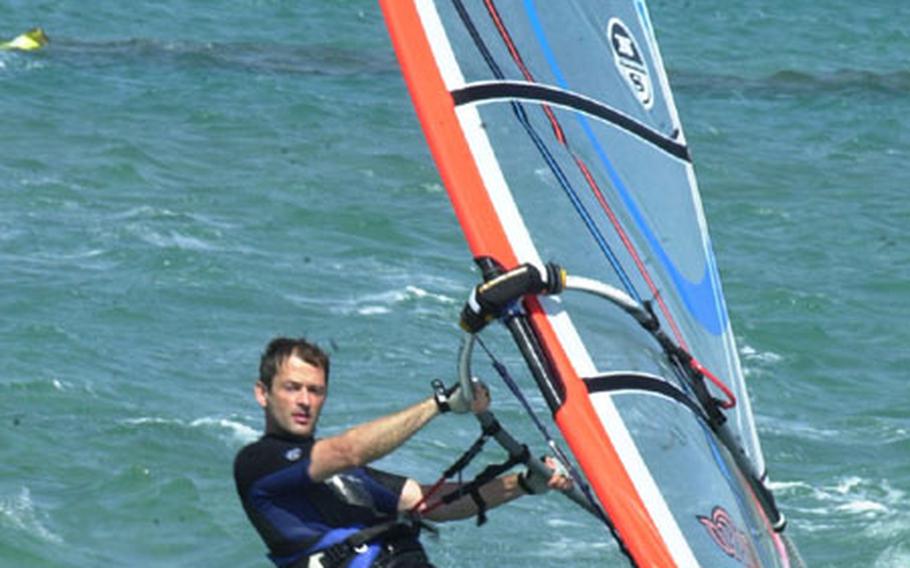 A lot of sports look easy until you try them, and nothing looks easier than windsurfing. You just stand up on a nice, wide surfboard, grab the bar that controls the sail and rocket across the white caps, right?
In your dreams.
Windsurfing takes balance, endurance and a knack for reading the wind. And while the sport may be difficult to master, there's no easier destination to get swept up in the windsurfer culture than Alacati, Turkey.
In Europe, only the Greek island of Paros, home to several Professional Windsurfers Association championships, or Tarifa, Spain, are better than this, said Jules Staszewska, a Polish windsurfer who came down to check out Alacati's growing reputation.
And Alacati offers certain advantages that Greece and Spain don't. For one, everything is much cheaper. Rentals, food and beverages are at least 20 percent cheaper in Turkey than in Greece and Spain.
For another, the season is a bit longer. An incredibly diverse, international crowd comes from April through October for Alacati's clear water and clear skies, said Yasmine Ozbaykal, a windsurfer living in Izmir.
One of the main attractions is that unlike other windsurfing destinations, Alacati's shallows run a couple of hundred yards out from the beach, or from the piers leading from the Windsurfer's Paradise Club.
And the bay legally is a windsurfing-only area, with water skiing and jet skis banned. So it's easier for beginners.
The Alacati party scene is a seriously sybaritic lifestyle. Bikini babes work the crowds at the Windsurfers' Paradise, handing out free liquor samples. Bartenders — male and female — look like they're auditioning for "Are You Hot?" Taut bodies and minimal swimwear carry the day.
If you get enough partying, the unspoiled town of Alacati is an oasis. Before windsurfing, Alacati was a goat-infested stretch of scrub, its parched hills funneling sea breezes off the Aegean into year-round gales reaching 30 mph.
With no natural beaches on its craggy shoreline, Alacati was too windy and too isolated to benefit from the land rush for summer homes in the nearby resort towns of Cesme and Ilica.
Then about 25 years ago, locals say, an international group of windsurfers discovered Alacati's perpetual balmy gales. Since then, every year has brought more activities and races.
Technically, Alacati is only a day trip for the few lucky soldiers, airmen and Department of Defense civilian employees still stationed 45 minutes north in Izmir. But it is an easy weekend fly-in excursion for folks at Incirlik Air Base outside Adana, or for Americans assigned to Ankara and Istanbul.
Available accommodations range from the five-star Sheraton hotel in Illica to simple, cheap rooms around the windsurfing complex.
On the QT
Directions: From Izmir, follow Ataturk Caddasi, also called the 1st Cordon, to Narlideri, then take the 032/300 toll road to Cesme and follow the signs to Alacati.
Cost: Windsurf rentals run about 40 euros for a weekday, 60 euros a day on weekends. Lessons run about 25 euros an hour, with discounts for multiple lessons.
Time: The season runs from April through October. High season is July and August. Many — though not all — hotels and restaurants in Alacati and the Cesme area close from October through February or March.
Food: Windsurfer's Paradise Club has a restaurant and bars. There are a few free-standing restaurants and hotel restaurants around Alacati. Cesme and Illica beach, just a few minutes away, are major tourist destinations, and the number and quality of restaurants reflects that fact.
More info: Most activities revolve around the Windsurfers Paradise. The telephone number is (+90) (0)232-716-6161. Its Web site is www.alacati.com.