Agriturismo: It means lodging in Italy with a personal touch
by
Mary Kieran
August 2, 2007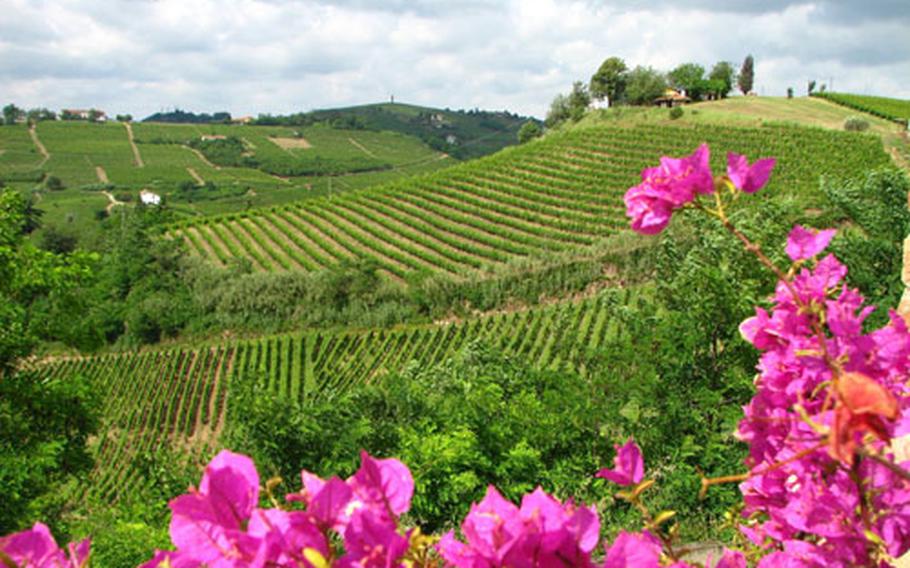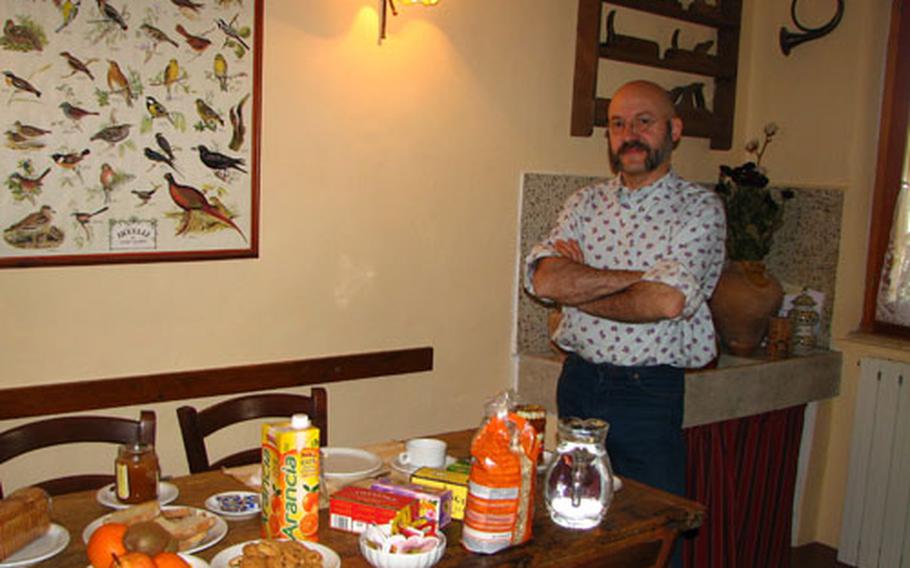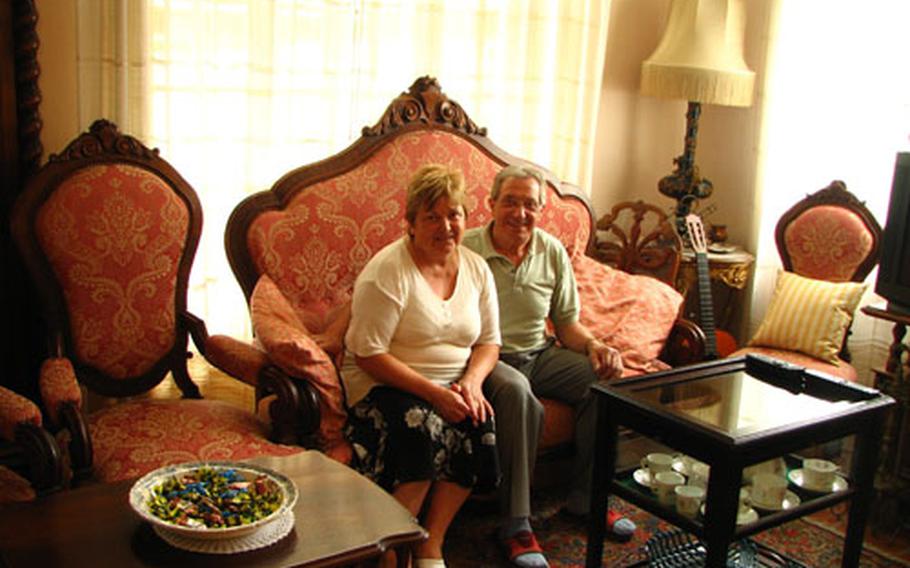 It warms the heart to know that at the end of a long drive, a savory home- cooked dinner will soon be prepared just for you. No, we're not talking about a visit to Grandma's house, but rather a stay at one of Italy's agriturismos.
When in Italy, there is no need to stay in a humdrum hotel when there are so many other options, from working farms, vineyards, artisan attics to even a castle or two.
My first agriturismo stay came about accidentally. While visiting northern Italy's Collio wine region, the hotel where my husband and I had planned to stay was full. The staff kindly offered to find us a room at a nearby agriturismo.
I didn't know what to expect and was a little anxious as I drove into the parking area of Al Confine. Our hostess soon appeared and whisked us up some stairs to a roomy apartment with a kitchen, living room with a balcony overlooking vineyards, bedroom and private bath. Our hostess then offered us a complimentary glass of wine.
The next morning's hearty breakfast was another delightful surprise. There were fruits and vegetables fresh from the garden, homemade jams, cheeses, yogurt, breads, juice and coffee. This agriturismo was a working farm and fresh produce at breakfast was one of the obvious benefits.
But the most astounding thing about our stay was the price — 70 euros for a charming apartment for two including an exceptional breakfast.
My reservations about staying in an agriturismo were over. I had tasted agriturismo hospitality and wanted more.
So I looked on the Internet for Web sites with information about agriturismos in Italy. With pictures of accommodations, detailed driving instructions, comments from previous guests and information about what to see and do in the area, I had discovered a powerful travel planning tool that I have made great use of ever since.
Even with the best of planning, things can surprise you — sometimes in a good way, sometimes in a not-so-good way.
I will never forget the time we arrived at an agriturismo in Sicily. I had made arrangements for two families with 10 people to stay in two apartments with breakfast included. As we all stood around in one apartment watching our host show us the kitchen, my husband turned the handle to open the bathroom door and it came off in his hand.
Later we discovered that, sure, there were bikes for guests to use as described on the Internet, but they all had flat tires, rusted chains, and hadn't been ridden in years! And we never did figure out what it was that came with our breakfast each morning. It looked like some kind of homemade cake in bizarre colors of bright red, orange and green. Even our teenage garbage disposal couldn't keep eating after the first startling taste.
I must admit, it did take me awhile before I caught on to the idea of having dinner at the agriturismo where we were staying. In Puglia we stayed at the Trulli Country House, which is in one of the whitewashed stucco buildings known for their peculiar conical-shaped gray stone roofs. We sat at a wooden table and watched our hostess prepare dinner just for us, according to our requests (vegetarian, in this case). We enjoyed a bottle of the local wine with our delightful meal and then walked 50 feet to our cozy room nearby.
Our second agriturismo visit with dining occurred recently at La Luna e i Faro in the Piedmont region. Descriptions on the Internet of food that was "out of this world," "fabulous," "one of the most amazing meals I have ever had" and "better than a five-star restaurant" led me to discover this charming vineyard agriturismo in this wine region.
Ester and Franco Carnero are former restaurant owners from Turin specializing in serving traditional recipes from the Piedmont region. Recipes passed down from the 1500s prepared with the freshest ingredients are the secret of their crowd-pleasing success.
We joined the list of happy diners as we savored the homemade pasta with asparagus, stuffed eggplant, cheese and herb tart, and hazelnut torte, accompanied by Franco's own excellent wines.
Along with great dining experiences at an agriturismo comes the opportunity for quality time with your hosts. From suggestions about what to see and do in the area to discussions about art, philosophy or Italian soccer, your agriturismo hosts are more likely to make time for you than a hotel employee is.
Lorenzo in Umbria took the time to show me how to shoot a bow and arrow, since he gives archery lessons. Anna in Puglia sent her husband out in his car to find us and show us how to get to Trulli Country House, where she was preparing dinner for us.
In the Friuli-Venezia Giulia region, Maria Luisa took the time to explain the government helps agriturismos by granting them tax breaks. Mainly agricultural businesses borrow money to make property improvements at a discount rate, in exchange for offering bed-and-breakfast lodging and sometimes meals to guests at reasonable prices.
Each agriturismo is different, each had something that made it special. I suggest you find one to visit, and see if you add your name to the list of happy return customers. It might not be Grandma's house, but it comes very, very close.
Mary Kieran is a freelance writer who lives in Italy. Write her at: wordsforsale@hotmail.com.
Agriturismo Web sitesHere are Web sites to get you started on planning a trip to an agriturismo.
• www.agriturismo.com: Click on English icon, then the region you want to visit. Web sites give pictures, prices and contacts.
• www.terranostra.it: Click on "la tua vacanza" then "ricerche" for agriturismos in Umbria and Toscana. An Italy map pops up. Click on, for example, Toscana for 396 agriturismo listings, or Umbria for 98 listings.
• www.bed-and-breakfast-in-italy.com: Click on English button. Then click on the map of Italy for a listing of agriturismos and bed-and-breakfasts in the selected area. Web sites for each business are available with many pictures, including information about the area.
• www.initaly.com: This English-language Web site has much useful information for planning a visit to Italy, including information about highly recommended agriturismos. Read reviews from previous guests to learn what they enjoyed about the area.
ContactsHere is contact information for individual agriturismos.
• Al Confine (Friuli-Venezia Giulia Collio wine district); highly recommended, no English spoken; telephone (+39) 0481-63-0451
• All'Antica Scuderia dell'Castello (Friuli-Venezia Giulia, near San Daniele); highly recommended, English spoken; www.susans.it/theagriturism/enindex.htm.
• Il Cardo (Umbria, near Todi); highly recommended, English spoken; www.geocities.com/ilcardo (in English)
• Trulli Country House (Puglia, near Alberobello); highly recommended, English spoken; www.trullicountryhouse.com (in English)
• La Luna e i Falo (Piedmont, near Alba); highly recommended; little English spoken; www.lalunaeifalo.it/index.htm (in Italian).
— Mary Kieran