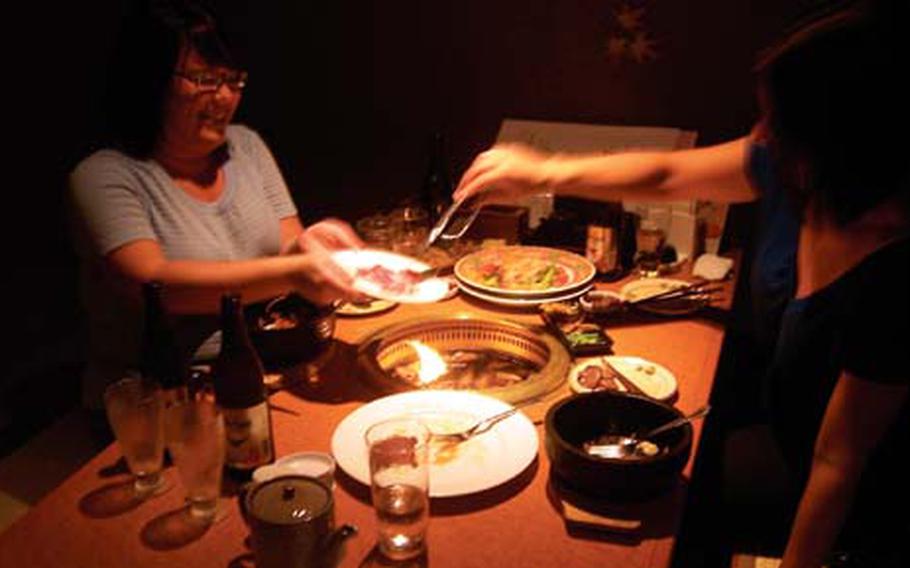 Stars and Stripes Scene, Sunday, November 28, 2009
To me, there is no greater smell than a seasoned steak cooking over a hot barbecue.
So when some friends introduced my wife and me to a yakiniku restaurant where you grill food at the table, I thought I had died and gone to culinary heaven.
Nestled behind a used car lot on Highway 58 and practically right across the street from the Gate One entrance to Kadena Air Base is a great restaurant that opened about two months ago.
Kuroton is surprisingly large, despite the small shop front. Inside is a maze of hallways leading off to rooms of tables, some of which are privately screened off.
The décor is a modern take on traditional Japanese. The booths are comfortable and spacious and the waitstaff is attentive and friendly.
You pay either 1,980 yen for 90 minutes or 2,480 yen for two hours of all the mouth-watering meat, vegetables, salads and noodle dishes you can eat. Thankfully, children are slightly cheaper.
Seafood such as shrimp and scallops are also available, and there are some dishes just for the daring: pork tongue, offal, chicken necks and chicken cartilage, to name a few.
I would definitely recommend the fried Okinawa soba noodles, which come out in a steaming-hot stone bowl.
Make sure you order this as soon as you sit down — it takes 20-30 minutes to prepare, but it is well worth it.
Ordering is a snap. After deciding what you would like, press a bell on the table and the waitress takes your order.
A few minutes later, servers return with plates of fresh, thinly cut meats and vegetables for your grilling pleasure. This is when the real fun begins.
The trick is to be quick. The meat is so thin that if you leave it on for long you will soon discover that the meat has gone from rare to very well done in a very short amount of time.
When you are ready for more, you simply press the bell and order your next round.
A dessert of green tea ice cream is also included, but on three visits I've only had space for it once.
It's too rich for my liking; I guess I am used to American-style sugary ice cream.
Kuroton is a restaurant that Lea and I will be coming back to right until we leave Okinawa.
With any luck, it won't be overrun by Americans after this review runs, and we can continue to enjoy it.
Kuroton
Location: Chatan, Okinawa
Hours: 11 a.m. to 1 a.m.
Prices: Lunch — Adults 1,380 yen, children 800 yen for 60 minutes. After 3 p.m. — Adults 1,980 yen for 90 minutes or 2,480 yen for 120 minutes, children (6-11 years old) 1,380 yen, (4-5 years old) 800 yen, (3 and younger) free. For 120 minutes, add 500 yen.
Specialties: Yakiniku, fried Okinawa soba noodles
English menu: Yes
Dress: Casual
Clientele: Mostly Okinawan
Directions: Exit Gate One on Kadena Air Base; make a left and then your first right. When you get through the intersection, make a right into the parking lot.
Web site:www.churaguru.net/shop/index.aspx?shop_id=kuroton (Japanese language only)
Phone: (098) 989-1989
---
---
---
---