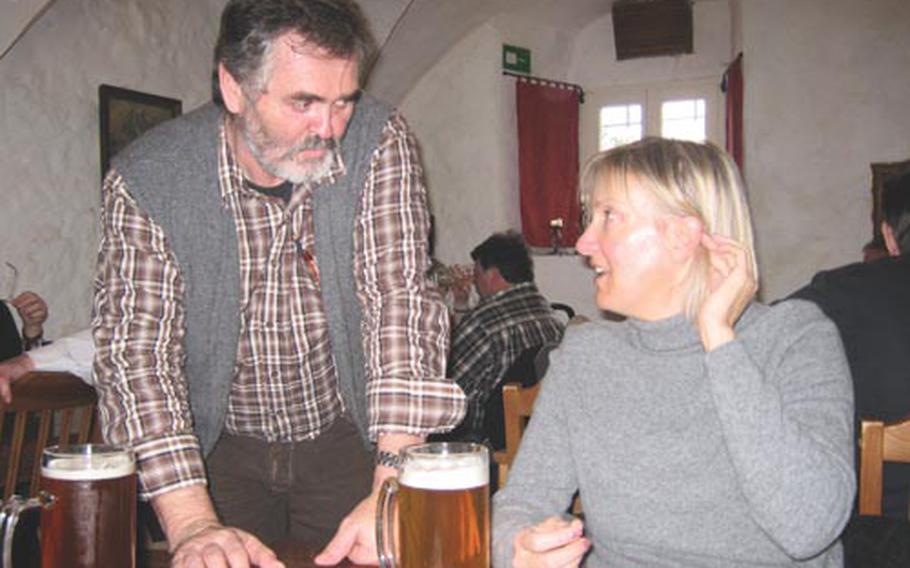 Stars and Stripes Scene, Sunday, November 28, 2009
In the Oberpfalz region of Germany surrounding the U.S. bases at Grafenwöhr and Vilseck, six-pointed stars are a sign that Zoigl beer is ready to drink.
Zoigl — a full-flavored beer brewed in private cellars with ancient methods — has been made in this region of East Bavaria near the border with the Czech Republic for centuries. Communal brew houses have existed in the region since before 1400.
"It's an unfiltered, natural brew of beer that is done by hand without preservatives or modern technology," said Rudi Loish, who serves Zoigl beer at the Alter Pfarrhof Zoiglschänke in Altenstadt, near Weiden in der Oberpfalz. It is about a 35-minute drive from Grafenwöhr.
The beer is tapped directly from a lagering tank and sold only for a limited time until the beer is gone. Alter Pfarrhof is open only five days a month — from the first Friday of the month to the following Tuesday.
According to the Web site www.zoigl.de, the word Zeigl appeared for the first time in a document at Neustadt an der Waldnaab in 1508. It comes from the German name for sign, "Zeichen," but was pronounced "Zeigl" in the Upper Palatinate dialect.
The Zoigl-Star, a six-pointed star similar to the Star of David, was the sign of brewers in the Middle Ages symbolizing the three elements of water, earth and fire used for brewing and the three ingredients water, malt and hops, the Web site says.
Alter Pfarrhof dates to 1200. In winter, guests sit beneath ancient stone arches in rooms that were once a stable. In summer, they can sit in an outdoor beer garden.
A different meal is served each of the five days that the pub is open each month. On the first Sunday in November, guests could purchase a large plate of spicy spare ribs for 5 euros or sample one of several types of meat and vegetable dishes, bread, fish or cheese. Zoigl beer costs 1.60 euros for a half-liter stein.
Army veteran Julian "J.T." Owen is a regular Zoigl drinker who comes to Alter Pfarrhof each month to sample the brew.
"Any time I come in here, I can guarantee I will see somebody I know," the Vietnam veteran says. "I live 300 yards away, and I only drink Zoigl beer."
According to the Zoigl Web site, at one time there were more than 75 brewers of the beer in small towns between Bayreuth and Regensburg. Today, there are only five active ones — in Mitterteich, Falkenberg, Windischeschenbach, Neuhaus and Eslarn, all east of Grafenwöhr.
Owen says there's a "Zoigl trail" that links the various establishments serving the beer in the Oberpfalz.
"It starts by Hof, and you can ride a bike down the Zoigl trail in summer. In Neustadt, there is a Zoigl place; there's another in Weiden and one in Eschenbach," he said.
Alter Pfarrhof Zoiglschänke
Location: Pfarrplatz 14, 92665, Altenstadt
Directions: From Grafenwöhr, take B470 to Weiden and turn onto A93, heading north toward Hof. Take the Altenstadt exit and turn right at the first circle on to Bahnhofstrasse. Take a left and left again onto Hauptstrasse. Alter Pfarrhof is a few hundred yards down the road on the right.
Hours: Open for lunch from 11 a.m. from the first Friday to the following Tuesday of each month.
Prices: Main dishes cost between 3 and 5 euros. Zoigl beer costs 1.60 euros for a half-liter, and there are nonalcoholic drinks including soft drinks.
English Menu: No.
Dress: Casual.
Clientele: German beer connoisseurs.
Web site:www.loistl.de , in German only
Phone: 09681-3507
---
---
---
---