After hours:For a swim and schnitzel check out Am See
by
Seth Robson
November 6, 2008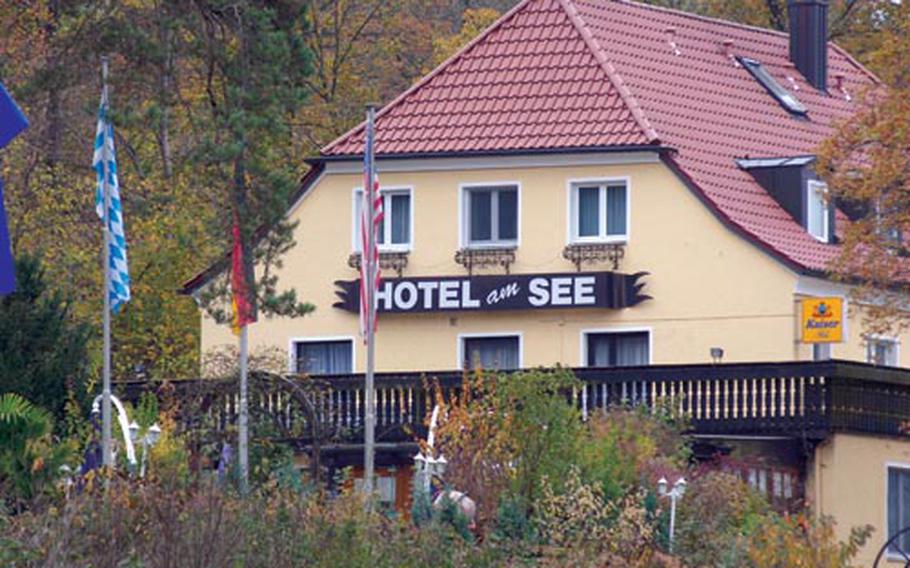 GRAFENWÖHR, Germany — Take a dip in what looks like a massive bowl of green sludge, and then head over to the Am See Hotel for a relaxing Bavarian-American lunch or dinner.
The Am See sits on a prominent hillside beside Eschenbach's Russweiher Lake — one of the best summer swimming spots close to Grafenwöhr Training Area. The Russweiher is a long, narrow artificial body of water that includes changing rooms, a shop, a raft, a fountain, diving board and a roped-off kids' area beside the shore.
In addition to the great swimming, the Am See is a popular place to stay for people on temporary duty at Grafenwöhr.
Even if you are not a guest, the hotel is a great place for a relaxing lunch or dinner with its pleasant garden and cozy dining room that overlooks the lake.
It's also not far from Netzaberg, a brand new off-post military housing area with its own gate into the training area.
The Am See's owner, Alex Hubman, said the recent improvement in the U.S. dollar should encourage more Americans to visit off-post restaurants. About 70 percent of his customers are American, he said.
"We have not had so many people here in recent years because of the Iraq war and the exchange rate," he said.
However, Hubman, who has owned the hotel for 10 years, expects business to pick up as the U.S. dollar gains strength.
The Am See does a great buffet breakfast for early birds. At lunch and dinner there is a large selection of German specialties such as schnitzel, and naturally, there are a number of freshwater fish dishes, such as salmon.
For lunch try the Carpaccio (7.90 euros) — slivers of Argentinean beef that your can spread on slices of white bread and sprinkle with Parmesan cheese.
Young soldiers dine at the Am See occasionally but it is not the sort of place that 20-somethings will flock to. The majority of American customers are families or contractors, according to Hubner.
If you are looking for a place for a tasty quiet meal washed down with some German beer, the Am See will not disappoint.
To see previous After Hours reviews, go to: legacy.stripes.com/afterhours.