AFRC, base ski programs teach and guide
by
Charlie Coon
October 27, 2005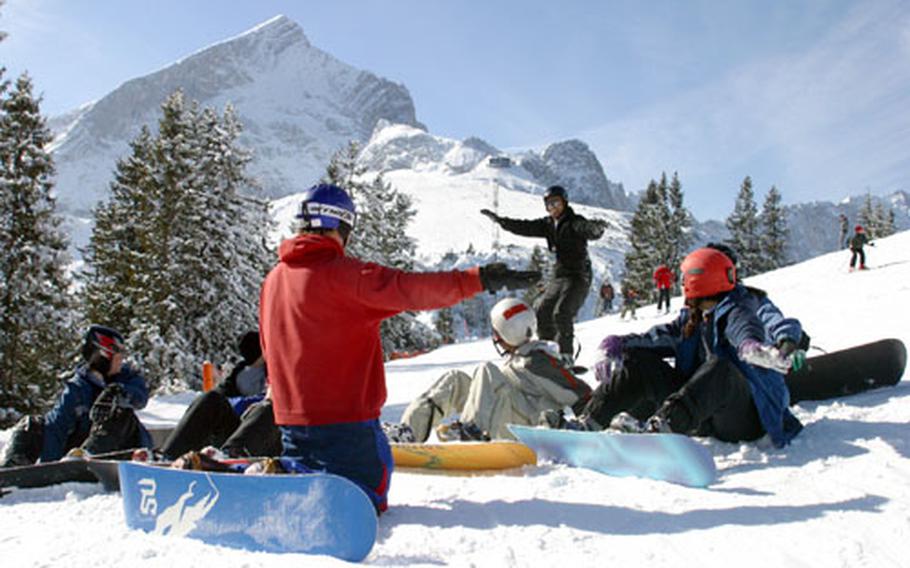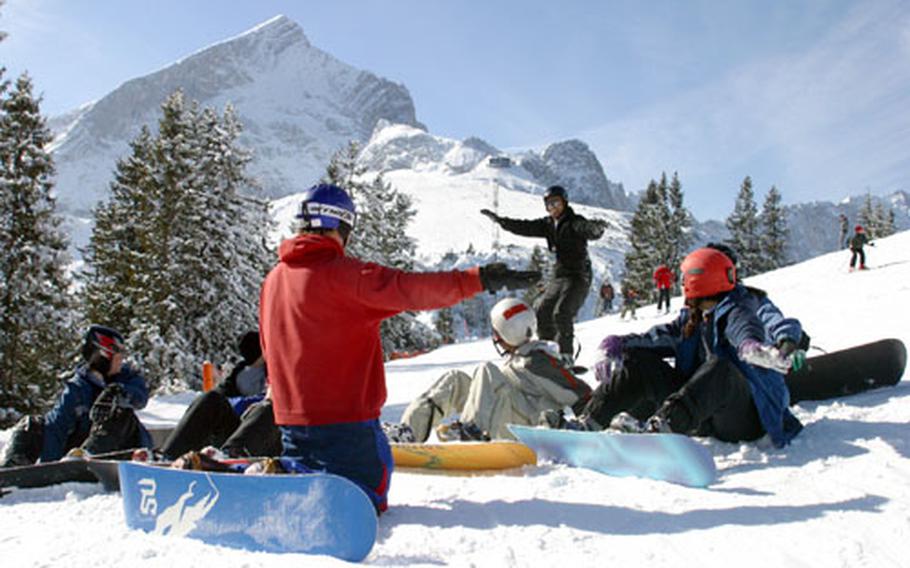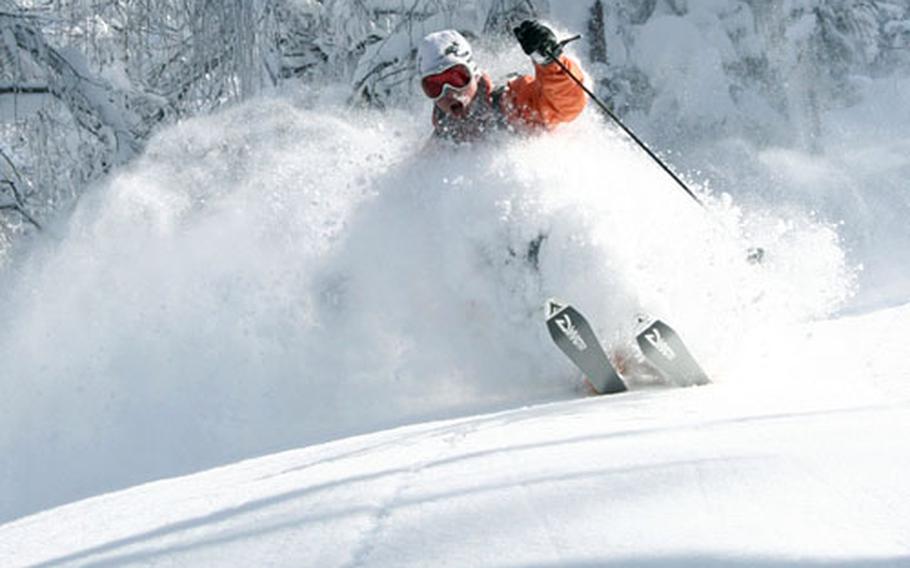 Folks from the flatlands can't help being awed by the towering beauty of the Alps.
And even those from the Rocky Mountains and New England can find a different type of charm within Europe's most famous mountain range.
Come winter, though, much of the flower-basket appeal of Alpine villages gets blanketed by snow and a different kind of wonder is unveiled. You can hear it up in the mountains: It's the shooshing sound of skis and snowboards.
For Department of Defense card holders in Europe, the best- known destination is Garmisch, Germany, where for decades the Armed Forces Recreation Centers has hosted vacationers. The Edelweiss Lodge and Resort, which opened a year ago, is currently gearing up for its second season of skiing.
Two-, four- and five-day ski packages begin on Thanksgiving and run through early April, though the best bet for finding snow on the slopes comes after Christmas. The hotel is booked for the holidays, according to Brad Hays, an Edelweiss spokesman, although cancellations occur.
People who want to go the all-inclusive route can do that. Edelweiss' Hausberg Sports Lodge has ski equipment and clothing available as part of the package.
Dave Chaffin, the Hausberg manager, said people are encouraged to bring their own ski clothing if possible because the lodge has a limited supply, though it has plenty of skis, boots and poles. And don't forget to bring ski socks and several sets of underwear that wick moisture away from the body.
Lessons are also part of the package for those who want them.
"There are slopes for basically every ability level, from beginning to expert," Chaffin said.
"Our instructors will definitely not take you on terrain you're not ready for. They'll start you off on an easier slope. As your ability level progresses, we'll move you up to higher elevations and more challenging slopes."
There are other ways to enjoy the winter in Garmisch. The village has a large ice-skating rink, and cross-country skiers can walk out the front door of the Edelweiss and across a field onto trails. If snow for cross-country skiing is lacking in the Garmisch valley, there are other trails within a short drive that are more likely to have snow. Chaffin said the staff at the Hausberg Sports Lodge would be able to provide directions.
There's even sledding to be had, with sleds for rent.
"There are a number of different [sledding] slopes within the city of Garmisch that are family friendly," Chaffin said. "Or there's more of a high adventure slope that has lights for night.
"It's ripping. A couple friends from the States visited me last year and said it was one of their highlights. They had a blast."
Highlights of the Garmisch winter season include the Christmas market, which starts after Thanksgiving, professional ski jumping on Jan. 1, and World Cup ski racing on Jan. 28-29.
Garmisch and its neighboring town, Partenkirchen, also host a crazy Fasching celebration. Fasching, the German equivalent of Carnival or Mardi Gras, runs from Feb. 23 through Fat Tuesday on Feb. 28, the day before Lent begins.
The week features parades, masked balls and parties. There are parties on the slopes as well. Many skiers glide in costume from hut to hut to take part.
It takes a little digging on the Edelweiss Web site to find out about its ski packages. To do so, go to the home page, www.edelweisslodgeandresort.com, and click on "activities," then "recreation programs," then "snow sports."
DOD personnel have other options when it comes to renting equipment on base for ski trips around Europe. Outdoor recreation departments at many bases offer day trips to a variety of destinations.
Kurt Hahn, outdoor recreation director for the 6th Area Support Group in Stuttgart, Germany, said novice and veteran skiers could benefit by visiting their base's outdoor rec departments. Most rent skis, boots and poles at bargain prices. In Stuttgart, for example, equipment can be checked out for $150 for the whole season.
"If you drive yourself and go on your own, you might pick up the ADAC ski atlas," Han said. "It has just about every ski area in Europe listed in it."
The atlas also has tourist information phone numbers and hotel listings. Most of the tourist information offices have employees who speak English, Hahn said.
"For most [resorts] you can send an e-mail and tell them what you want and they'll respond right back and take care of it," Hahn said.
He added that most Americans are surprised to find how much cheaper it is to ski in Europe than in the States. Lift tickets in Europe typically cost about 30 euros, he said, compared with the $50 to $100 that is typical back home.
For beginners and novices, it might pay to start out the right way by taking the time to learn from a qualified instructor.
"Lessons are really key to making skiing enjoyable," Hahn said. "The average person will improve their skiing dramatically by taking a half day or full day of lessons."
Program costs
Ski or snowboard week: adults, $309; youth, $249; Ski Kids, $239.
Four-day program: adults, $259; youth, $209; Ski Kids, $199.
Two-day programs: adult, $129; youth, $109; Ski Kids, $99.
Price includes: Professional instruction, transportation to and from ski area, lift pass for appropriate slope (conditions and ability), rental equipment, ski clothing (hat, gloves and goggles available for purchase).
Information: Call (+49) (0) 8821- 9440 or go to the Web at www.edelweisslodgeandresort.com.
The center also rents equipment, sells lift tickets for local ski slopes and maintains and repairs private ski gear.
— Charlie Coon