A good guidebook can greatly improve your travel experience
by
Michael Abrams
May 22, 2003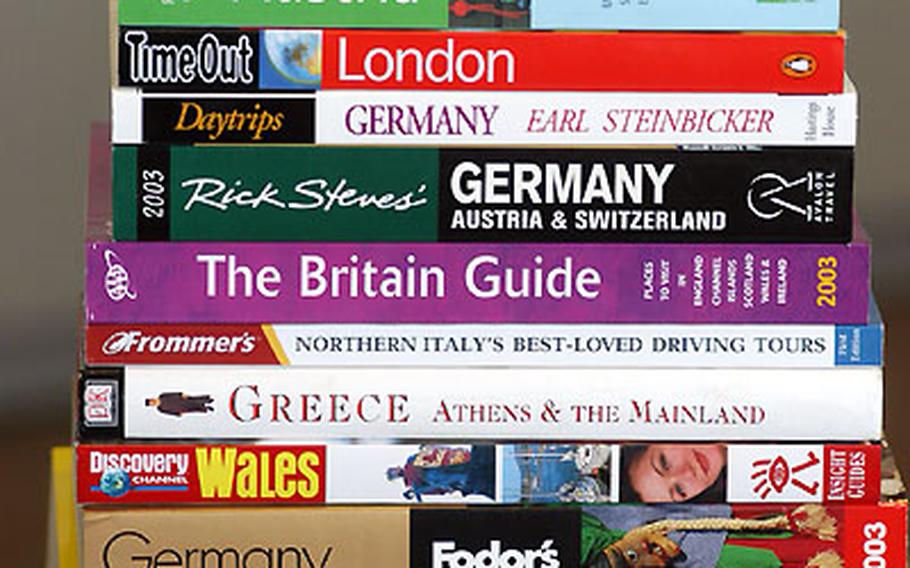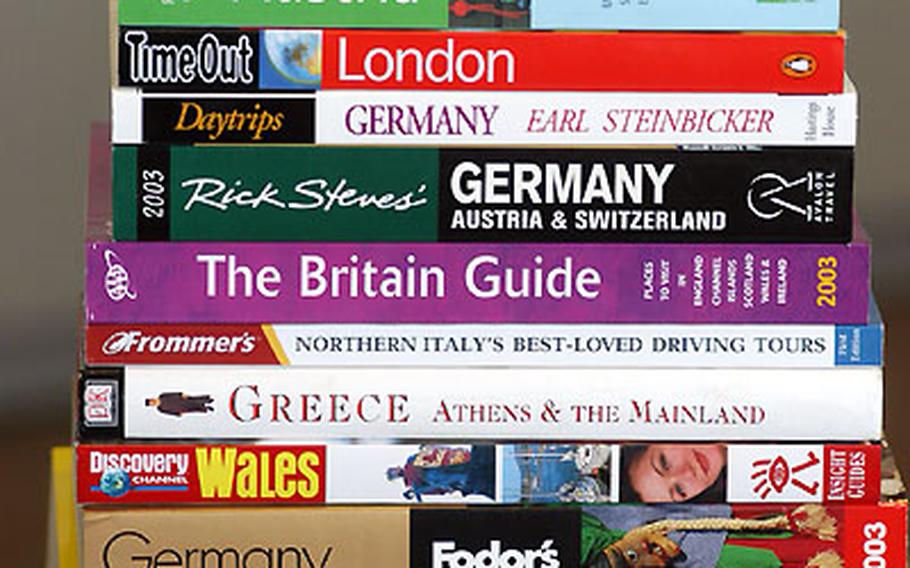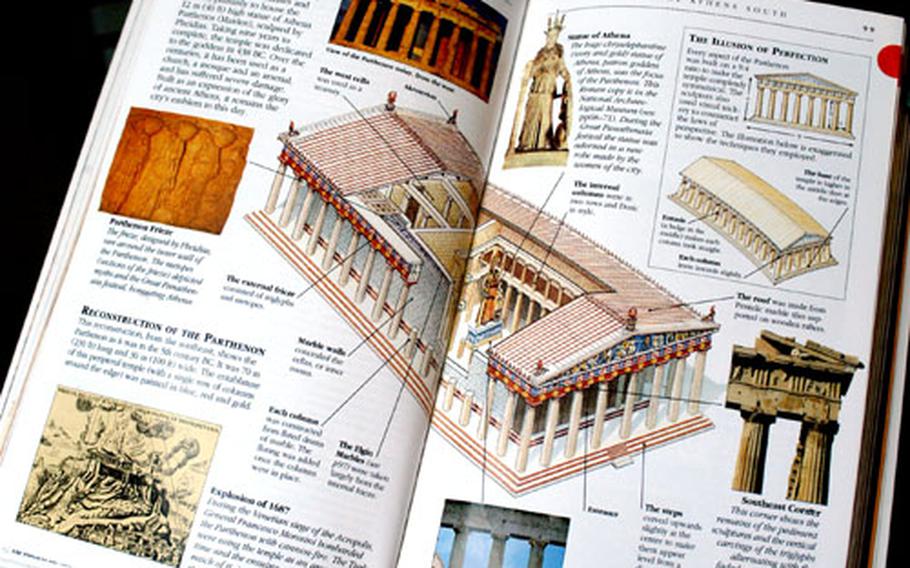 A good guidebook can be a great help while traveling in Europe. The problem is that it is probably easier to find your way through the maze of narrow streets in Venice than it is through the jungle of available travel guides.
Case in point: Type "travel" into the amazon.com search engine, and 32,000 possibilities pop up. Narrow it down to foreign travel and there are still 22,263 titles. At Barnes & Noble (www.barnesandnoble.com) there are 29,000 titles to choose from, 6,627 of them for Europe. Through the Army and Air Force Exchange Service Web site (www.AAFES.com) there are links to Books-a-Million (www.BAMM.com) when searching for books. It has a selection of 14,449 travel titles to choose from, not to mention the array of titles that AAFES sells in its BookMarks.
So, which guide to choose?
Which are good? Which are bad?
The most important thing in selecting a guidebook is getting one that meets your needs.
Some guides are strong on tourist attractions and the history of the place but weak on things like hotels or where to eat. Others are the opposite: long lists of hotels but only the main sights are mentioned. A lot of guides have a good mixture of both.
Another thing to consider when buying guides is your mode of travel. If you are driving, you can stock up on all the guides you want to get you through your trip: country guides, city guides, food guides, language guides. If you are backpacking through Europe on a rail pass, however, you won't want to load yourself down with a lot of books.
Following is a look at some of the guides you can get at AAFES. Remember, nothing here is an absolute. Everyone has a different view on what is good, and sometimes even the quality of information may vary by country in books of the same series. Consider this a guide to guides.
One the oldest series of travel guides, Baedeker's has been around since 1835. Its guides, traditionally bound in red, are heavy on historical facts and cultural sights. After an introduction to the country (or the city), the sights are listed alphabetically, with a section on practical information: weather, language, food, etc., at the back of the book. The books mention a few hotels and restaurants, most of them in the upper price categories, though.
Michelin Green Guides, so-named because of their green covers, are similar to Baedeker's, albeit without any mention of hotels or restaurants. You must refer to the excellent Red Guides — yes, with red covers — for sleeping and eating.
If you know where you are staying, and your main focus is on the historical sights (and sites), Baedeker's and Michelin Green Guides are among the best.
More than a generation of backpackers traveling on rail passes through Europe have probably depended on one book more than any other: "Let's Go Europe." Sometimes called "the backpackers' bible," this 1,104-page tome tells you how to get there and where to sleep and eat, all on a student's budget.
It is stuffed with information on where to find ATM machines and laundromats or where to rent bicycles. And what to see and do is not sold short, either. Besides the Europe volume, the Let's Go people put out more than 90 other books on countries and cities, so if you are only going to, say, Spain or London, you can just buy those editions.
The "Rough Guide" and "Lonely Planet" series of guides run in the same vein as "Let's Go," although perhaps slightly upscale to the latter. Both have information on how to get somewhere, the places' people and history, where to stay, eat and what to see. Both are dotted with small stories to give a little extra insight to a place. The history of olive oil in "Lonely Planet's Greek Islands" guide or how the song "Silent Night" came to be in "The Rough Guide to Austria" as examples.
All three series have plenty of info on the night life for the young and the young at heart.
Years ago we used "Let's Go" to travel through Ireland and Greece. Now, having become too comfortable for the hostel scene, we use "Lonely Planet" and "The Rough Guide." None of the three has lead us astray.
Fodor's and Frommer's are two other big names in the travel guide ring. Both are good, with extensive information.
Fodor's bills itself as "the guide for all budgets" and does a pretty good job of living up to it. The guides have extensive sight-seeing information and maps, including things "off the beaten path." Nightlife in the cities is also well represented in the Fodor's guides.
Frommer's is chock-full of information, and one thing particularly helpful in the country guides is its "Best of" chapter at the beginning of the book. The "Frommer's Italy" featured, among other things, the most romantic getaways, the best ruins, the best wine-growing regions and the best buys.
The AAA guides are really all about what there is to see: castles, museums, palaces, churches and the like. They do not go into much detail on a place, however they list the telephone numbers, opening hours, entrance fees and facilities (parking, rest rooms, etc.) of the sights better than most guides.
Last year on a nine-day driving tour through Europe, we used the AAA Europe guide, not for hotels or restaurants but to check on which cities were worth stopping at on the way. It turned out to be a good way to plan the itinerary.
Much in the same vein are the British "Good Guides" series.
A friend and ex-colleague of ours swore by the Rick Steves' series of travel guides. On trips with her to the Czech Republic, Paris and Munich, we relied heavily on Steves' guides. They cover most budgets, have good traveler's tips, such as bus and boat schedules, but they only cover the major sights. If you want to know who designed which church in what year, these guides probably aren't for you, but if you are nervous about how to get around and find a place to stay, they probably are. Steves must be doing something right, because his guidebooks are among the best-selling travel guides at AAFES and Amazon.com.
Which brings us to probably the most popular series, the Eyewitness travel guides.
We live in a visual world, and these glossy guides are the most visual. Color photographs, maps, floor plans and cutaways all help travelers better understand where they are, where they are going and what they're looking at.
The books have extensive lists of where to stay and eat, and loads of practical information, such as what color an express mail box is, or how to use a phone card in Greece (where most of us can't speak the language let alone read the writing). A nice touch in the food and drink section are photos of the dishes to give a glance at what the food is supposed to look like.
The one Eyewitness guide that is not as good is "Europe," although it is the best-selling Europe title at AAFES. It compresses all of Europe into 800 pages, and you end up losing some of the features that are in its other guides. Its "Greece — Athens & the Mainland" guide is 350 pages itself, so something has to get lost somewhere. If you can afford it, get the single county or city guides and pass on the "Europe" book.
Another visual series with beautiful color photos is the Insight Guide series. You can learn a lot about the history and the people of a country with these guides. However, we have had problems with some of the information in them, and so have shied away from using them. We do know people who like them, so maybe we just happened to be using an edition that was not quite up to par. They win the prize for the best use of photos, however.
With the exception of the AAA and Good Guides series, all the above-mentioned guides feature background information on the countries or cities, such as what documents you need to enter, when the best time to go is, what to do in an emergency, etc.
If you are touring cities, such as London, Paris, Amsterdam or Rome, the Time Out series is worth looking into. It features extensive information on sights, where to stay and eat, nightlife, shopping and culture.
Another series worth mentioning is the Daytrips guides. Using a city as a base, the guides describe a number of places to visit in a day (how to get there, what to see and where to eat and drink). The Germany guide, for example, uses Frankfurt, Hamburg, Munich and Berlin as bases. Although there are no U.S. bases in Munich anymore, Garmisch or Chiemsee can be used for almost all the trips described in the Munich section (which includes a good tour through the Bavarian capital).
The Italy guide uses Rome, Naples and Venice as base cities, which is not only good for visiting in Rome, but also for Americans stationed in Naples, Aviano or Vicenza.
For people who have not done much traveling, "Travel Well for Less" from Consumer Reports and the "Don't Sweat Guide to Travel" by Don't Sweat Press give valuable tips on how to travel.
And finally, if you want to travel Europe and don't know where to go or how to do it, there is always "Europe for Dummies." We have used the Dummies series of books for computers and computer programs but not for travel. After all, who wants to tour through Europe carrying a book that announces you are a dummy?
It is actually a very smart book, and between its covers, which has a map of the London Tube on the inside front and one of the Paris Metro inside the back, it packs plenty of information on countries, cities and sights. Icons point out paragraphs with tips, bargains, when to be aware of rip-offs, places that are children-friendly and sights worth searching for.
Pick the guide that fills your needs best, then get out and see Europe. Bon voyage!
AAFES' top travel titles
Here are some of the best-selling travel guides, and their prices, at the Army and Air Force Exchange Service:Europe¶ "Eyewitness Europe," $27¶ "Fodor's Europe," $20.70¶ "Let's Go Europe," $20.69¶ "Frommer's Europe," $20.69¶ "Rick Steves' Europe Through the Back Door," $19.67Germany¶ "Eyewitness Germany," $27¶ "Rick Steves' Germany," $17.06¶ "Fodor's Germany," $19.80¶ "Frommer's Germany," $19.79¶ "Let's Go Germany," $20.69Italy¶ "Eyewitness Italy," $27¶ "Fodor's Italy," $19.76¶ "Rick Steves' Italy," $17.06¶ "Let's Go Italy," $20.69¶ "Frommer's Italy," $19.79United Kingdom¶ "Fodor's Great Britain," $19.76¶ "Eyewitness Great Britain," $27¶ "Let's Go Great Britain and Ireland," $20.69¶ "Rick Steves' Great Britain," $17.06¶ "Frommer's England," $19.79Spain¶ "Eyewitness Spain," $20.69¶ "Let's Go Spain," $17.06¶ "Rick Steves' Spain," $17.06¶ "Fodor's Spain," $19.76¶ "Frommer's Spain," $19.79
Source: AAFES