Writing project contributes to veterans' healing process
---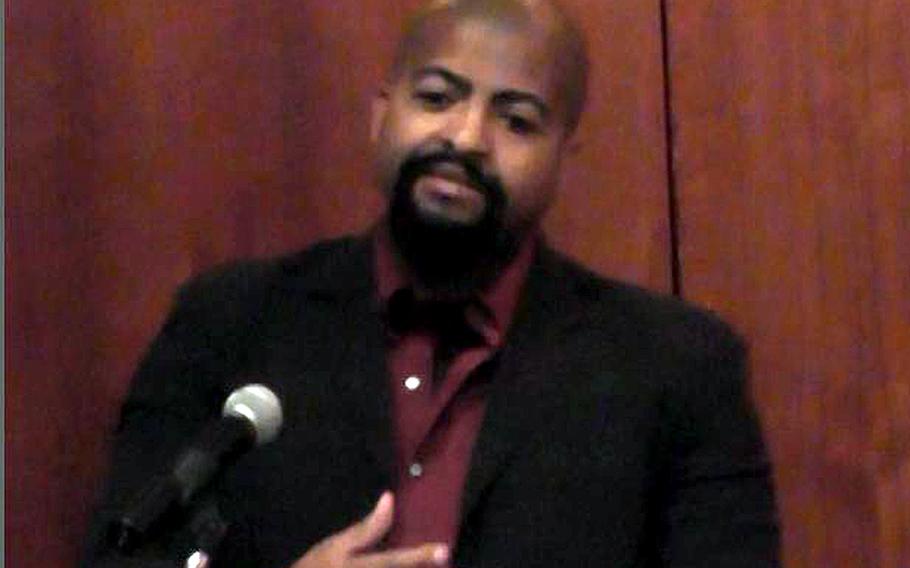 This report has been corrected.
WASHINGTON — In 2004, a Marine volunteered to do a tough, gruesome job: Remove the bodies of enemy dead in Fallujah, Iraq.
A few months earlier, Gregg Miller had been contemplating school after a previous deployment, thinking about girls and studies. Instead he returned to Iraq, eventually removing more than 500 enemy bodies from the streets.
It was a unique, volunteer opportunity. Miller's commander, Chief Warrant Officer Itis, worked with local leaders to choose a location. The ground, near an existing cemetery, was blessed by clerics and imams.
The former U.S. Marine gunnery sergeant shared the story of his second deployment with a small crowd at the Naval Heritage Center in Washington, D.C. on Memorial Day. He was the first of six presenters at a free public reading that was part of the Veterans Writing Project, a non-profit organization that helps veterans and their families express themselves and publish their writing.
"People self-select to be writers," said Ron Capps, director of the non-profit, which he founded in 2011 to help bridge the gap between service members and those who have not served.
Miller is one of the servicemembers whose recollections were published in the first edition of "O-Dark-Thirty," a literary journal launched in 2012. The journal has since been published three times.
"I'm a little nervous," Miller said before he got up to speak to the crowd. "This is not what they teach you in the Marines."
His wife was sitting next to him as he waited for the reading to start, but his writing and delivery — smooth and well-spoken — was well-received by the listeners despite its graphic content.
About 400 servicemembers have used the Veterans Writing Project at Walter Reed National Medical Center, according to Capps. Another 225 veterans, servicemembers and family members have gone through other seminars.
The Veterans Writing Project does not attempt to offer therapy. The project's website states that expressive writing can be part of the healing process.
Capps expects the seminar numbers to increase this year as the program offers seminars in Boston, New York and North Carolina. Organizers are considering teaching in California and Texas as well.
For his actions in Iraq, Miller received the Navy Commendation Medal. He recently graduated from George Mason University.
More information about the Veterans Writing Project is available at www.veteranswriting.org.
In an earlier version of this report, it incorrectly reported the year Miller was in Iraq. He was in Iraq in 2004.
---
---
---
---