Wounded Warriors softball players are no softies
by
Jeff Schogol
May 7, 2011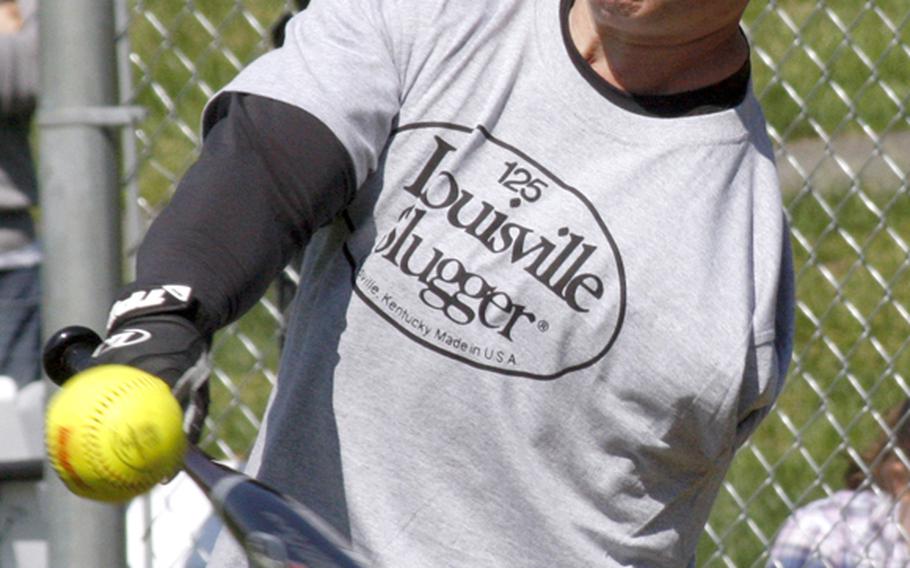 FAIRFAX, Va. – Their pregame cheer is "One, two, three … body parts!"
It's tough to decide if that makes the Wounded Warrior Amputee Softball Team less or more intimidating.
The team, which features veterans of the Iraq and Afghanistan wars, has been playing in the Washington, DC area since last month. Head Coach David P. Van Sleet said the team is the first of its kind, and hundreds of people applied when they held tryouts earlier this year.
"We're trying to show that these guys got injured, amputated, rehabilitated and look what they can do now," he said.
Greg Reynolds, an Iraq veteran who lost his left arm and shoulder in a motorcycle crash, said being on a softball team with others who have lost limbs breeds camaraderie, but it also brings out his fierce competitive streak against the able-bodied teams they play.
"You don't have all your limbs like everyone else on the able-bodied team, which makes you play harder," he said. "I want to perform better than the guy with all of his limbs. That's my goal."
Reynolds came close to giving up after he was injured, but his mother said something to him that changed his attitude.
"She said, 'Just give yourself a year and if you still feel this way, we'll find a way to take you out of your misery,' " said Reynolds, a former Army staff sergeant.
Knowing that his mother would keep her word, Reynolds dedicated himself to recovering and getting into peak physical shape. After one practice game, he impressed onlookers by pumping out 52 one-arm push-ups.
The team is a joint effort between the Department of Veterans Affairs and Wounded Warrior Project. In addition, Louisville Slugger has donated $20,000 worth of equipment to the team, said company spokesman Rick Redman, who went with the team to Arizona for spring training.
"I just came home inspired by what I saw … and it made me realize I can never say I can't do anything ever again," he said.
The guys on the team don't treat each other with kid gloves, said William "Spanky" Gibson, a former Marine master sergeant who lost his left leg in Iraq in 2006.
"I played on the Hill softball league last year because I was working on Capitol Hill as a congressional fellow, and every time I would bat or come up to play, guys would naturally kind of take it easy, make a pitch light," he said. "That kind of angered me.
"Amongst us, we don't give a crap. We will beat each other and we'll torture each other, and that's the good part."
Nate Lindsey lost his right arm below the elbow in Iraq in 2007. Until then, he was a right-hander, but he has since learned to live and play ball as a left-hander. On the field, that means he has to drop his glove after catching the ball so he can pick the ball up with his left hand and throw it.
It's important for servicemembers who have lost a limb to come to terms with the fact their lives will never be the same, said Lindsey, a former Army sergeant.
"If they lose a part of their body, they're never going to get it back. I mean, we're not geckos," he said.
Still, the team can show amputees just how much they can accomplish, said Karl Dorman, a former Army staff sergeant, who lost his right leg in 2002.
"Sometimes you're not sure where you're going or how you're going to get there," he said. "You just have to go as far as you can see, and once you get there, you can go a little bit further."
jeffrey.schogol@stripes.osd.mil
Twitter: @JeffSchogol
---
---
---