William Murphy, Stars and Stripes chief financial officer, dies at 56
---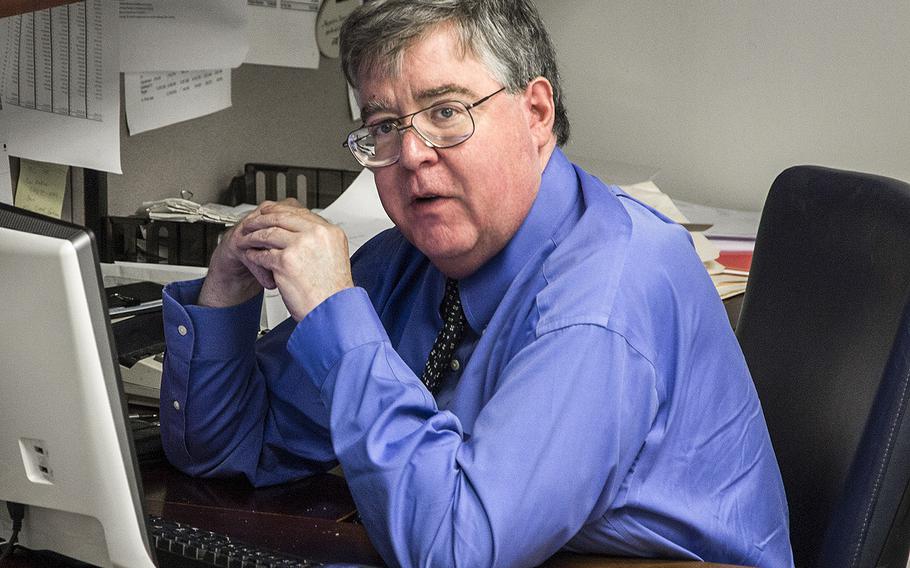 William Aubrey "Bill" Murphy, chief financial officer for Stars and Stripes and a member of the town council in Dumfries, Va., died Feb. 3 at his home. He was 56.
Murphy came to Stars and Stripes in 1997 and was promoted to CFO in 2012.
"Bill believed strongly in the mission to provide servicemen and women around the world with independent news and information," said Stars and Stripes Publisher Max Lederer. "His dedicated service was essential to successfully entertaining and informing the military community. Bill was a gentleman, a dedicated manager, committed to everything he did. He made a difference in all the lives he touched."
Murphy was born Sept. 26, 1960, in Clinton, N.Y. He attended Mohawk Valley Community College and graduated in 1980 with an associate's degree. He went on to graduate from Rochester Institute of Technology in 1982 with a bachelor's degree in accounting. While there, he was governor of residence halls and played varsity ice hockey.
Murphy was very active in his local community, serving on the Dumfries Board of Zoning Appeals for five years before being appointed to the town council two years ago. He was also an usher at St. Francis of Assisi Catholic Church in Triangle, Va.
Friends remember Murphy for his devotion to community service and volunteering. He was passionate about hockey, loved grilling outdoors and was devoted to his longtime companion, Mylien Nguyen of Annandale, Va., and his dog, Lexi.
Stars and Stripes staff members were quick to recall him fondly.
Marie Woods, director of publishing and media design, worked with Murphy for the last 18 years.
"He was a good soul, generous and thoughtful to everyone he knew. I'm grateful for having had the opportunity to know him and count him among my closest friends. I will truly miss him."
He was a valued resource to many.
"For newcomers like me, Bill was a one-stop shop for information on how to wade through the rules and regulations of the U.S. government and for translating 'GovSpeak' into clear English," said Robert Reid, senior managing editor of Stars and Stripes. "He always did so with a smile."
Corey Henderson, a Stars and Stripes multimedia consultant, called Murphy "an important leader in our professional family."
"He worked hard to make sure that our organization maintained solid stewardship of the funds that support our servicemembers and their family members."
Murphy was also known for his warm nature and sense of humor. Meg Irish, director of member services, recalled that "early in my time with Stripes, Bill arrived in my office to distribute our pay documents and I said, 'Oh, look! It's the Paycheck Fairy!' And without missing a beat or cracking a smile, Bill drew himself up and replied, 'Please! The correct term is Finance Ranger.' I've thought of him as our Finance Ranger ever since."
Chris Carlson, Stars and Stripes publishing and media design manager, said Murphy was respected for the work he did. "But most importantly, he was just a great guy. He will be missed."
Visitation will be from 1-3 p.m. Feb. 12 at Owens-Pavlot & Rogers Funeral Service in Clinton, N.Y. A funeral Mass will be at 9:30 a.m. Feb. 13 at St. Mary's Catholic Church in Clinton.
A memorial service will be from 3-4 p.m. Feb. 24 at St. Francis of Assisi Catholic Church, 18825 Fuller Heights Rd., Triangle, Va., followed by a reception in his honor at the Dumfries Triangle Rescue Squad Bingo Hall, 3800 Graham Park Rd., Dumfries, Va.
---
---
---
---