Wilkie: 'Trump is the first president since 1890s' to recognize veteran suicide crisis
---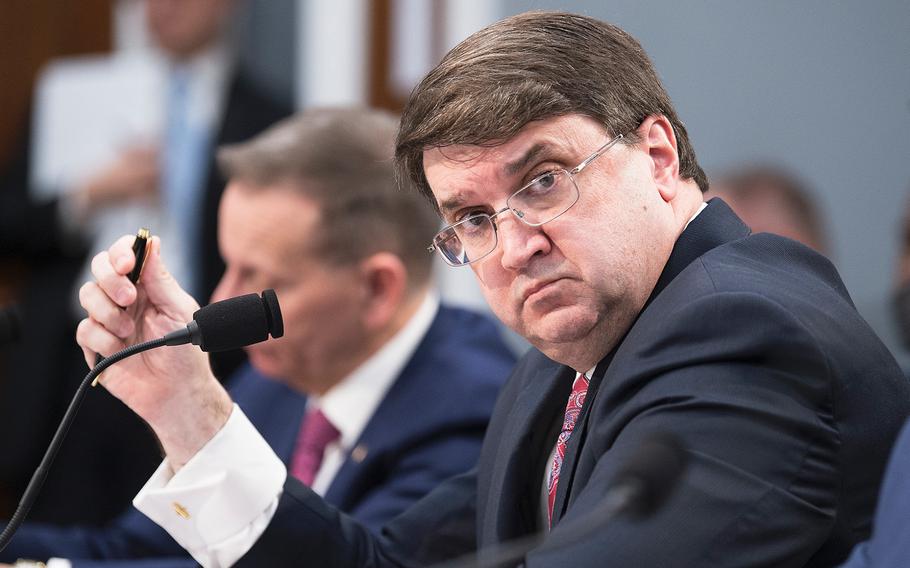 WASHINGTON — Department of Veterans Affairs Secretary Robert Wilkie on Thursday told a conservative media outlet that President Donald Trump is the first president in more than 100 years to take veteran suicide seriously.
"President Trump is the first president since the 1890s who recognized the scourge of veteran suicide," Wilkie said during an interview on the One America News Network, known as OANN, a pro-Trump media outlet.
Wilkie denied making the comment later Thursday during a call with reporters and pointed to the Trump administration's work on veterans issues.
"This president has allowed me to present the two largest budgets in this department's history," he said. "No one has ever tackled suicide in a comprehensive way."
Wilkie's appearance on OANN is not the first time that the VA secretary has spoken to a conservative news outlet. In March, he was interviewed on Breitbart, where he warned "socialism" will destroy the VA. At the time of the interview, self-identified democratic socialist, Sen. Bernie Sanders, I-Vt., was the frontrunner in the Democratic presidential primary.
Paul Rieckhoff, who founded Iraq and Afghanistan Veterans of America, a nonprofit veterans advocacy group, challenged Wilkie's comment on Trump's efforts with veterans suicide.
"Nobody has done enough, but it's a lie to say nobody has done anything but Trump," Rieckhoff said. "Anyone who's spiking the ball on suicide is way out of touch."
Veteran suicides outpace fatalities in Afghanistan. Last year, 6,143 veterans killed themselves, according to VA data, while 22 service members died in Afghanistan.
Between 2005 and 2017, 78,875 veterans took their own lives, according to the most recent data from the VA — more than the number of Americans killed in each major conflict except for World War II and the Civil War.
Last year, Trump said he passed a sweeping private-sector health care program, The Veterans' Access to Care through Choice, Accountability, and Transparency Act of 2014, after failed attempts to expand care for veterans by previous presidents for nearly 50 years.
"We passed VA Choice and VA Accountability to give our veterans the care that they deserve and they have been trying to pass these things for 45 years," Trump said at a Pennsylvania rally in May 2019.
However, former President Barack Obama signed the measure into law in 2015 in the aftermath of a scandal at a Phoenix VA where 35 veterans died waiting for care. Trump has expanded eligibility for veterans seeking private health care.
Previous administrations have also taken action to address the veterans suicide crisis.
In 2015, Obama also signed a measure into law to combat the veteran suicides after increased attention since the peak of the post-9/11 wars. The bill was named after Clay Hunt, a Marine from Texas. He killed himself when he was 28.
"Too many of our troops and veterans are still struggling," Obama said at the bill signing. "They are recovering from injuries. They are mourning fallen comrades. They're trying to reconnect with family and friends who can never fully understand what they went through in war theater."
The Clay Hunt Suicide Prevention for American Veterans Act set oversights of VA programs and sets incentive programs to recruit mental health workers and expanded mental healthcare eligibility.
Rieckhoff said he advocated for the bill and it was a landmark effort in veteran suicide prevention. He said it was a monumental effort at an especially partisan time in Congress to get anything meaningful accomplished.
"This is when Congress was really divided and nothing could get through," he said.
In 2007, former President George W. Bush signed a suicide prevention bill into law, which required mental health training for VA staff and a suicide prevention counselor to be set at each health facility. The law was named after Joshua Omvig, a 22-year-old Iraq War veteran who killed himself in 2005.
beynon.steven@stripes.com Twitter: @StevenBeynon
---
---
---
---