White House releases VA nominee's evaluations in attempt to prove his merit
by
Nikki Wentling
April 25, 2018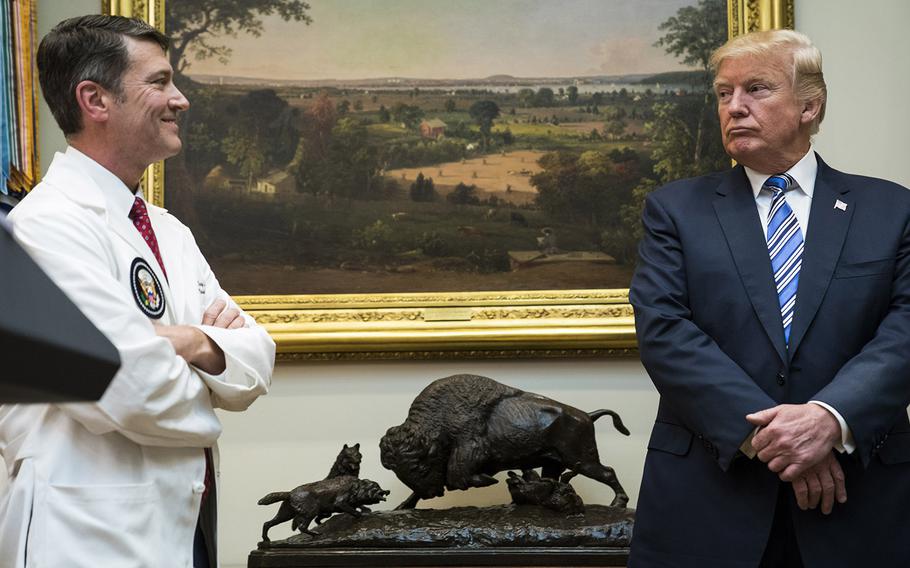 WASHINGTON — The White House on Tuesday evening released multiple hard-copy evaluations and inspector general reports about Rear Adm. Ronny Jackson, the White House physician, in an attempt to vindicate him after allegations emerged about his professional conduct.
The evaluations go back to 2014, when Jackson worked as former President Barack Obama's physician. In one evaluation from 2016, Obama wrote: "Ronny's positive impact cannot be overstated. He is a tremendous asset to the entire White House team." Last year, President Donald Trump wrote in his first report of Jackson: "Dr. Jackson is a great doctor + leader – '2 star material.'"
Trump on March 28 named Jackson as his nominee for Department of Veterans Affairs secretary, and the doctor has spent the past week meeting with lawmakers and veterans organizations.
On Tuesday morning, Republicans and Democrats on the Senate Veterans' Affairs Committee postponed Jackson's Wednesday confirmation hearing because of new information that they received about the nominee. Jackson faces allegations of creating a hostile work environment as White House physician, overprescribing medications and drinking on the job, according to multiple media reports.
Sen. Jon Tester, D-Mont., the ranking Democrat on the committee, told NPR on Tuesday evening that more than 20 military employees brought the yet-to-be-substantiated allegations to senators.
"We were told stories where he was repeatedly drunk while on duty where his main job was to take care of the most powerful man in the world," Tester told NPR.
Some employees alleged Jackson was doling out medications to staff during long trips, Tester said.
Trump said Tuesday that he still stood behind Jackson as his nominee for VA secretary, and the White House on Tuesday night emphasized its support for Jackson.
"Dr. Jackson's record as a White House physician is impeccable. He has improved unit morale, received glowing reviews and promotions under Republican and Democrat presidents, and has been given a clean vet from the FBI," an unnamed senior White House official said in a statement.
The official went on to say that Jackson "will not be railroaded by a bitter ex-colleague who was removed from his job." A 2012 assessment by the Navy Medical Inspector General – first reported by The Associated Press -- found Jackson and a rival physician, Dr. Jeffrey Kuhlman, exhibited "unprofessional behaviors" in a power struggle over the White House medical unit.
The White House released that assessment Tuesday and drew attention to parts of the report that attributed leadership failures to Kuhlman not Jackson. Kuhlman left his position in 2013, and Jackson was named physician to the president.
A follow-up inspector general report in 2013, also released by the White House on Tuesday, showed 66 percent of the 26 staff members in the medical unit who completed a survey felt the climate had improved since 2012. Inspectors received seven comments from staff claiming there was still poor communication. Six employees said there was low morale.
It was uncertain late Tuesday whether Jackson would continue with the confirmation process. During a news conference Tuesday afternoon, Trump discouraged him from continuing.
"I really don't think he should do it, but it's totally his decision," Trump said.
The two met in the Oval Office later Tuesday.
AMVETS, a large veterans service organization, spoke out late Tuesday, arguing it was a mistake to fire former VA Secretary David Shulkin. The group also criticized Trump's pick to lead the agency during Jackson's confirmation process. Trump bypassed VA Deputy Secretary Tom Bowman and chose a Defense Department undersecretary, Robert Wilkie, to take the job.
"No matter whether these allegations against Dr. Jackson prove true or false, whether they continue to delay his confirmation indefinitely or sink it altogether, it's the latest in a chain of unforced errors for which veterans are continuing to pay the price," AMVETS Executive Director Joe Chenelly said. "Veterans are losing six different ways right now, from all directions, and it's discouragingly unclear why this keeps happening or what might make it stop."
wentling.nikki@stripes.com Twitter: @nikkiwentling