'We're not taking a knee': Training under pandemic conditions could better prepare soldiers for the big fight
by
Corey Dickstein
October 1, 2020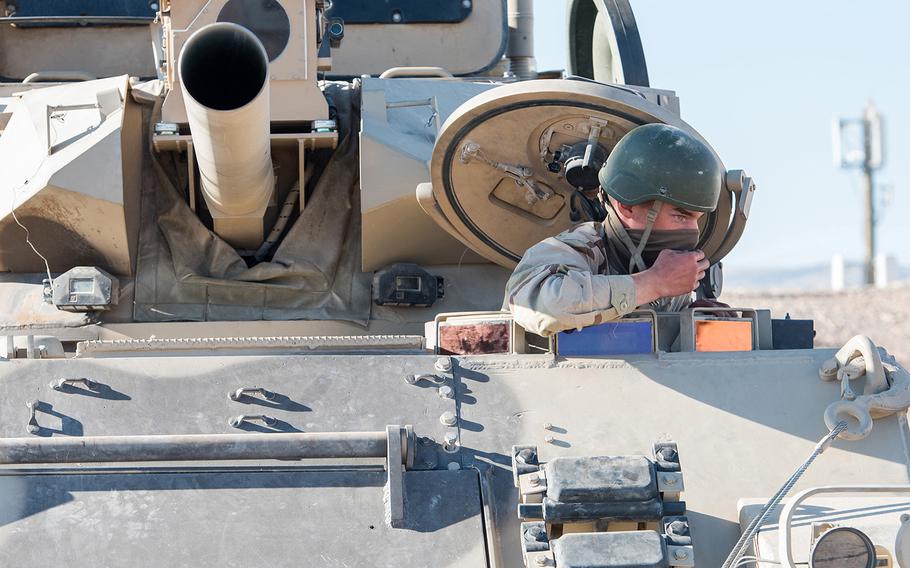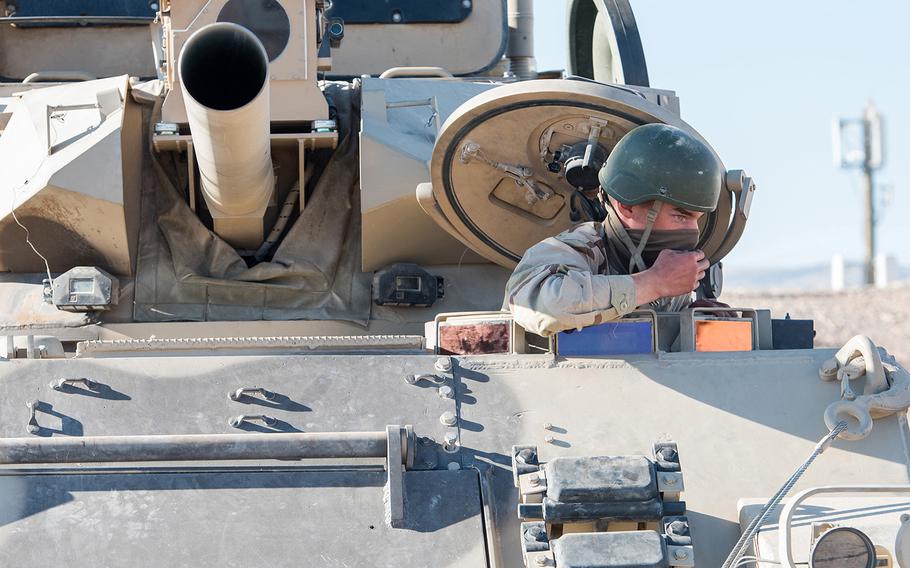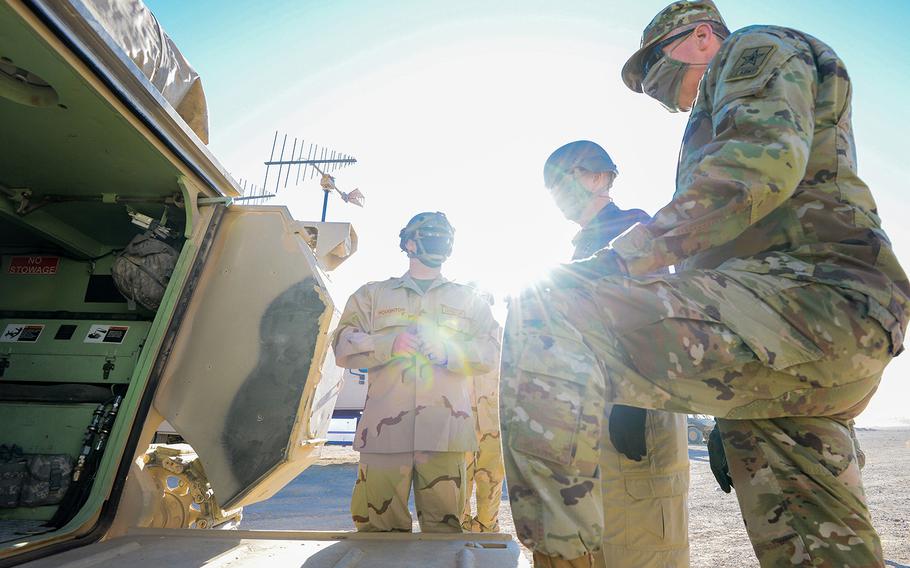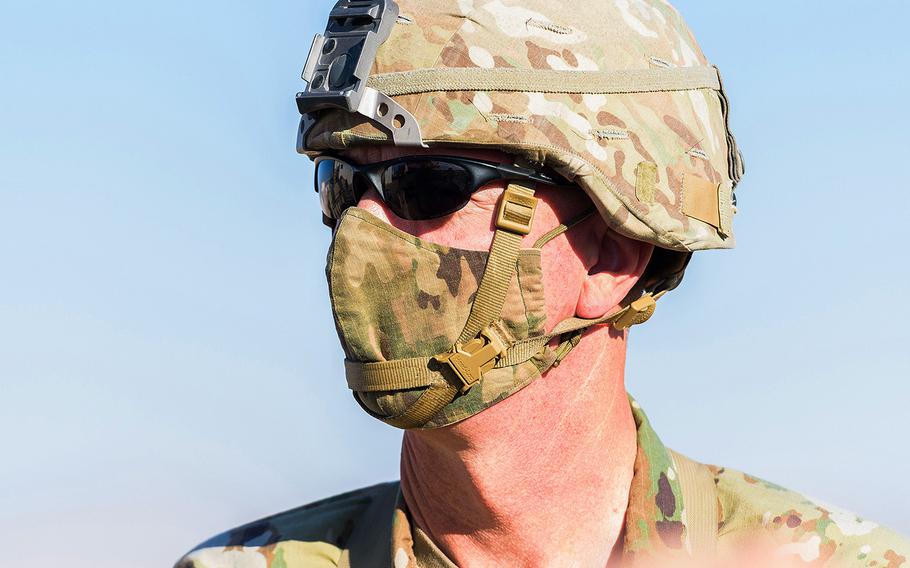 Stars and Stripes is making stories on the coronavirus pandemic available free of charge. See other free reports here. Sign up for our daily coronavirus newsletter here. Please support our journalism with a subscription.
FORT IRWIN, Calif. — Army Sgt. Jason Cho was more concerned about the sweltering heat in the Mojave Desert than the coronavirus, which has forced major changes to his Army National Training Center rotation.
Army and NTC leaders said they have worked hard to ensure that soldiers like Cho would be able to train at Fort Irwin with as little virus-related distraction as possible. They even found a silver lining — some of the changes forced by the pandemic could better prepare the Army to fight a near-peer adversary, like Russia or China, several top leaders said.
As a combat medic with the 1st Infantry Division's headquarters element, Cho was tasked with monitoring the condition of soldiers throughout the September training exercise, including checking for coronavirus symptoms. But nearly two weeks into the rotation, Cho said his main challenge was soldiers' overheating, as temperatures eclipsed 100 degrees.
"The extreme heat, sleeping outside, the winds … Dealing with those heat injuries has been keeping us pretty busy," said Cho, wearing an Army green face covering — a requirement for the nearly 5,000 soldiers participating in the September NTC rotation.
The pandemic has made a complicated task — moving thousands of troops and hundreds of vehicles around the country to a single training post in the middle of the desert — even more difficult. The worry of spreading the coronavirus, as it swept across American states in the spring, forced Army officials to shut down NTC and its two sister combat training centers in Louisiana and Germany in mid-March.
At Fort Irwin, before reopening the post in July after missing two rotations, officials had to answer a challenging question: How do you move 5,000 soldiers on and off the installation without spreading the virus between those rotational forces and the post's own population of troops, family members and civilian workers?
The answer, according to Brig. Gen. David Lesperance, the senior commander for Fort Irwin and NTC, was to make some policy changes, restrict access to the post's training areas, and rethink how soldiers flow on and off for training.
Instead of holding thousands of incoming and outgoing soldiers in one location as NTC rotational units have done for years, smaller groups of soldiers now enter and exit NTC's 775,000-acre training area — known as "the Box" — from separate locations, Lesperance said.
Soldiers entering training no longer stage together outside the Box for several days. Instead, they gear up as soon as their vehicles and supplies arrive, enter the training range and begin to operate in a much more expeditionary fashion, he said. It is the way top Army leaders envision deploying forces into remote locations, if a large-scale war were to break out against a force with similar firepower.
The Army must trainGen. Joseph Martin, the Army's vice chief of staff, and Army Undersecretary James McPherson visited NTC last month to see firsthand what training at the critical post looked like during a pandemic. They came to observe the 1st Infantry Division headquarters rotation, an unusual training scenario built around the division headquarters instead of a brigade combat team, as the majority of combat training center rotations have been.
The operational pause at the outset of the pandemic caused training issues for the Army, leaving some units at lower combat readiness levels than leaders would prefer. It was critical that the Army reopen training centers quickly and safely so soldiers and their units could get the warfighting repetitions they required to be prepared to fight, Martin said.
"That's what our country expects of us, regardless of circumstances," said Martin, who visited NTC for the first time since leaving the installation as its top commander in 2016. "America cannot afford for us to do that. They expect us to operate regardless of how degraded the environment may be."
Russia, China and other adversaries watch the U.S. military closely, including whether its soldiers are conducting the kind of training they can only accomplish at NTC.
"That's not lost on either of our near-peer competitors, [who say], 'Wow. The U.S. Army's back to doing that large-scale training again," said McPherson, who was visiting Fort Irwin for the first time.
Calling it a "huge black eye," McPherson highlighted the U.S. military's most high-profile pandemic-related incident — the coronavirus outbreak aboard the USS Theodore Roosevelt aircraft carrier, which began in March. The incident would sideline the ship for two months as more than 1,000 sailors contracted the virus, and one died from complications. That episode, which would trigger the removal of senior officials from the ship's captain to the Navy secretary, resulted in McPherson briefly serving as acting Navy secretary before he returned to his job as Army undersecretary.
"We, the Army, have now responded with a large NTC training evolution," McPherson said Sept. 20 after leaving Fort Irwin. "That's sending a message to [adversaries] as well: The Army's training, and we're not taking a knee … even in a worldwide pandemic. We're training to defeat you. That's the message we're sending."
Since returning soldiers to the Box at NTC, the Army has completed three rotations, including a National Guard brigade rotation that saw troops come to Fort Irwin from 27 states.
Soldiers have tested positive for the virus during training rotations, but they have not sparked any significant outbreak, said Lesperance, the post's top commander. There have been no indications that rotational soldiers have infected any troops stationed at Fort Irwin, he said.
Those who have tested positive — the Army declined to disclose how many cases it has seen among either soldiers stationed at Fort Irwin or among its rotating training forces, citing Pentagon policy — have been immediately removed from the Box and quarantined. An Army spokesman described "a few" such cases during the September rotation for the 1st Infantry Division.
"All the safety protocols that we planned for, and that we've executed, have worked," Lesperance said. "I feel very confident that we'll be able to continue to train as our Army requires us to do."
A leadership crucibleThe training scenario for the September rotation included elements the Army would face in a full-spectrum fight in several domains — land, air, space and cyberspace. Fort Irwin's dedicated opposing force, the 11th Armored Cavalry Regiment, challenged the soldiers on the ground from the 1st Infantry Division headquarters and other units subordinate to the division based at Fort Riley, Kansas. The regiment used technology and tactics meant to resemble current capabilities of near-peer rivals, which 11th ACR soldiers have mastered through repeated fights with rotational units. The opposing force simulated direct ground attacks, artillery and helicopter strikes and even chemical attacks to test the capabilities of the 1st Infantry Division soldiers on the ground.
Like other NTC rotations, the training included live-fire tests, allowing commanders to coordinate operations from their mobile command centers set up — and repeatedly moved — across the desert training grounds. All the while, NTC-based observer-coach-trainers — soldiers charged with teaching and guiding the deployed soldiers — critiqued their choices and execution.
Army leaders bill NTC as a leadership crucible, designed to test decision-makers' abilities to coordinate a fight or respond to aggression under harsh, unforgiving conditions. It is not unusual for rotational forces to take a beating from the opposition force, but it helps them learn from their mistakes when lives are not at risk.
"This is how we learn in these [combat training center] rotations," the Army vice chief said. "They reveal things that if you had otherwise not done them, you would learn them in the wrong place — when you're at risk of being struck by the enemy."
That was a lesson Capt. Sean McQuade and other soldiers learned quickly during the training. McQuade, an intelligence officer on the 1st Infantry Division headquarters staff, said his unit experienced a mass casualty in a simulated gas attack just one day before the visit by Martin and McPherson.
McQuade managed to "survive" the attack, getting his gas mask on and sealed in time, he said. The rotation taught him to stick with the fundamental aspects of warfighting that he has been taught since he was a second lieutenant more than five years ago.
"You're in an uncomfortable environment with the desert … but ultimately your training kicks in, you survive the [gas] attack, and you continue to the next day. In my case that is giving an update on the enemy situation, and life goes on," he said. "Sure it's uncomfortable [at NTC], not as sanitary as Fort Riley would be back at home, but, ultimately, it's really setting the conditions for us to be ready for when we deploy, be it to Poland, somewhere else in Europe or another operational environment."
Another lesson the soldiers quickly learned was that they cannot rely on their key communications gear to function properly in a harsh environment. Often that meant using old-fashioned analog methods of tracking the battle picture.
"You have to go back to … get out your map, plot these [locations,]" McQuade said. "We have to continue the mission because you can bet that in a peer-on-peer fight, we're going to have degraded communications."
A 'brilliant' solutionMcQuade, on his first rotation to NTC, said it was "a little exciting" to be among the Army's first units training during the pandemic.
There were, of course, the annoyances: the face masks, the temperature checks each time soldiers entered the division's main command center, and the constant reminders to avoid being in groups. But he was also intrigued by the real-world impact the pandemic was having on the deployment.
"It really is interesting to see when we go out into the field, what's going to happen," he said. "What if that unknown comes into play, that unknown factor [of the pandemic] that's going to make this scenario different than others?"
McQuade said he believed he was safe from the virus, and the training rotation felt much like other training exercises he has taken part in for years.
That was the idea, Martin and other Army leaders said. By taking measures to curb the chances of an outbreak, soldiers can focus on the training, on learning how to fight against a near-peer competitor, Martin said.
"It forces us to go through a higher level of thinking than we ever did before, and it was born because we had to create a pandemic-mitigating environment" to separate two units entering and exiting NTC, Martin said. "And I think it's brilliant."
The general said the Army likely has not yet realized the impact that the more expeditionary approach to training could have on the service, but it is clear soldiers need to prepare to fight in exactly that manner.
"Those are the type of environments we're going to go into," Martin said. "It's a wickedly complex problem, but we have had two brigades that have done it so far … and the rest of the Army is learning from this today."
dickstein.corey@stripes.com Twitter: @CDicksteinDC