Voices of veterans: New museum in Ohio is a salute to stories, not war
by
Nikki Wentling
November 9, 2018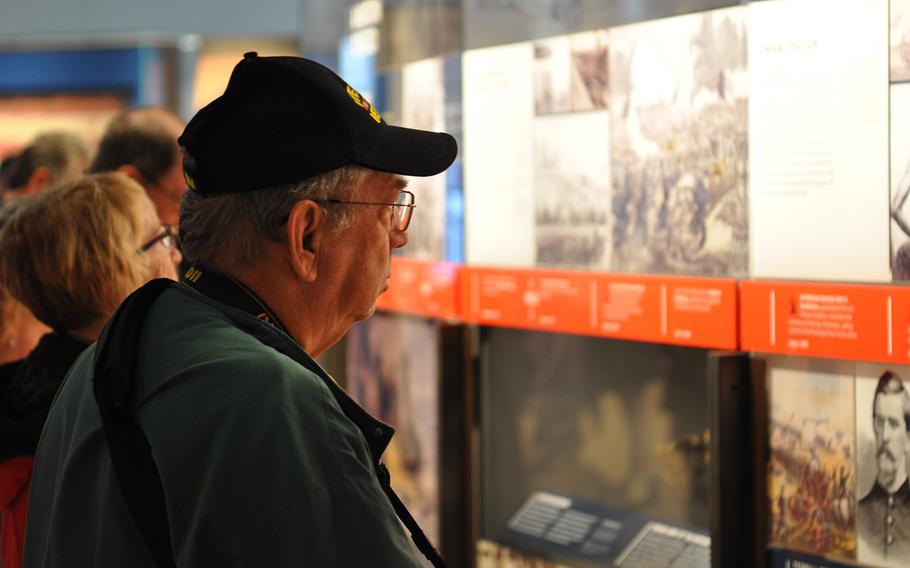 COLUMBUS, Ohio – Retired Col. Thomas Moe, a former fighter pilot and prisoner of war, stepped up to an exhibit at the new National Veterans Memorial and Museum, where he spotted a photo of himself with his wife, Christine.
The photo, taken recently, was attached to the lid of a Vietnam War-era military trunk. He lifted it and saw more photos: their wedding photo from 1965. One of the couple as they left for their honeymoon in the Pocono Mountains. And one taken later – Moe at 23 on Danang Air Base in South Vietnam.
The moment Moe lifted the lid, a recording of his wife's voice started playing. "I knew he was going to be deployed, and I just kept trying to not think about it," you could hear her say. "When it came to the day before, it hit me hard. I just fell apart. I just couldn't believe he was going to war."
Moe leaned in.
"Isn't that clever?" he asked.
It was his first look at the exhibit, part of a museum he helped establish in downtown Columbus. Congress designated the facility a "national" site this summer, and it officially opened with a ceremony Oct. 27.
The 53,000-square-foot museum and 2.5-acre memorial grove that surrounds it cost $82 million, most of it from local donors. Leslie Wexner, a billionaire businessman and philanthropist born in Dayton, Ohio, contributed $40.6 million.
The idea started with one veteran. Astronaut John Glenn, a former Marine, U.S. senator and Ohio resident, wanted a special, sacred place to honor and connect veterans and teach others about their service.
"He wanted the experience to begin when people saw the building," said Amy Taylor, chief operating officer of the Columbus Downtown Development Corp.
The unique circular structure, designed by Allied Works Architecture in New York, is made of three sweeping, white concrete arches that spiral to a rooftop event space.
To decide its contents, a team of people, including Moe, traveled across the country to hold focus groups and interview veterans about what they wanted it to be.
One thing was certain: It wasn't going to be a war museum.
"You're not going to see tanks here, or planes hanging from the ceiling," Taylor said. "What you are going to see and hear are the stories – Why did someone decide to serve? What was it like to take the oath, serve in combat? What was it like to come home?"
The National Veterans Memorial and Museum includes stories of dozens of veterans of different genders, races and backgrounds – those in the public eye and others who are lesser known. Some served in combat, and some had different roles during their military service.
It features Jaspen "Jas" Boothe, of Arlington, Va., who worked as a human resources officer in the Missouri National Guard. After becoming homeless as a result of Hurricane Katrina, Boothe exposed the lack of resources for homeless female veterans and created an organization to bridge that gap.
"I wanted them to tell these stories that are not typically told," Boothe said. "In the media, it's always about combat or wounded, ill or injured troops, and service is so much more than that. To be able to learn about service and sacrifice that's not just about one gender or one conflict or just combat – this does that."
One part of the museum highlights more notable veterans, such as Glenn. Glenn formed the idea for the museum in 2012 to replace the old Franklin County Veterans Memorial Building, which used to sit on the spot along the Scioto River.
He died in December 2016, before construction was completed.
"Hopefully he's looking down and he's proud," Taylor said. "I think he would be."
To the right of Glenn's exhibit is one featuring William McNulty and Jake Wood, founders of Team Rubicon, a global response group of veterans. Next to them is Sen. Tammy Duckworth, D-Ill., a former Army helicopter pilot who lost both legs while serving in Iraq.
Also included is John McCain, the former U.S. senator, presidential candidate, naval aviator and POW who died in August. Next to a panel showing McCain in his DC office is an exhibit for Wes Moore, an Army combat veteran who runs the Robin Hood Foundation to fight poverty in New York City.
The museum conveys local stories, too – like that of former Marine Corps Sgt. Jason Dominguez.
Dominguez deployed to Iraq in 2005 with Lima Company – an Ohio-based unit that once was referred to as "Lucky Lima" because of an uneventful first few weeks in Iraq. That quickly changed. With several instances of devastating losses, the Reserve unit would become a face of the Iraq War.
Dominguez's friend, Cpl. Andre Williams, was shot and killed. Days later, a roadside explosion killed 14 Marines and an Iraqi interpreter, 11 of them from Lima Company.
All told, the unit would lose 22 Marines and one Navy corpsman within several months.
The experience motivated Dominguez to live a life worthy of their sacrifice, he said. He believes the museum could help people who didn't serve in the military start to understand that.
"When you serve in the military, there's a change that occurs in you," Dominguez, now 38, said. "You will never be the same person again, and the lens through which you see the world changes as well. Those who have never served don't have any idea what it is to view the world through that lens. This museum is what that is."
The National Veterans Memorial and Museum is at 300 West Broad Street in Columbus. It's open Wednesdays through Sundays, 10 a.m. to 5 p.m., as well as Veterans Day and Memorial Day.
The museum is free for veterans and Gold Star families. Admission is $17 for adults 18 to 64, $15 for those 65 and older, $10 for ages 5 to 17 and free for children under 5.
wentling.nikki@stripes.com Twitter: @nikkiwentling