Virtual reality-heavy course speeds up Air Force helicopter pilot training by six weeks
---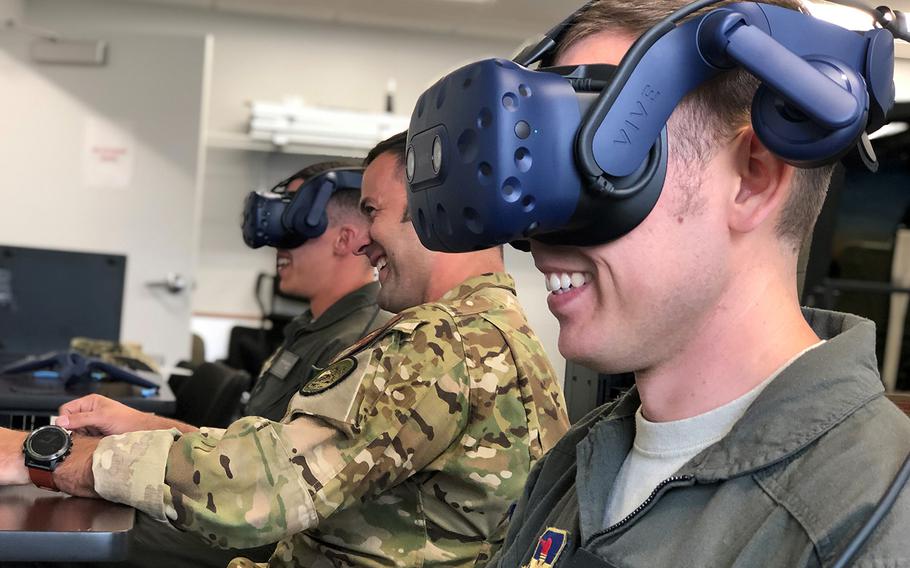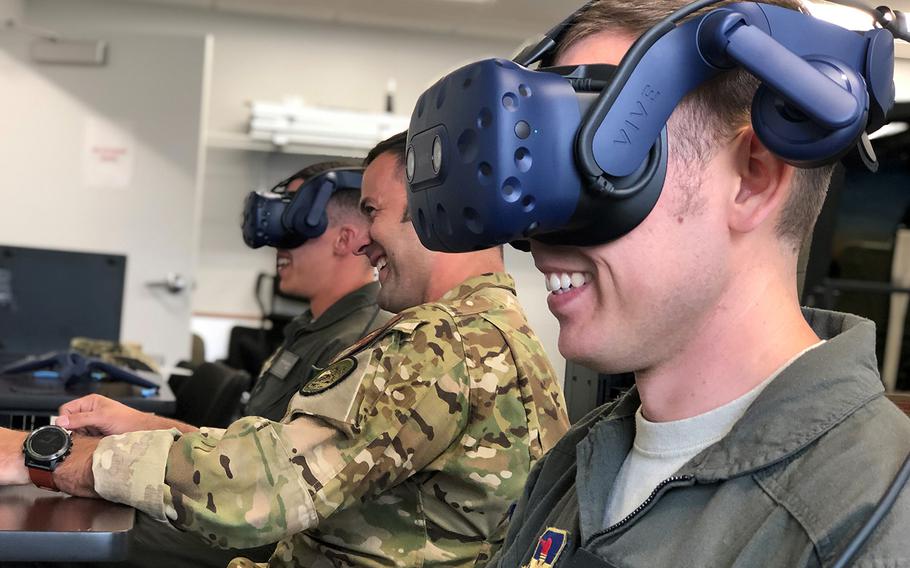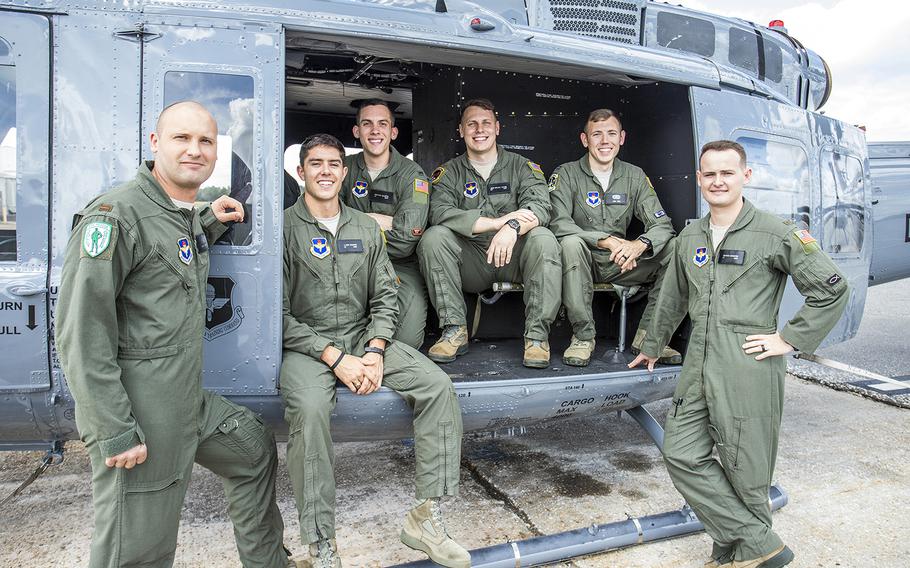 The first six new Air Force helicopter pilots to train on virtual reality flight simulators recently pinned on their wings at the Army's Fort Rucker, Ala.
Late last week, the pilots graduated a redesigned course that prepared them to fly the UH-1N Huey, HH-60G Pave Hawk and the CV-22 Osprey six weeks earlier than the 28-week traditional pilot training program run by the 23rd Flying Training Squadron.
Called Rotary Wing Next, the program trims actual cockpit flying by nearly 18 hours and adds 38 hours of VR simulator flights to 20 hours of traditional simulator training.
Students spend 23 ½ hours in VR before climbing into an aircraft, where they can expect to fly 67.3 hours during the course, Capt. Matt Strick, Innovation Flight commander, told Stars and Stripes by phone Wednesday.
By reducing the course length and incorporating new technology, the Air Force saves around $60,000 per student compared to the previous course, said squadron commander Lt. Col. Jake Brittingham by phone Wednesday.
The technology is making better use of instructor and student time, he said.
"Where we really made our money was in the virtual reality sims," Strick said. "You can really make time stand still. You can work on crew communications, checklists and start-up procedures before ever getting in the cockpit. We teach as [students] are doing the virtual reality flights."
Eventually, Rotary Wing Next is expected to produce new Air Force helicopter pilots in as few as 14 weeks.
Last year, Maj. Gen. Patrick Doherty, then the 19th Air Force commander, tasked Brittingham and other members of the 58th Special Operations Wing at Kirtland Air Force Base, N.M., to find a more efficient way to train helicopter pilots to meet the growing needs of the special operations units and the new platforms they will be fielding, Brittingham said.
For example, the Air Force plans to replace the Pave Hawk, its version of the Black Hawk helicopter, with the HH-60W combat rescue helicopter as early as 2021, according to manufacturer Lockheed Martin's website.
Meanwhile, plans are to eventually replace the 40-year-old Huey, which the Air Force uses to defend missile fields, with the MH-139, built by Boeing.
Traditionally, the Air Force training squadron at Fort Rucker produces around 60 rotary-wing pilots a year, Brittingham said. The squadron was asked to increase its training output to 120 pilots a year by 2023-25, he said.
In fiscal year 2019, the squadron trained 74 pilots and is on course to train 85 in fiscal year 2020.
The Air Force implemented the idea for virtual simulators for helicopter training from its experimental Pilot Training Next program at Joint Base San Antonio-Randolph, Texas, a relatively new program to train fixed-wing pilots to fly everything from the F-35 Lightning II strike fighter to heavy lifters like the C-5 Galaxy.
That program reduced the time needed to train fully qualified pilots from one year to six months. It graduated its first class of pilots in July 2018 and another in August.
Air Force helicopter pilots begin their training in the fixed-wing T-6 Texan II for six months. They then move into rotary-wing training where they first learn the basics of flight with vertical lift — takeoffs, landings and how to hover, Brittingham said.
The students then learn to fly the helicopter in tactical situations – low-level flying, landing and taking off on unprepared surfaces, flying in formation and with night-vision goggles.
The recent grads' first day of class was May 7 and on May 8 they had their first VR flight, Brittingham said.
By the time the students climbed into an actual helicopter they knew how to talk as a crew, were familiar with the aircraft and had dealt with simulated problems in VR, which means instructors are just fine-tuning instead of starting from scratch, Strick said.
The six new pilots will be divided evenly among the three rotary-wing communities in the Air Force for follow-on training.
They are expected to send feedback about Rotary Wing Next to Fort Rucker. The training squadron plans to start another class in eight months, after the VR simulators receive updated software.
The software update will replace the Bell 412 utility helicopter simulation with the TH-1H primary trainer that is flown in training. The TH-1H is basically a Huey airframe with an updated cockpit like those in the helicopters the trainees will eventually fly.
Additionally, now that the first class of students has completed the course, all students in the school's traditional training course will get 20 hours of virtual reality simulator time, Strick said.
---
---
---
---