Veterans group urges White House task force to release plan for suicide prevention after delays
by
Nikki Wentling
June 8, 2020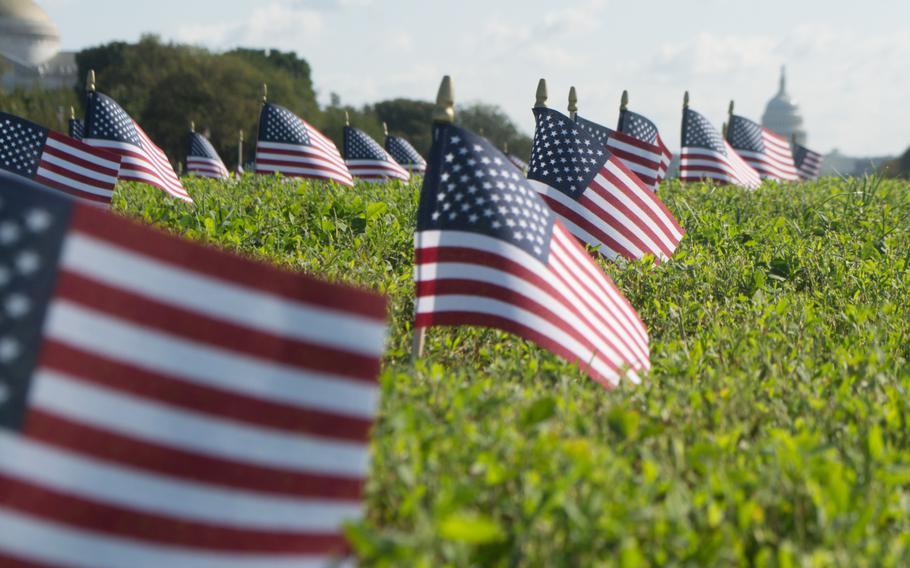 Stars and Stripes is making stories on the coronavirus pandemic available free of charge. See other free reports here. Sign up for our daily coronavirus newsletter here. Please support our journalism with a subscription.
WASHINGTON — A national veterans organization urged the Department of Veterans Affairs Secretary on Friday to release its past-due plan to prevent veteran suicide.
Citing the coronavirus pandemic and its economic fallout as a source of mental stress, Iraq and Afghanistan Veterans of America called on Secretary Robert Wilkie to publish the strategic plan, which is supposed to provide a roadmap for improving federal, state and local efforts to prevent suicide. The plan was recently delayed for a third time, IAVA said.
"The reality is that our veterans — and the country as a whole — need increased access to and support from mental health care professionals now more than ever," said Jeremy Butler, CEO of IAVA. "It is likely that the ongoing and pervasive effects of the pandemic are only exacerbating an already tragic situation."
President Donald Trump issued an executive order on March 5, 2019, that created a White House task force titled PREVENTS, short for "President's Roadmap to Empower Veterans and End a National Tragedy of Suicide." Trump said its purpose was to "mobilize every level of American society" to address the crisis.
The task force, led by Wilkie, as well as the secretaries of Defense, Health and Human Services and Homeland Security, was responsible for working with the public and private sectors over the past year to better understand the underlying factors of suicide and develop methods for addressing it at the state and local levels. The White House planned to provide grants to state and local governments to support the initiatives.
The PREVENTS task force was supposed to develop and submit a strategic plan by March 5, 2020. The release date was put off because of the pandemic – a reason Butler said was being used as an "excuse to delay action." It's uncertain when the roadmap will be published.
The Associated Press, citing an unnamed official of Trump's administration, previously reported that the deadline was changed to Memorial Day, which was May 25. The date passed without the plan being released.
Last week, Wilkie testified to House lawmakers that the roadmap would be released June 14 and would also include plans for veterans struggling with homelessness and addiction. IAVA released a statement Friday, saying it had become clear the plan would no longer be released June 14 and "little clarity has been provided on the actual release date."
"I will be… inaugurating our PREVENTS task force recommendations on mental health and suicide prevention on June 14," Wilkie told lawmakers May 28.
The roadmap would discuss "the way of the future when it comes to mental health," Wilkie added. "I think we'll be the first large health care organization to invoke a national conversation on mental health and how we treat it."
When asked Monday about the timing of the roadmap, VA Press Secretary Christina Noel said only, "We do not have any scheduling announcements at this time."
The VA's budget request for fiscal 2021, released in February, would include $53.4 million to the PREVENTS initiative, though the plans for the task force have not been shared.
The last annual report from the VA showed that suicide among veterans continues to be higher than the rest of the population. The suicide rate among male veterans was 1.3 times the rate for other adult men in 2017, the latest year data was available. For women, the contrast is even more stark. The rate among female veterans was 2.2 times the rate for other adult women that year.
The highest suicide rate was among younger veterans, ages 18 to 34. In 2017, there were 44.5 suicides for every 100,000 veterans in that age group.
Experts have shared concerns about the mental wellbeing of Americans — including veterans — during the pandemic because of the isolation and widespread job losses.
"If you look at any challenges in America — 9/11, the 2008 recession, hurricanes — people tend not to come right out to get care, but soon thereafter the system is flooded," said Anthony Hassan, president of Cohen Veterans Network. "We anticipate seeing a lot of this."
Hassan suggested people try to eat well, to sleep and to exercise, but acknowledged that could be difficult while families are all at home together. He encouraged people to take "timeouts" at home by being alone and listening to music, taking a walk or calling someone who's a good listener. Using telehealth or calling the Veterans Crisis Line also are options, he said.
"So many people are left alone and isolated right now, and just to reach out and talk to someone would be a real good thing," Hassan said. "The more we can engage, the more likely we are to save lives, families and futures."
Wentling.nikki@stripes.com Twitter: @nikkiwentling