VA secretary Wilkie denies connection to 'Mar-a-Lago Crowd'
by
Nikki Wentling
September 26, 2018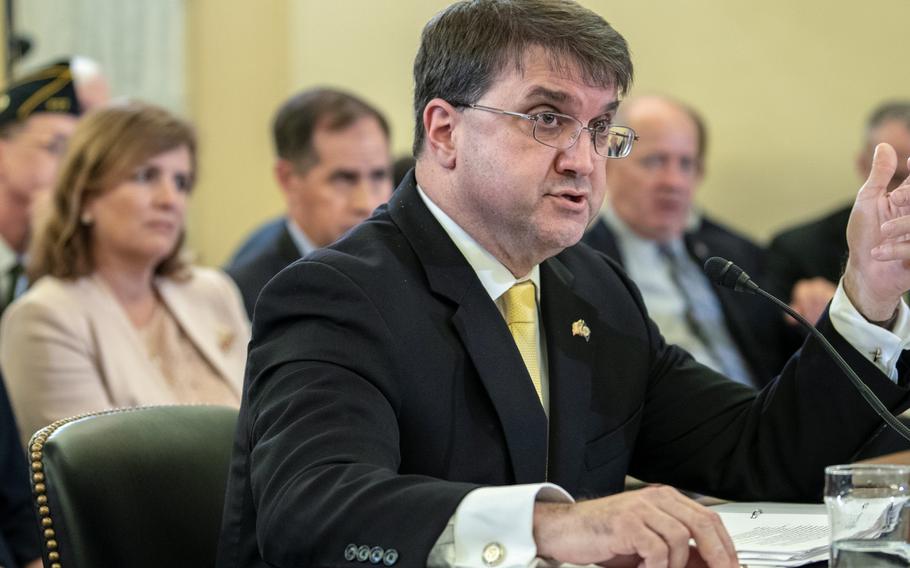 WASHINGTON — New Department of Veterans Affairs Secretary Robert Wilkie insisted Wednesday he's not taking cues from three members of President Donald Trump's club in Palm Beach, Fla., now known as the "Mar-a-Lago Crowd."
Shortly after Wilkie was confirmed as secretary in June, news reports revealed a trio of wealthy Mar-a-Lago members had been exerting major influence over Trump's veterans policies. Sen. Patty Murray, D-Wash., and Sen. Mazie Hirono, D-Hawaii, questioned Wilkie about it Wednesday during a Senate Veterans' Affairs Committee hearing.
"Some of us wrote a letter to the chairman that we would like to have an oversight hearing regarding what we would consider inappropriate influence at your department with three people from Mar-a-Lago," Hirono said. "I'm going to take this opportunity to ask you some questions."
Wilkie met for one hour with the trio in Palm Beach when he was serving as acting secretary this spring, he said. At that meeting, they discussed a major project to overhaul the VA's electronic health records.
"I've had no connection with them since then," Wilkie said.
The Mar-a-Lago trio includes Marvel Entertainment Chairman Ike Perlmutter, lawyer Marc Sherman and Bruce Moskowitz, a Palm Beach doctor. None of them served in the U.S. military or government, yet they ordered VA officials to steer policies affecting millions of Americans, ProPublica reported in August. Since then, multiple lawmakers have called on the VA Office of Inspector General to investigate their influence over the agency.
On his first day as acting secretary this spring, Sherman was waiting for Wilkie in his office at VA headquarters. Wilkie said Wednesday that it wasn't a formal meeting and that their discussion was short.
"Somebody I never met before was standing there and told me for whom he worked, and I listened and I said, 'Thank you, I'm always happy to listen to anyone who wants to talk about veterans,'" Wilkie said. "I was not familiar with what was going on. That was my first day."
Speaking with reporters after the hearing, Wilkie said he has brought on a new leadership team, and "the institution has calmed down."
"I believe it's a nonpartisan institution," he said. "I'm going to do my best to work with Congress and make sure people feel good about working at VA."
Sen. Jon Tester, D-Mont., the ranking Democrat on the Senate Veterans' Affairs Committee, said he spoke with numerous veterans groups who believe the VA has been "increasingly disengaged" with them.
"Collaboration and partnerships are more critical than ever," Tester said. "Unfortunately, in my opinion, it looks like the VA might be headed in the opposite direction, disengaging with veteran stakeholder groups ... and becoming less transparent when it needs to be more transparent. I hope that I'm wrong."
Wilkie responded that he plans to implement all-day meetings with veterans organizations once every two months. The first of those is Wednesday, he said.
In addition to questions about outside influence, senators asked Wilkie about staff vacancies; efforts to implement the VA Mission Act, a $52 billion, far-reaching reform bill that Congress passed this summer; and a host of other issues.
Overall, Wilkie said, "the state of the VA is better."
"I didn't say 'good' or 'excellent.' It is better," Wilkie said. "And I think we're headed in the right direction." The hearing was dominated by talk of the Blue Water Navy Vietnam Veterans Act, which would extend benefits to veterans who served on ships off the coast during the Vietnam War, some of whom have been fighting for years to prove they were exposed to the chemical herbicide Agent Orange.
The House unanimously passed the bill in June, but it's been stalled with the Senate Veterans' Affairs Committee for months. Wilkie recently came out in opposition to the bill, citing high costs and insufficient scientific evidence. Many veterans groups and lawmakers have pushed for its approval.
Wilkie and Sen. Johnny Isakson, R-Ga., chairman of the Senate Veterans' Affairs Committee, pledged Wednesday to work together to make changes to the bill and get it through the Senate.
"We shouldn't have two classes of veterans who fought, just because one was on water and one on land. But we should also not hand out benefits just because we think they ought to," Isakson said. "We need to look at the facts and see where they lead us."
A timeline was uncertain Friday. If changes were made to the bill, it would have to go back to the House for a vote. The House was expected to break after this week for the midterm election season.
Wentling.nikki@stripes.com Twitter: @nikkiwentling