VA Secretary Shulkin fired; White House physician selected to replace him
---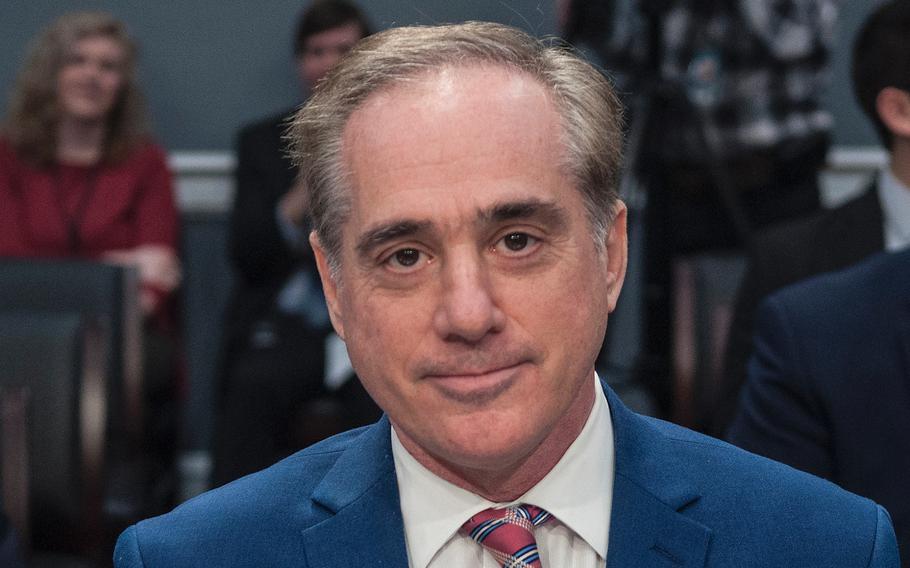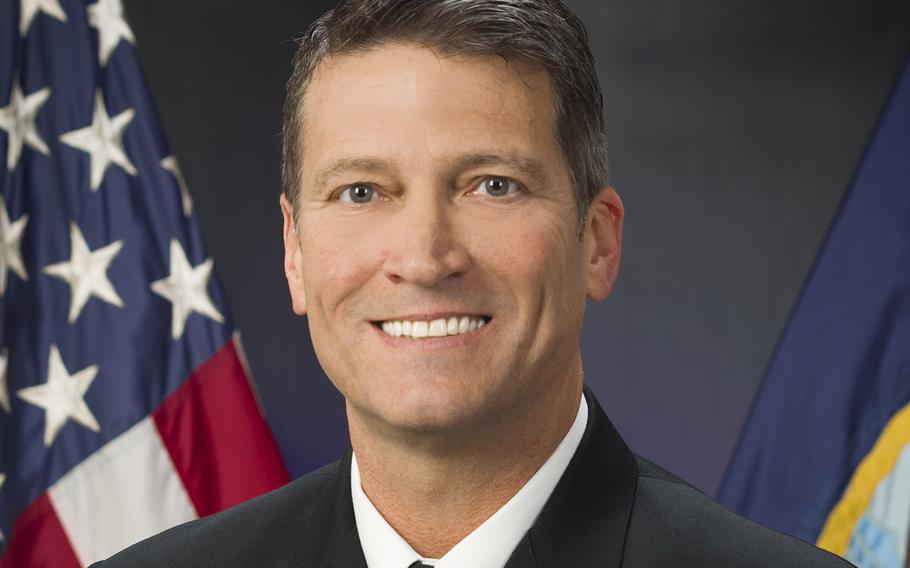 WASHINGTON — President Donald Trump on Wednesday fired David Shulkin as secretary of the Department of Veterans Affairs and nominated White House physician Rear Adm. Ronny L. Jackson to replace him.
After weeks of speculation that Shulkin would lose his job, Trump finally announced his decision to dismiss him through the president's preferred mode of communication: a tweet.
"I am thankful for Dr. David Shulkin's service to our country and to our GREAT VETERANS!" Trump's tweet concluded.
Shulkin's tenure as VA chief seemed precarious following revelations of his questionable spending on a summer trip to Europe with his wife. The travel scandal and increased political grappling with White House insiders at the VA about the agency's direction ultimately led to Trump's disfavor with him.
Now Jackson, 50, will be responsible for the second-largest federal agency, with more than 350,000 employees. It operates on a nearly $200 billion budget and includes a health care system serving nine million veterans nationwide.
Jackson was selected as White House physician in 2006, while he was still serving in Iraq as an emergency doctor. He served as a physician for former presidents George W. Bush and Barack Obama. Jackson appeared before the White House press corps earlier this year, when he reported he examined Trump and found the president to be in "excellent health."
Jackson must still be confirmed as VA secretary by the Senate. In the interim, Trump announced Robert Wilkie would serve as the acting secretary. Wilkie serves now at the Defense Department as undersecretary of defense for personnel and readiness.
Shulkin's firing is part of a broader shakeup at the White House. It follows Trump's abrupt dismissal of Secretary of State Rex Tillerson this month and comes just days after H.R. McMaster resigned as national security adviser.
Though Shulkin's dismissal had been apparent for weeks, the White House as recently as Monday insisted he had Trump's confidence.
Shulkin's dismissal and Jackson's appointment prompt questions of whether reform efforts underway at the VA will continue.
The agency is in the middle of contract negotiations for a new, multibillion-dollar project to replace its electronic health record, and it's implementing changes to its education benefits and claims appeals process. Shulkin also was working with Congress to develop and approve measures to overhaul the VA's community care programs — one of Trump's key campaign promises for veterans.
Shulkin, 58, was first appointed to the VA by former President Barack Obama in 2015, when he was assigned to lead the agency's vast health care system as an undersecretary. He's a physician and previously held executive positions at hospitals in New Jersey and New York.
For one year, Shulkin enjoyed bipartisan support that was rare among Trump's Cabinet members. He was unanimously confirmed by the Senate and shepherded major VA reform legislation through Congress, including one bill — often praised by Trump — to increase accountability among VA employees.
Trump even joked in June about the improbability of firing Shulkin.
"I also want to express our appreciation for Secretary Shulkin, who is implementing dramatic reform throughout the VA," Trump said during a bill signing ceremony. "I have no doubt it will be properly implemented. Right David? It better be, David, or…" Trump then pointed at Shulkin and mouthed to the crowd, "You're fired," his catchphrase on his reality television show The Apprentice.
"Oh, we'll never have to use those words on our David," Trump said, as Shulkin laughed. "We will never use those words on you, that's for sure."
Increasing uncertainty During the past week, Shulkin's removal appeared inevitable.
Chris Ruddy, Newsmax CEO and Trump confidant, said Sunday on ABC's "This Week" that he spoke with Trump over the weekend at his Mar-a-Lago estate in Palm Beach, Fla., and the president was expecting to make "one or two major changes" to his administration. The Associated Press — citing three anonymous administration officials — reported he was planning to oust Shulkin.
On Monday, Darin Selnick — a White House adviser and former adviser to Concerned Veterans for America — left the Domestic Policy Council and returned to the VA, where he had previously been assigned. He announced the change in an email obtained by Stars and Stripes.
Politico reported in February that Selnick was forced out of the VA in mid-2017 after he and Shulkin butted heads on policy decisions. Longstanding veterans organizations in Washington have been weary of CVA's role in the administration.
CVA, part of the Koch brothers' political network, has pushed for an aggressive expansion of veterans' health care into the private sector. Shulkin has repeatedly promised to lawmakers that he would not privatize the VA, and he's pushed for a more moderate approach to using private-sector care.
Selnick's transition back to the VA was interpreted by some veteran advocates as an ominous sign for the VA secretary. On Twitter, Paul Rieckhoff, founder of Iraq and Afghanistan Veterans for America, wrote, "No matter how they spin this, it's bad news for Shulkin."
Violations prompt chaos VA Inspector General Michael Missal released findings Feb. 14 that Shulkin violated ethical standards on an official trip that he and his wife took to Denmark and London during summer. Shulkin improperly accepted tickets to a Wimbledon tennis match and spent much of the trip on sightseeing activities, the IG found.
Shulkin and his team of lawyers first fought the allegations, but Shulkin later said he'd comply with the IG's recommendations. He said he paid back the $4,132 of taxpayer money spent on his wife's travel expenses.
Days after the report, Shulkin's chief of staff, Vivieca Wright Simpson, retired. One of the IG's most egregious findings was Wright Simpson altered an email to an ethics official to mislead her into approving travel expenses for Shulkin's wife. The IG, believing the actions might have violated criminal statutes, forwarded the findings to the Justice Department, which declined to prosecute.
Peter O'Rourke, a former member of Trump's transition team, took Wright Simpson's place.
During the fallout from the report, Shulkin told reporters that political appointees assigned to the VA had a different agenda than his and were attempting to oust him. But in the following weeks, Shulkin appeared unable to remove them from the agency.
In an email, Jake Leinenkugel, a White House adviser to Trump inside the VA, expressed frustration and distrust in Shulkin. He outlined the possibility of removing some of Shulkin's top staff and eventually Shulkin himself.
John Ullyot, who leads the VA's public affairs staff, asked a congressional staff member to persuade lawmakers to ask for Shulkin's dismissal, the USA Today reported.
In an evident split with his communications team, Shulkin responded to reporters individually to talk about the turmoil roiling the VA's central office.
The revelation of a rift between Shulkin and White House insiders wasn't a shock to some people involved with major veterans organizations in Washington, who saw hints of internal strife during the past few months.
In December, senators received mixed messages from the administration about proposed reforms to the VA Choice program, which allows veterans to receive private-sector medical care. Shulkin has been working with senators on legislation that has bipartisan support, but some White House officials favored a Republican-led bill that provides more aggressive expansion. The issue has been at the core of controversies splitting Shulkin and some White House insiders.
The VA again made national headlines March 7, when the IG released another report about the Washington DC VA Medical Center, where investigators found a culture of complacency allowed widespread failures to persist for years, putting veterans at risk and weakening core functions of the hospital.
That was followed by multiple news reports of an ongoing government audit of Shulkin's alleged use of his security detail to run personal errands. Findings of the audit had not been released as of Wednesday.
Attempts to lay low Through it all, Shulkin appeared at news conferences and congressional hearings, attempting to brush off the latest controversies— referring to them as "distractions." At nearly every turn, he purported he had Trump's confidence.
"I came here for one reason — to improve the lives of veterans, and that's what I'm doing," Shulkin said in mid-March at a VA budget hearing on Capitol Hill. "I made it clear to everybody in my department I have no tolerance for anything other than the business we have to do for the VA."
Soon after the Feb. 14 report, major veterans organizations publicly rallied behind Shulkin. The groups, which regularly advise the VA, Congress and White House on veterans' issues, decried any attempts to undermine or replace him. They feared a replacement would push more veterans' medical care into the private sector, leading to the dismantling of VA services.
Leaders on VA oversight in Congress — Democrats and Republicans— also defended and supported Shulkin on numerous occasions since mid-February. Through the tumult of the last few weeks, only two lawmakers called for his resignation or dismissal.
But for more than a month, it was unclear whether Shulkin had his boss's support.
Rumors of Shulkin's firing escalated in mid-March, when Tillerson's firing — also by tweet — triggered multiple news reports about who was Trump's next target. Shulkin's name quickly rose to the top of the list, with news reports speculating on potential replacements, such as Energy Secretary Rick Perry, Fox News contributor Pete Hegseth and former Rep. Jeff Miller.
Shulkin, who usually spoke with news reporters after every public appearance, declined to talk to them on several occasions after those reports circulated. On Monday, he backed out of a media availability scheduled at the VA hospital in Elsmere, Del., that was part of an annual veterans' summit, The Associated Press reported.
Also Monday, Raj Shah, the White House principal deputy press secretary, responded to questions about Shulkin's pending dismissal only by stating he had no personnel announcements to make at the time. When asked about the relationship between Shulkin and Trump, Shah said: "I haven't asked the president about it today so I don't want to comment on it too specifically."
wentling.nikki@stripes.com Twitter: @nikkiwentling
---
---
---
---