Utah guardsman, father of seven, killed in insider attack remembered as 'giant among men'
by
J.P. Lawrence
November 4, 2018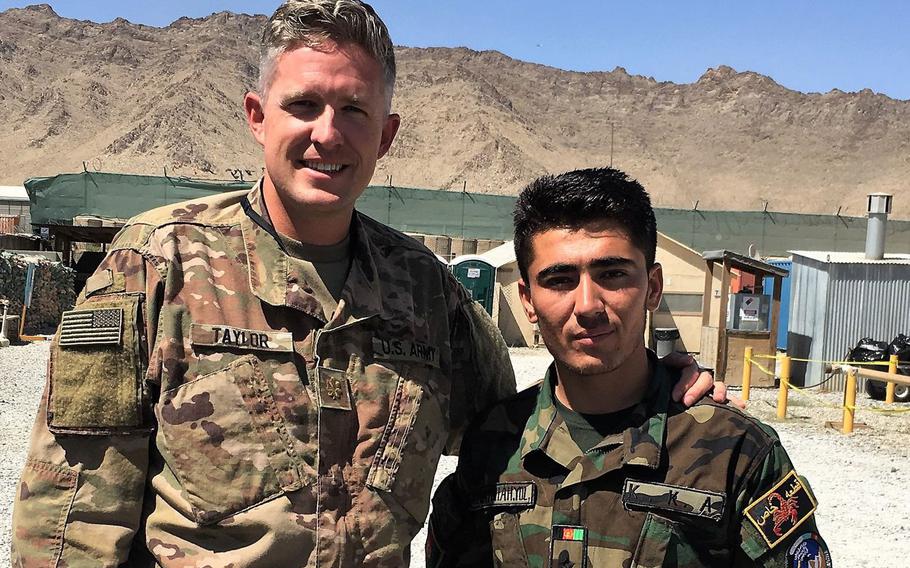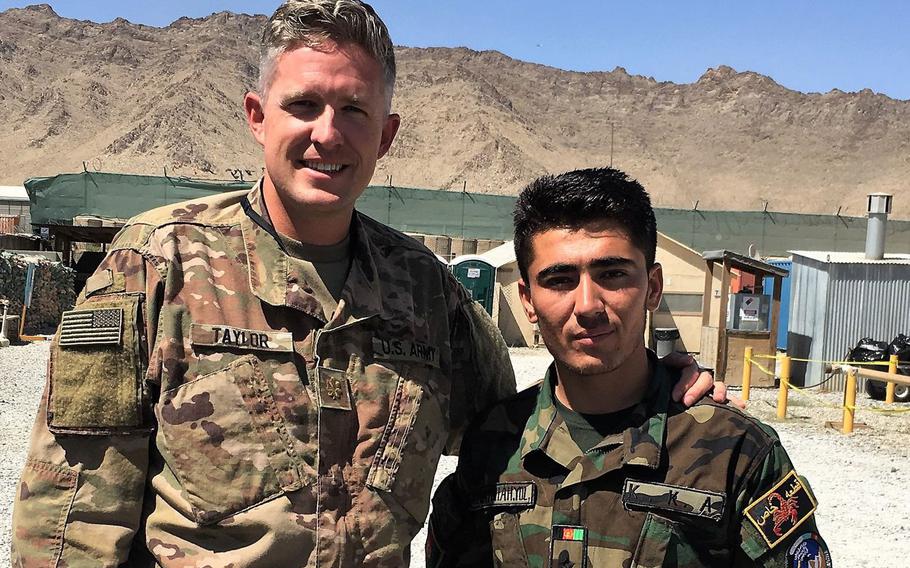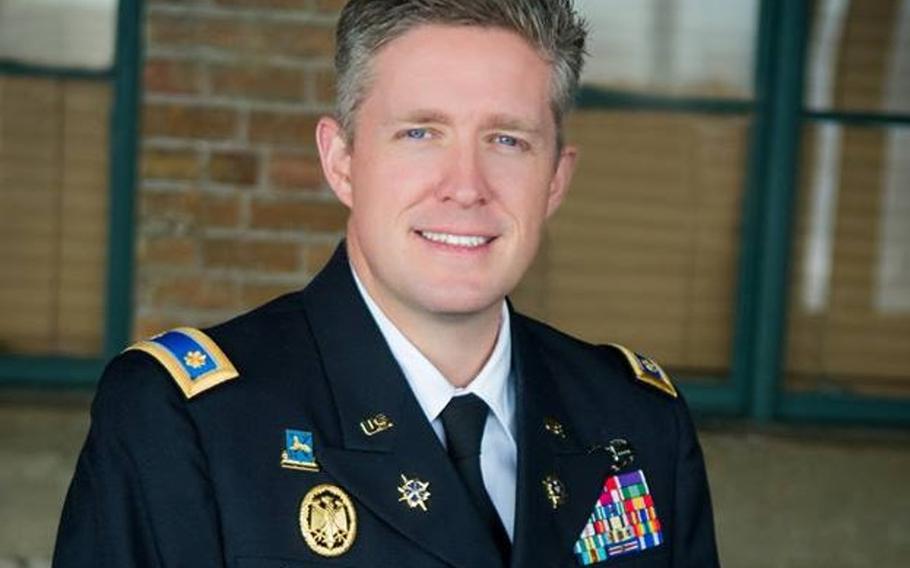 KABUL, Afghanistan — Maj. Brent Taylor's smile beamed from his room in Afghanistan, as he logged on in September and watched his pajama-clad baby girl at home in Utah learn to walk.
Nine days later, he wrote a Facebook tribute to his "superwoman" wife on their 15th anniversary. He often posted updates for the town that he served as mayor, showing them how U.S. servicemembers were training Afghans to secure their country.
Taylor, a 39-year-old member of the Utah National Guard training commandos in Afghanistan, was fatally shot Saturday by one of his Afghan trainees, officials told the Associated Press. He was the mayor of North Ogden, Utah, and leaves behind a wife and seven children, according to the Deseret News of Salt Lake City. Taylor is the first known sitting mayor in state history to leave for wartime service in Utah, the report said.
"Brent was an absolute giant among men," city resident Cody Johnson told Stars and Stripes via instant message. "He was willing to put you up on his shoulders, so you could see his vision. But also to help raise you up to a better place in life."
Another U.S. military member whose name was not immediately made public was wounded in the same attack that killed Taylor, who died from wounds from small arms fire, military officials told the AP on Sunday.
Utah Sen. Orrin Hatch and Mitt Romney both tweeted about Taylor on Saturday evening.
"Brent was a hero, a patriot, a wonderful father, and a dear friend. News of his death in Afghanistan is devastating. My prayers and love are with Jennie and his 7 young children. His service will always be remembered." pic.twitter.com/UHHbhTciYo
— Senator Hatch Office (@senorrinhatch) November 3, 2018
Heartbroken with the tragic news of Major Brent Taylor's death by gunfire in Afghanistan; a father of 7 small children, a city mayor, and a proud member of the Army National Guard. Another unmeasurable price is paid for freedom. https://t.co/V7scNBDJ3X
— Mitt Romney (@MittRomney) November 3, 2018The attack occurred at the Kabul Military Training Center early Saturday afternoon, said Nasrat Rahimi, deputy spokesman for the Afghan Interior Ministry. It ended with an Afghan commando dead, although Rahimi declined to comment on whether this commando was a suspect in the killing.
Afghan security forces members immediately killed the attacker, NATO's Resolute Support mission said in a statement.
Residents of North Ogden, a community of about 18,000 people, north of Salt Lake City, remembered Taylor as a leader and mayor willing to listen.
Taylor served as mayor and city administrator, as he felt he could save the city money by working two positions, said Johnson, who worked with Taylor on various community volunteering projects. Taylor also served on Utah's transportation board.
Residents said he was attentive to their needs and taking their calls.
"I wondered where he got the time, and if he ever slept," North Ogden resident Brad Haslam said in an instant message.
Taylor regularly posted on a Facebook page he had created for residents to communicate with him following his election last year, residents said. He updated a diary of his time in Afghanistan on a public North Ogden community Facebook page.
Taylor announced he would be taking a yearlong leave of absence for deployment to Afghanistan in January.
"Right now there is a need for my experience and skills to serve in our nation's long-lasting war in Afghanistan," Taylor wrote. "President Trump has ordered an increase in troops, and part of the new strategy focuses on expanding the capabilities of the Afghan commando units. I will be assigned to serve on an advisory team training the staff of an Afghan commando battalion."
The Facebook posts, which showed photos of Taylor while deployed, were an example of the way in which he kept people connected, residents said.
"He approached everything and everyone with the idea that he would leave them better than he found them," said Jonathon Call, a North Ogden resident currently deployed to Kuwait with the Utah National Guard. "I consider him one of the greatest examples and what a mentor is and of what leadership should be. His service to his community is going to be remembered forever."
The North Ogden city government said Taylor had a "profound influence" on the community in a statement Saturday.
"He was the best of men with the ability to see potential and possibility in everything around him," the statement said. "We feel blessed to have had him as our mayor."
Taylor previously served two tours of duty in Iraq as a convoy security commander and then as an adviser to the Iraqi intelligence agency, according to a city council biography. He previously deployed to Afghanistan as a combat advisor to the Afghan Border Police. Taylor was a military intelligence officer with Joint Force Headquarters and was expected to return to his mayoral job in January, according to media reports.
Maj. Gen. Jefferson S. Burton, the adjutant general of the Utah National Guard, told the Associated Press that Taylor's mission was to help train and build the capacity of the Afghan national army.
"He was with folks he was helping and training. That's what's so painful about this. It's bitter," Burton said. "I do believe that Major Taylor felt he was among friends, with people he was working with."
Insider attacks in recent months also have claimed the lives of a Czech soldier and U.S. Army Command Sgt. Maj. Timothy Bolyard, a member of the 3rd Squadron, 1st Security Force Assistance Brigade.
As of last week, 2,401 U.S. military personnel have been killed and 20,422 have been wounded since the beginning of the Afghan War in October 2001.
Taylor enlisted in the Army three days after getting engaged to his fiancee almost 15 years ago, according to his Facebook group diary. He and his five brothers all joined the Army in the years following 9/11, according to the Deseret News. This was his fourth deployment to the Middle East.
In his last entry two weeks before his death, Taylor uploaded photos of a ruck march with both U.S. troops and Afghan security forces members. The troops were working hard to protect Afghanistan's parliamentary elections, he said. The evenings were beginning to cool, he added.
He continued with a quote he had read from a biography of Winston Churchill: "Success is not final, failure is not fatal: it is the courage to continue that counts."
He concluded his post by telling his family, friends and constituents that he was excited to return home early next year.
lawrence.jp@stripes.com Twitter: @jplawrence3