GALLERY
USS Makin Island returns to San Diego after 7-month deployment
by
Jennifer Hlad
February 26, 2015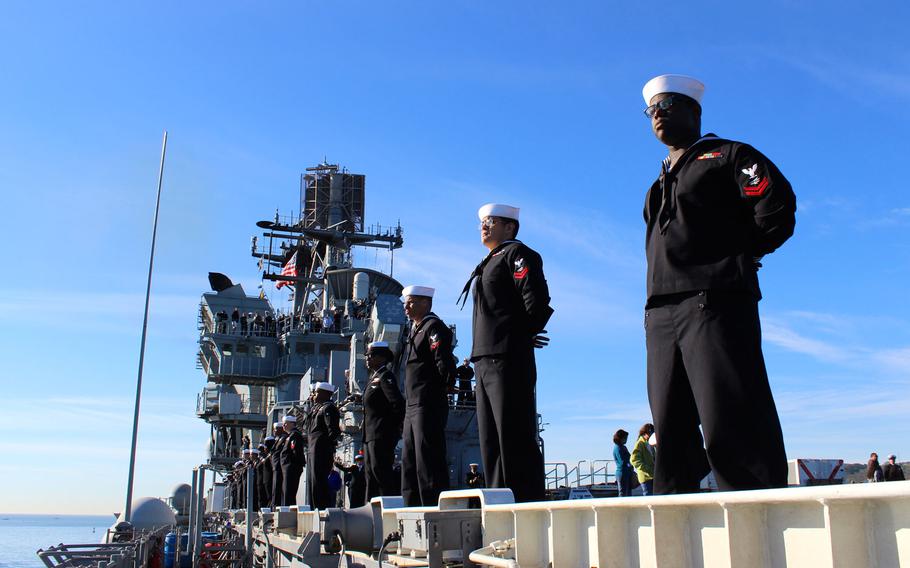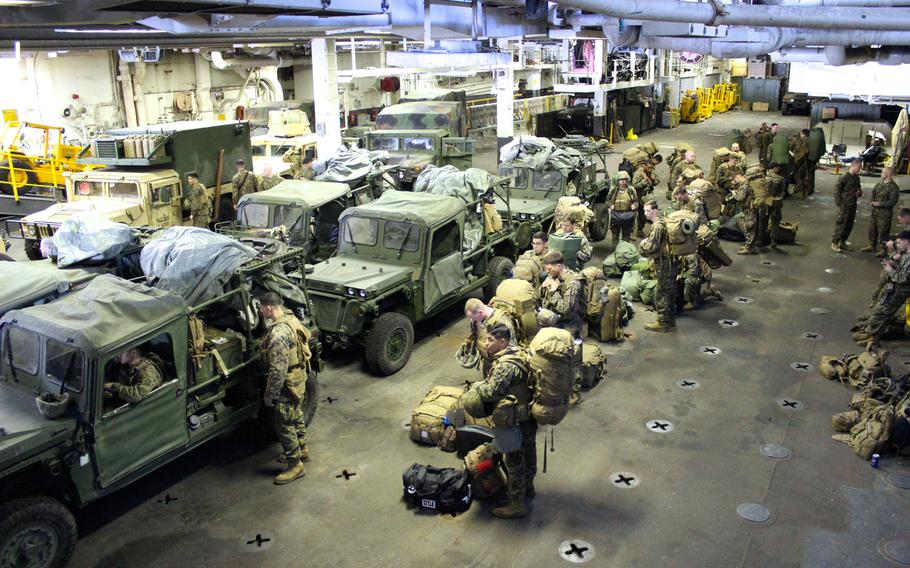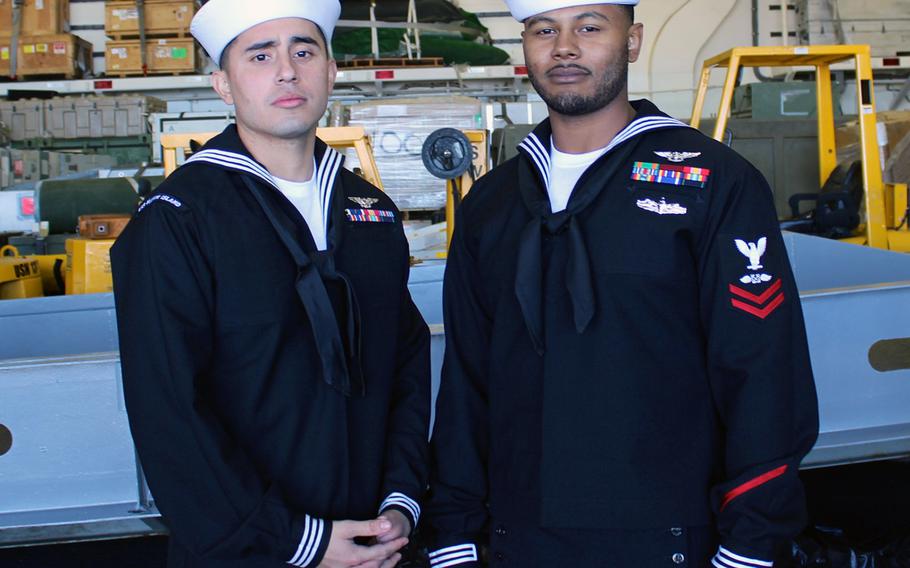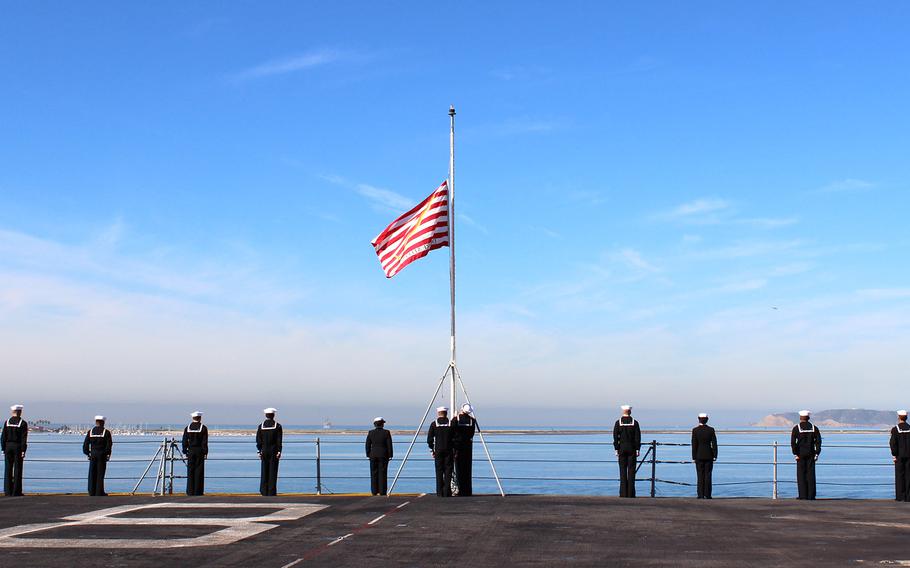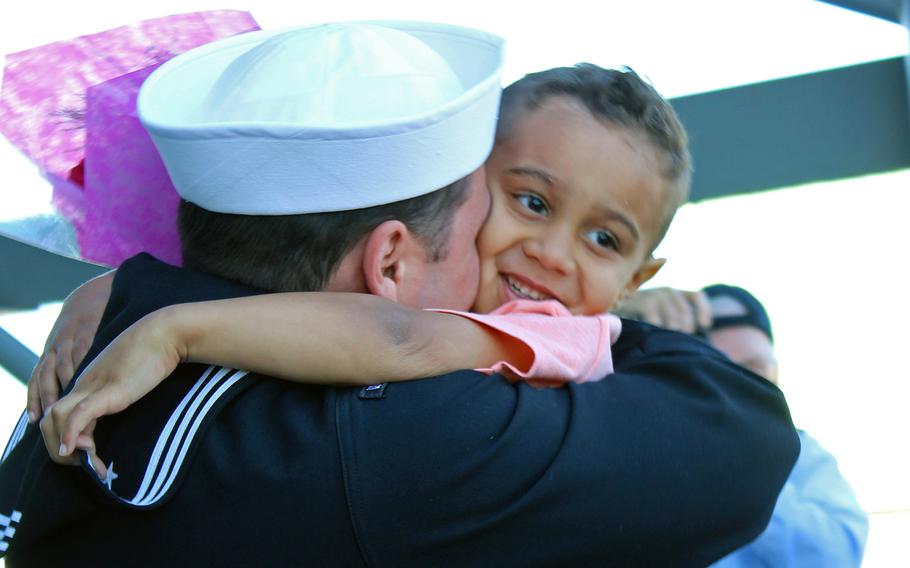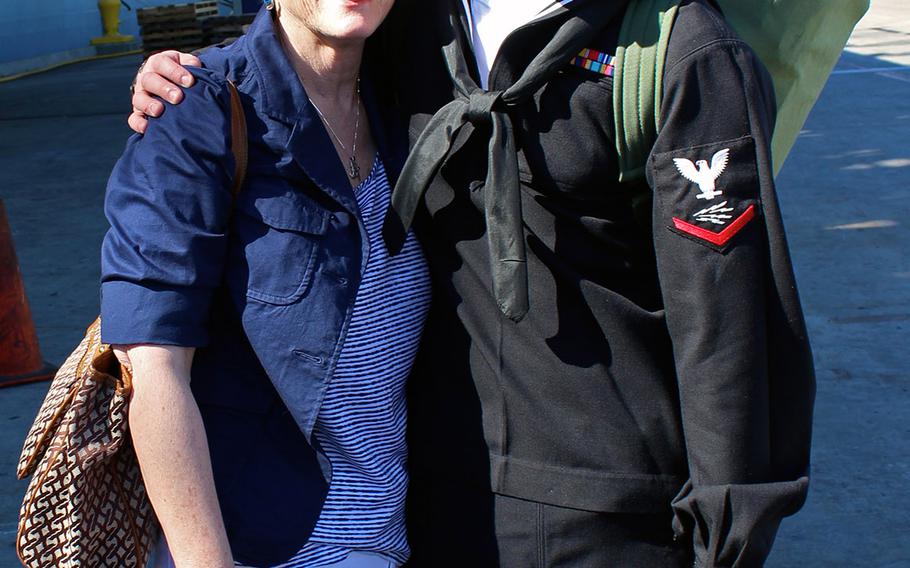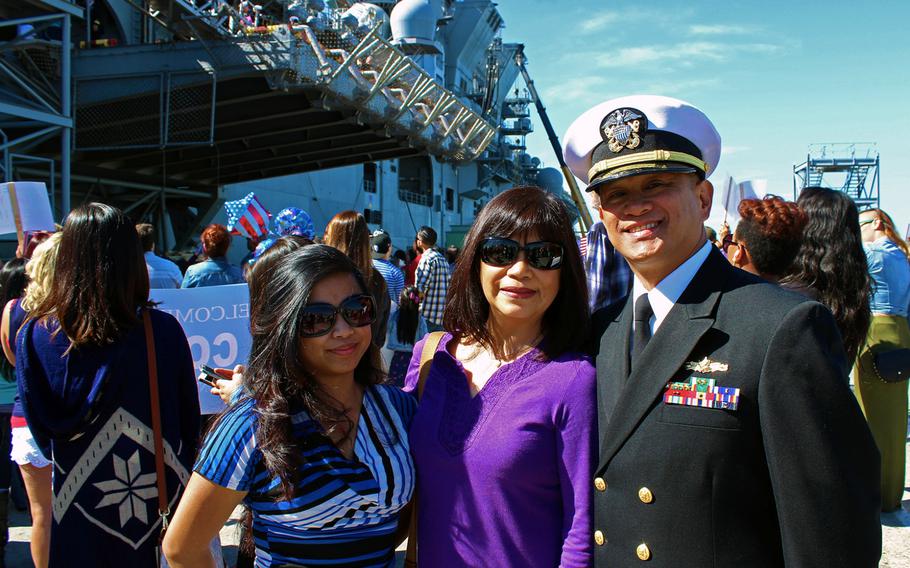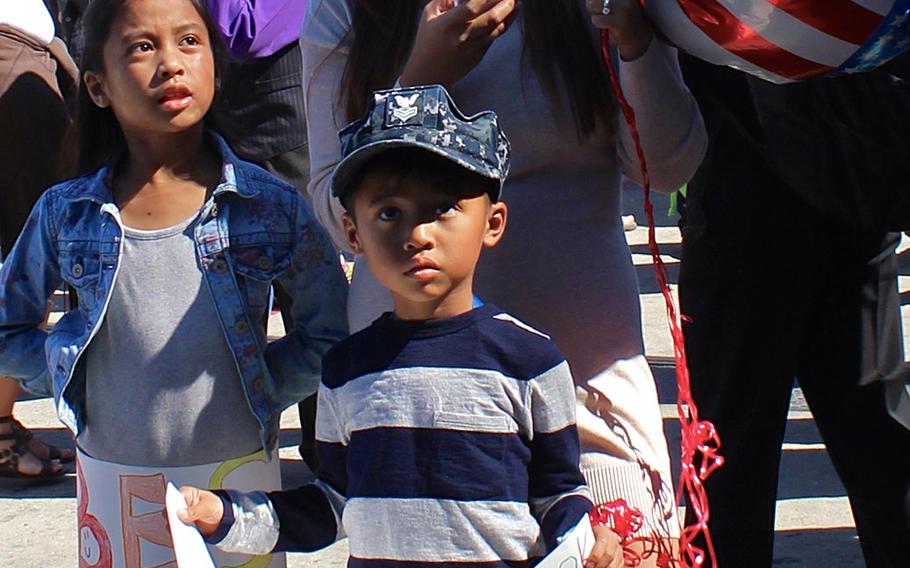 ABOARD THE USS MAKIN ISLAND — As the USS Makin Island made its way around Point Loma and into San Diego Bay on Wednesday morning, sailors took advantage of the cell phone signal to text loved ones awaiting their arrival.
A tugboat pulled the amphibious assault ship into Pier 13 as family members on shore shouted, waved and held up signs for their sailors, who stood at parade rest along the edges of the flight deck. When they were released from formation, sailors cheered, and a few began singing the theme song from "Team America: World Police."
About 1,900 sailors with the Makin Island Amphibious Ready Group had returned home to Naval Base San Diego after a seven-month deployment that sailors called rough but rewarding.
The deployment was the first for Petty Officer 3rd Class Lindsey Thompson, an aviation ordnanceman from Jefferson, Ore. While it was cool to see other parts of the world, she said, it "also gave me a greater respect for America."
But port calls weren't the only high point for Thompson and Seaman Kateley Boardman. The two helped build bombs used in airstrikes against Islamic State militants in Iraq.
They said they didn't know what the bombs were going to be used for when they were building them, but were excited when they found out they had made a contribution to Operation Inherent Resolve.
Most of the time, they're just down in the magazine, they said, which is a stressful environment without a lot of connection to the outside world.
"It's nice to know what you're doing is really important," Thompson said.
During the seven months away from home, the Makin Island made stops in Hong Kong, Singapore, Oman and Hawaii, but also spent 115 straight days at sea, sitting off the coast of Yemen. Typically, a ship on deployment goes into port every 30 days or so, said Capt. Jon Rodgers, the ship's commander.
The Makin Island, USS San Diego and USS Comstock also rescued 11 researchers from the National Oceanic and Atmospheric Administration who were trapped on Pacific atolls during a hurricane in August.
The ship was also involved in other rescue attempts.
In October, a Marine Osprey crew member was lost at sea after he and another Marine had to bail out shortly after takeoff from the Makin Island.
In December, Navy SEALs were able to reach Luke Somers, an American journalist, and South African teacher Pierre Korkie being held in an al-Qaida compound in Yemen, but both were shot by their captors. One died on the rescue aircraft, the other during surgery on the Makin Island.
The deployment was Petty Officer 2nd Class David Wright's third. He said it wasn't bad but felt longer than usual because they spent so much time at sea.
The younger of Wright's two sons is very ill and has undergone a liver transplant, so it is hard to be on the other side of the world, he said — particularly when the ship is at sea and there is no way to do a video call.
"But the whole point of what I do is for my children," he said. "My son calls me his superhero."
Petty Officer 1st Class Hubert Bell said the deployment was his fifth, but the first time he was away from his wife and three children. It took "a lot of patience and calmness" to deal with the stress of being at sea for such a long stretch of time, he said.
"I'm ready to be home," he said Tuesday, standing in the hangar deck less than 24 hours before the ship docked. "I can't wait."
Seaman Justin Talbert's wife Mary won a contest to get the "first kiss," meaning Talbert was first to leave the ship. He seemed a little nervous as he waited on board with a bouquet of red roses but was beaming as he embraced his wife.
"It's been a long deployment," he said. "I'm just glad to be home."
hlad.jennifer@stripes.com Twitter: @jhlad