USS Eisenhower delivers aircraft and, now, a baby
---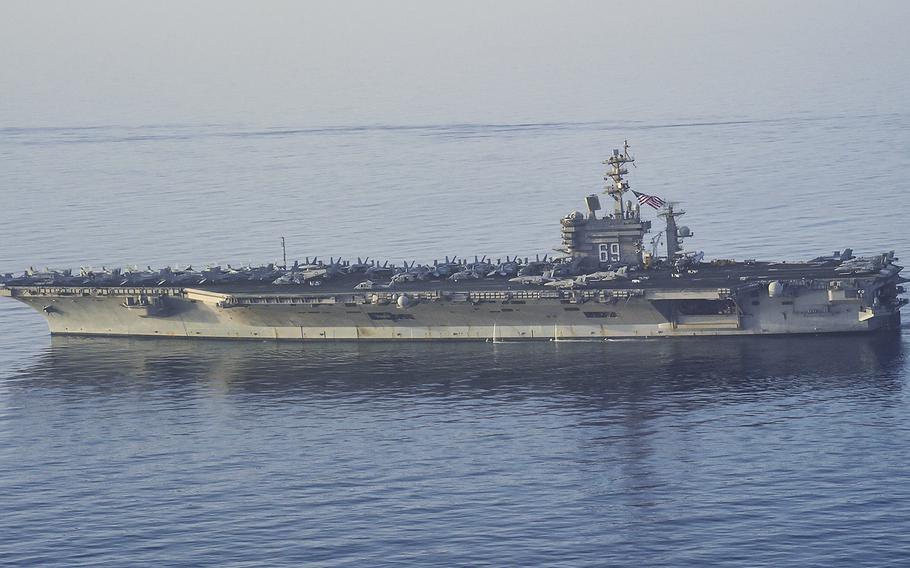 MANAMA, Bahrain — Anticipating the unexpected is a way of life for sailors aboard a deployed aircraft carrier in the Persian Gulf. But few would have anticipated a baby.
Fortunately, the same training that allows USS Dwight D. Eisenhower sailors to adapt to a variety of scenarios allowed the ship's medical department — with practioners trained in child birth and newborn care — to successfully deliver a baby in the middle of deployment.
A sailor assigned to carrier Air Wing Three and embarked aboard the Ike was admitted to the ship's medical department after complaining of abdominal pain, officials said. She later gave birth to a baby girl.
"As the baby was born at sea aboard an operational unit, the main focus for the U.S. Navy, the ship and its crew is the safety and well-being of the baby and the mother," Fifth Fleet spokesman Cmdr. Bill Urban said in a statement to Stars and Stripes Tuesday.
The date of the baby's birth was not disclosed.
The baby and mother were flown with a medical escort to Bahrain and taken to a shore-based hospital for follow-on care, Urban said. The mother and the baby are healthy and doing well.
Sailors are supposed to notify their chain of command within two weeks of receiving confirmation of a pregnancy from their health care provider, according to Navy Personnel Command's website.
The website also says pregnant servicewomen may remain onboard up to the 20th week of pregnancy while the ship is in port. Those found to be pregnant while the ship is underway should be transferred ashore as soon as possible.
Urban said that the sailor hadn't reported being pregnant and that the chain of command wasn't aware of her pregnancy.
Formula, diapers and an incubator for the baby's evacuation were flown to the ship, Urban said, as medical personnel had deemed that these items were necessary.
"While it would have been preferred to send her to her homeport earlier, per policy, we are now focused on caring for the health and welfare of our sailor and the newest member of our Navy family," Urban told The Virginian-Pilot.
This isn't the first such incident to occur in the Persian Gulf. According to Fifth Fleet, a Marine aboard the amphibious assault ship USS Boxer gave birth in May 2003, during the ship's deployment to the Gulf.
---
---
---
---