US, South Korea to scale back Foal Eagle exercise this spring
---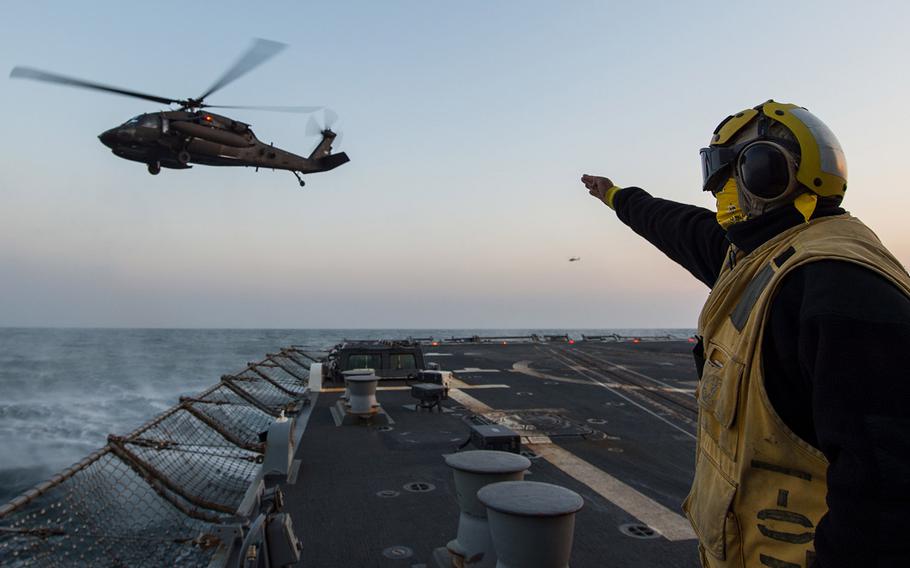 WASHINGTON — The United States and South Korea will scale back their annual Foal Eagle exercise this spring to facilitate ongoing negotiations over North Korea's nuclear program, U.S. Defense Secretary Jim Mattis said Tuesday.
"Foal Eagle is being reorganized a bit to keep it at a level that will not be harmful to diplomacy," Mattis told reporters at the Pentagon.
The two nations have canceled their last four scheduled large-scale training exercises on the Korean Peninsula to provide diplomats an opportunity to negotiate with North Korea. The North has long viewed such military training as provocative and a prelude to invasion. President Donald Trump unexpectedly ordered those large-scale exercises canceled in the wake of his June meeting with North Korean leader Kim Jong Un.
Foal Eagle in recent years has included some 11,500 American troops and 290,000 South Korean troops, and has consisted of field exercise involving ground, air, naval and special operations troops. Foal Eagle has typically been held in the spring alongside another computer-simulated exercise known as Key Resolve, which last year included about 12,200 Americans and 10,000 South Korean personnel.
Mattis on Wednesday did not provide details about how the U.S. and South Korea would scale back the annual exercise. He said decisions about canceling or scaling back additional major training exercises would be made in the future.
Some Pentagon officials have raised concerns about the combat readiness of the 28,500 U.S. troops in South Korea if large-scale exercises continue to be canceled. Mattis has largely discounted those concerns.
Despite Trump's cancellation of major training exercises, American and South Korean troops have continued working together on a smaller scale including brigade and company unit levels, Pentagon officials have said.
The United States has said it seeks the "complete, verifiable and irreversible" denuclearization of the Korean Peninsula in exchange for the lifting of stringent economic sanctions. North Korea has also said it desires a formal end to the Korean War. Fighting ended in an armistice in 1953.
dickstein.corey@stripes.com Twitter: @CDicksteinD
---
---
---
---