US offers up to $10 million reward for information on ISIS leader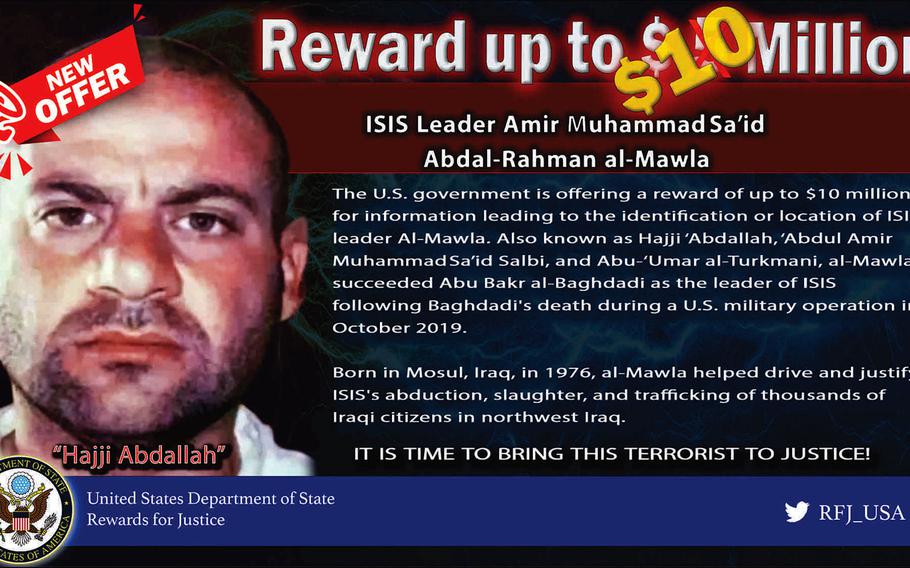 The State Department has doubled its bounty on Abu Bakr al-Baghdadi's successor as head of the Islamic State group this week.
The government is now offering up to $10 million for information leading to ISIS leader Amir Muhammad Said Abdal-Rahman al-Mawla, also known as Hajji Abdallah and Abu Umar al-Turkmani.
Born in Mosul in 1976, he was a religious scholar with ISIS's predecessor, al-Qaida in Iraq, and rose rapidly through the ranks to become deputy leader of ISIS, the State Department said in a statement Wednesday.
He orchestrated and justified the slaughter, kidnapping and sex trafficking of members of the Yazidi non-Muslim minority religious group in northern Iraq, the U.S. government said.
As a senior leader, he also led some of ISIS's global terrorist operations, said the State Department, which had first offered a $5 million reward for information on him in August.
Al-Mawla was named the successor to the group's founder shortly after Baghdadi was killed in a U.S. special operations raid in October.
Baghdadi had blown himself up after being chased into a tunnel by a military working dog named Conan, whom President Donald Trump hailed as "a beautiful dog, a talented dog."
The State Department designated al-Mawla as a global terrorist in March, barring Americans from having any transactions with him and freezing any assets and interests he may have under U.S. jurisdiction.
News of the increased bounty, offered through the State Department's Rewards for Justice program, comes weeks after a coalition strike in Syria reportedly killed another top ISIS leader, one whom the U.S. had put a $5 million bounty on in August.
The U.S. government is determined to identify and find all of the group's leaders and "thwart its global ambitions," said a post about al-Mawla on the Rewards for Justice site.
news@stripes.com Twitter: @starsandstripes