US judge dismisses USS Fitzgerald collision lawsuits for lack of jurisdiction
by
Caitlin Doornbos
June 5, 2020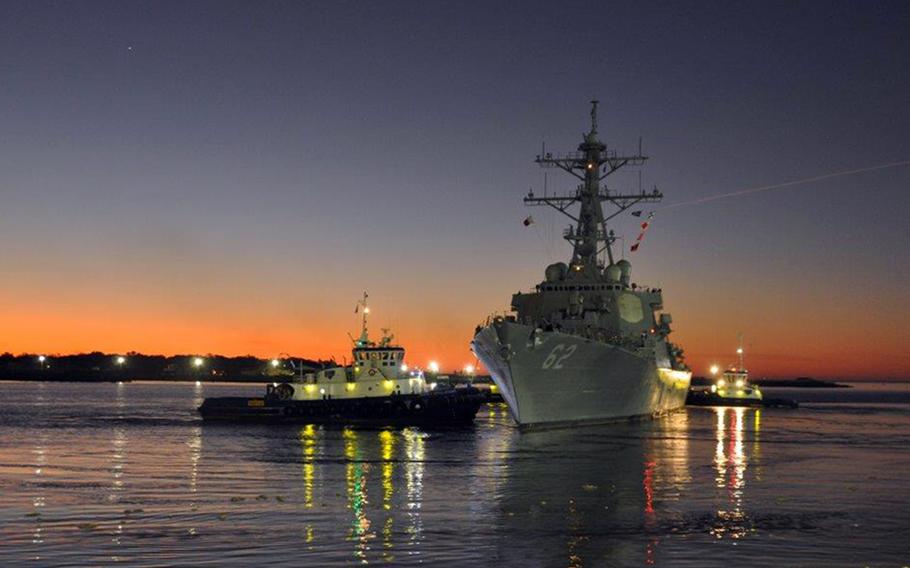 U.S. courts have no jurisdiction over two cases involving the shipping company whose container vessel collided with a U.S. warship three years ago, killing seven sailors, a federal judge ruled Thursday in dismissing lawsuits brought by Navy survivors and the sailors' families.
Two lawsuits filed in the U.S. District Court for Eastern Louisiana sought more than $287 million from Japan-based NYK Line, which chartered the ACX Crystal, the ship that collided with the guided-missile destroyer USS Fitzgerald off the coast of Japan on June 17, 2017.
U.S. District Judge Lance Africk in New Orleans granted NYK Line's motion to dismiss, filed in March. The company "cannot be deemed 'at home' in every country in which it operates," according to Africk's ruling. NYK Line maintains less than 6percent of its employees and generates less than 10% of its revenue in the U.S., he wrote.
NYK Line has a large global network spanning 60 regions and countries, including the United States. It employs about 35,000 people, has a fleet of 710 ships and has consolidated revenue of about $17.1 billion, according to its website.
NYK Line's lawyers in their motions argued that Tokyo is the company's principal place of business. "The U.S. has never served as a surrogate home for NYK Line," they wrote.
The plaintiffs' attorney, David Schloss, had argued the U.S. court was an appropriate venue because NYK "has substantial, systematic and continuous contacts with the United States as a whole," according to court documents.
Seven sailors were killed and dozens were injured in the crash about 60 nautical miles southwest of Yokosuka, where the guided-missile destroyer was based at the time. Official reports have not assigned liability for the crash to either ship.
The lawsuits claimed the sailors also endured mental anguish, lost wages, pain and suffering and "pre-death fright."
Schloss plans to appeal the decision and said his clients were "disappointed by the judge's decision" in an email to Stars and Stripes on Friday.
"It simply cannot be the case that the United States has no interest in providing a forum for the seven families who lost their loved ones and the more than 40 Fitzgerald sailors who suffer debilitating physical and psychological injuries, all in the name of serving their country," Schloss said.
doornbos.caitlin@stripes.com Twitter: @CaitlinDoornbos