Unpaid days off canceled, educators spared as Hagel orders furlough reduction
---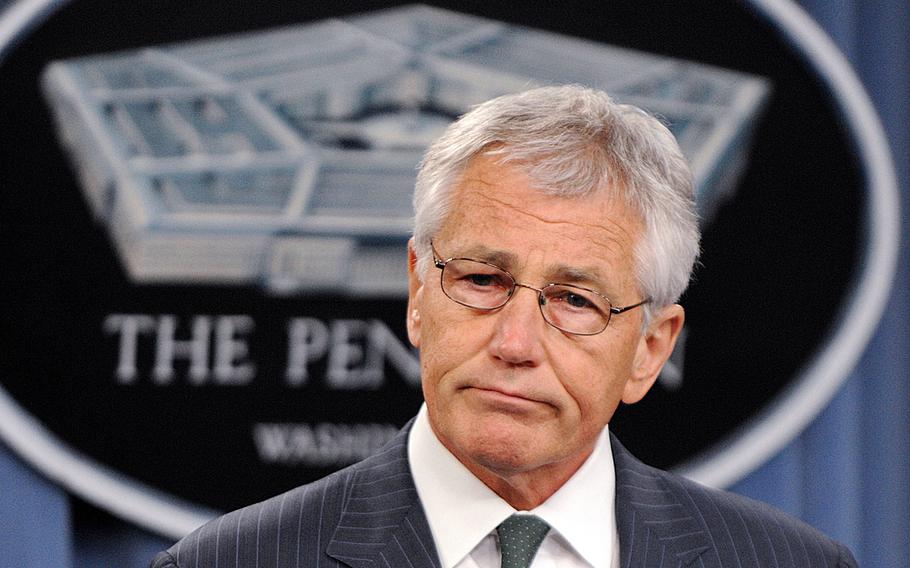 WASHINGTON — Defense Secretary Chuck Hagel announced Tuesday that furlough days for Defense Department civilians are being slashed from 11 to six, meaning next week will feature the last unpaid day off for most DOD workers this fiscal year.
Among the effects of the change is a reprieve for Department of Defense Education Activity educators and support staff – not to mention parents who would have had to scramble to find extra daycare – Hagel announced in memo to Pentagon officials.
"These personnel were already subject to only five days of furloughs in order to ensure a creditable year of schooling for our students," he wrote. "Now the teaching year will not be reduced at all."
Officials said spending leeway from Congress, lower than expected costs in Afghanistan and gains from belt-tightening at the Pentagon prompted the reduction. Since notifying Congress of a plan to furlough a large majority of civilians in February, the number of planned days had previously fallen from 22 to 14 to 11.
The latest furlough plan saves nearly $1 billion dollars for the department, senior defense officials who were not authorized to speak publicly on the matter said Tuesday.
The furloughs, which Hagel earlier said were made necessary by $37 billion in automatic defense cuts under sequestration, are taken at a rate of one day each week and effectively cut civilian salaries by 20 percent during the weeks they're in effect.
Defense furloughs began on July 8 and affected more than 650,000 DOD employees. Military members, as well as a few categories of civilian workers deemed necessary to keep on the job — including shipyard workers, some first responders and health care workers and others — are exempt.
Despite the good news for civilian workers this year, significant uncertainty looms when the new fiscal year begins in October. Officials have pointed to the possibility of further furloughs, reductions in force and involuntary separations if Congress does not pass budget-cutting legislation to avoid $52 million in DOD sequestration cuts in 2014.
The cuts may be severe, but Hagel told DOD civilians he would work to keep the pain to a minimum.
"This represents 40 percent more than this year's sequester-mandated cuts of $37 billion," Hagel wrote in a message to DOD workers. "Facing this uncertainty, I cannot be sure what will happen next year, but I want to assure our civilian employees that we will do everything possible to avoid more furloughs."
The pending reduction in furlough days is possible in part because Congress has authorized a reprogramming of Pentagon accounts, allowing pressing needs to take precedence over spending that can be put off, officials said.
In one unusual shift, Hagel directed about $300 million in wartime funds to be shifted from the Department of the Navy - specifically from Marine Corps accounts – to cover a shortfall in the Army, a senior defense official said.
"I wouldn't say it's routine, but these are not routine times and we've had to look across the department and try to make some shifts," the official said.
Fuel prices and the costs of withdrawal from Afghanistan this year have also both been lower than expected, and Pentagon officials meanwhile have been scouring the budget for other savings, officials said.
In the memo to DOD officials, Hagel said that in addition to reducing furloughs, the unexpected money has allowed some previously canceled training and operations to resume. Grounded Air Force squadrons are again flying, the Army has increased funding to allow organizational training for certain units and the Navy has restarted maintenance and ordered some deployments that otherwise couldn't have occurred, he said.
But he sounded a warning note about ongoing budget cuts, saying "even with these improvements, this is a military whose readiness remains seriously degraded as we head toward the budget uncertainties of [fiscal year] 2014."
carroll.chris@stripes.com Twitter: @ChrisCarroll_
---
---
---
---