Two brothers — one in the Army, the other the Air Force — vie for Alpha Warrior title
by
Rose L. Thayer
September 11, 2019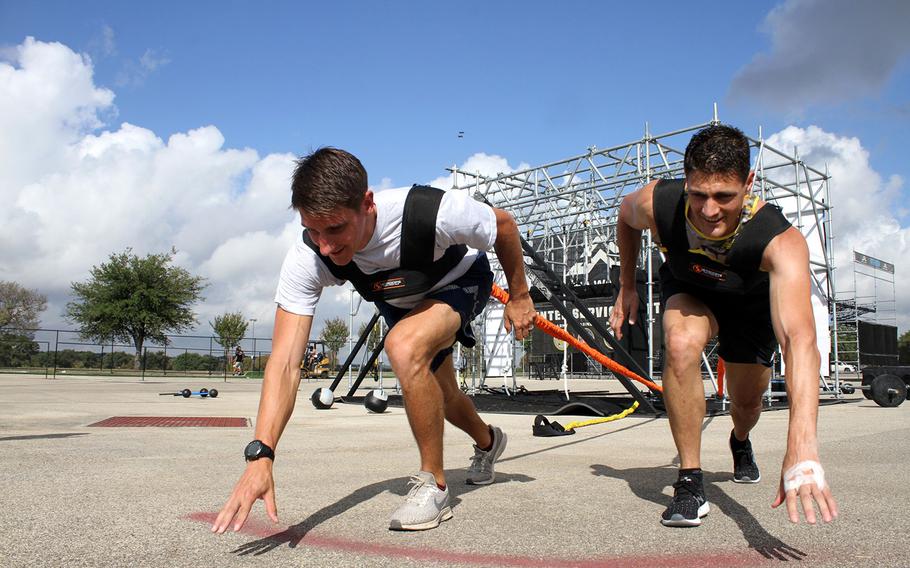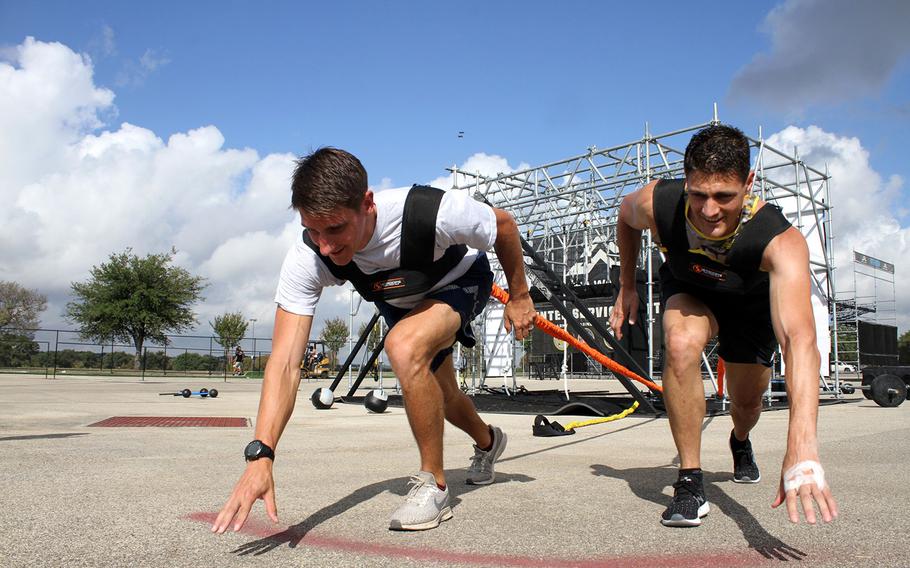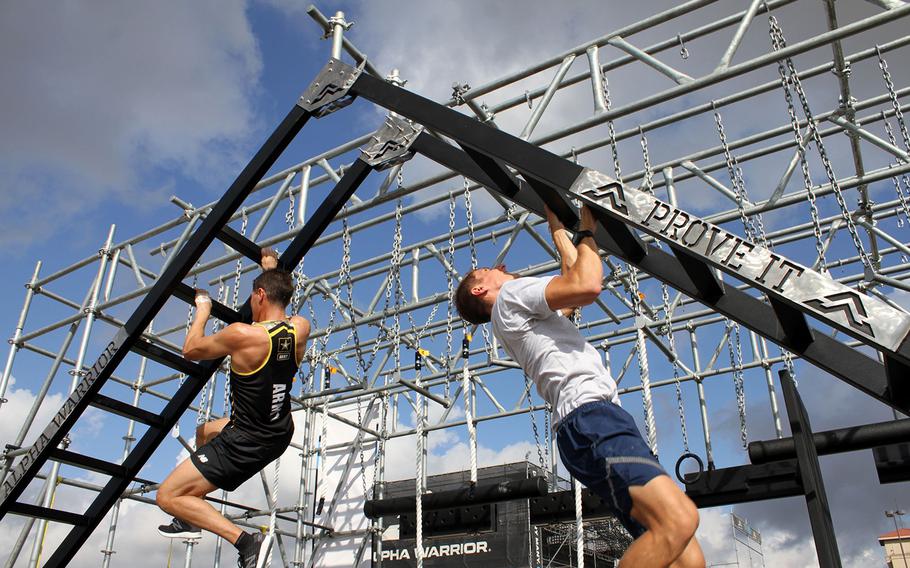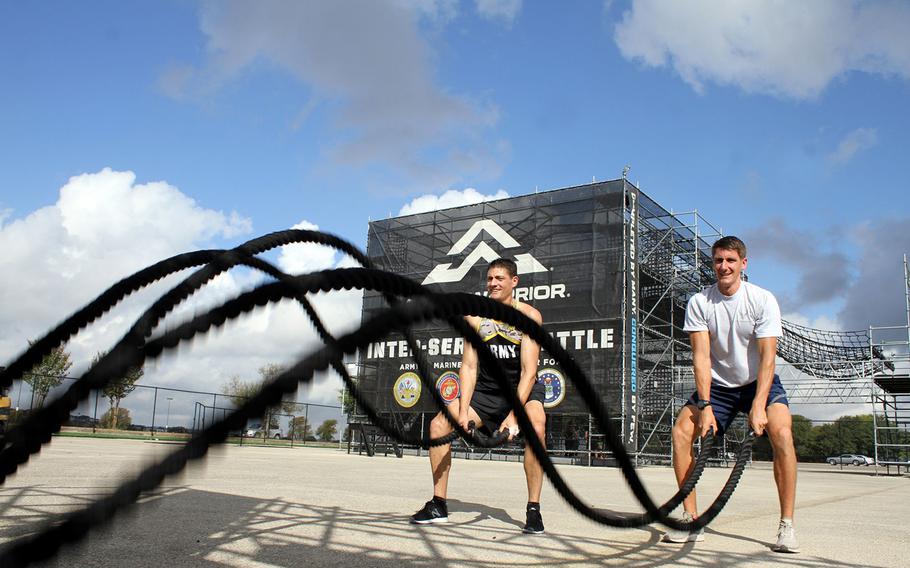 AUSTIN, Texas — It's been more than two years since the Palicia brothers saw each other, but after traveling more than 20 hours from their overseas military bases, they reunited Tuesday in San Antonio to prepare for battle Thursday in the Alpha Warrior competition.
"Everybody's like, 'Let's see who the more athletic brother is,' " said Army Lt. Col. Eric Palicia.
At 40, he is 10 years older than his brother, Air Force Capt. Noah Palicia, whose qualifying time for the competition was one second faster than his brother's — a fact the family and Eric Palicia's Army buddies continue to remind him about.
"Nobody is playing his age into factor at all," Eric Palicia said, as the two brothers readied themselves Tuesday for a training session.
The Alpha Warrior competition pits servicemembers against each other to see who can complete a grueling, 32-obstacle course with the fastest time. The brothers describe it as a cross between the popular TV show "American Ninja Warrior" and the CrossFit games.
The Alpha Warrior challenge began through competitions at bases around the world on "battle rigs." Servicemembers with the fastest times on those small-scale courses moved up to the regional level, and this week begins the culminating event at the larger, more difficult Alpha Warrior Proving Grounds at Retama Park, just outside of San Antonio.
On Thursday, members of the Air Force, the Army and the Navy will compete to be named the best in their service branches. On Saturday, the top six — three men and three women — from each service will compete for the fastest time in an inter-service battle. Last year was the first battle between branches, with the Air Force taking home the trophy.
Noah Palicia, a C-130 cargo plane pilot stationed at Yokota Air Base in Japan, has participated in the competition since the Air Force began the camaraderie- and fitness-building initiative in 2017 and he achieved the fastest time of any competitor last year during the championship. While competitors are afforded 26 minutes to complete the course, the younger Palicia did it in 16 minutes, 15 seconds.
"He did it almost a third faster than everybody else," said Eric Palicia, a chief engineer for U.S. Army Europe. This is the elder Palicia's first time competing at the championship. He decided to get involved after seeing his brother enjoy the competition.
Both always have been involved in sports, with Eric Palicia boxing at the U.S. Military Academy and Noah Palicia running the decathlon at the Air Force Academy. Noah Palicia said that when it comes to track and field events, he's a jack of all trades, but master of none.
"I carried that over into my Air Force career," the captain said. He has climbed Mount Fuji four times and has competed in a number of Spartan Races and other similar contests.
To compete against each other, each will have to earn their place on their service branches' final teams competing Saturday. There are 12 Air Force participants in the competition and eight from the Army. The Navy also has a team competing Saturday.
Both brothers, who were raised in an Air Force family, travel a lot for work and find it challenging to fit workouts into their schedules. Without being around the obstacle course to practice specific challenges, they agree it's about staying generally fit, building endurance and maintaining flexibility.
"It's difficult to come up with creative hotel room workouts and find different places to run throughout the Pacific," Noah Palicia said of the frequent flights that he has to countries such as Malaysia and Indonesia. "When I do exercise, it's pretty high-intensity and then I try to keep it as short as possible to move on with my day."
Eric Palicia said he does a lot of pullups.
"I'm not around a gym much or an obstacle course," he said. "I run a lot, and then it's a lot of body weight exercises I can do anywhere. I don't really lift weights, either."
Whether it's an Alpha Warrior battle rig or the San Antonio proving ground, attempting an obstacle course tests strength and agility, and also the mental strength when encountering new physical challenges, said Tech. Sgt. Juan Hernandez, program manager for Air Force Service Center's fitness and sports programs. People just aren't used to hanging from a rope three stories in the air with nothing to catch them but a net, he said.
"They learn to deal with that fear by overcoming those obstacles," Hernandez said. "The only thing that's going to stop you from facing something challenging is going to be yourself."
Heading into this week's competitions, Hernandez anticipates the most difficult obstacles of the course will be the rope swing and a salmon ladder. On the rope swing, participants must swing from a platform and grab onto a cargo net about 20 feet away. The salmon ladder requires participants to jump an independent bar up its rungs.
"The obstacles, by themselves, are challenging but manageable," Noah Palicia said. "The challenge is stringing it all together successfully. That's probably the most challenging part."
His brother had a different concern.
"The most difficult thing is going to be not ripping your hands apart," Eric Palicia said. "That's the greatest fear."
Their parents, who retired to Pittsburg, will cheer for both brothers from their home, they said.
Since contracting with Alpha Warrior for its obstacle courses three years ago, the Air Force has seen the competition grow in size and popularity. The battle rigs are permanent fixtures on more than 70 installations, so units can use them year-round for team-building exercises or physical training, Hernandez said.
"We're always looking for different ways to prepare the airmen to do their mission and to add to their resiliency," he said. The courses train for more dynamic movement and functional fitness movement, and they add variety to standard workout options.
Next year, the Air Force plans to install 10 youth courses at soon-to-be-determined bases for participants between the ages of 5 and 18.
"If you can walk and climb stuff, it will be set up there for a challenge for them so they can know what mom or dad is doing," Hernandez said.
thayer.rose@stripes.com Twitter: @Rose_Lori
IF YOU GOWHAT: Alpha Warrior Championship and Inter-Service Battle, with Air Force, Army and Navy servicemembers competing Thursday to score the fastest time on the obstacle course. The top three men and top three women of each service compete Saturday.
WHERE: Alpha Warrior Proving Ground at Retama Park, 52 Retama Parkway, Selma, Texas
WHEN: 9 a.m. to noon, Thursday and Saturday
COST: Free and open to all Defense Department ID card holders and their families, including active duty, veterans, retirees, National Guard and Reserve
OTHER EVENTS: Saturday includes performances by a rock ensemble from the Air Force Band of the West and an enlistment ceremony for more than 60 recruits joining the Air Force, the Army and the Navy
MORE INFORMATION: www.afimsc.af.mil