Trump tweets he will not allow Stars and Stripes to be shut down
by
Corey Dickstein
September 4, 2020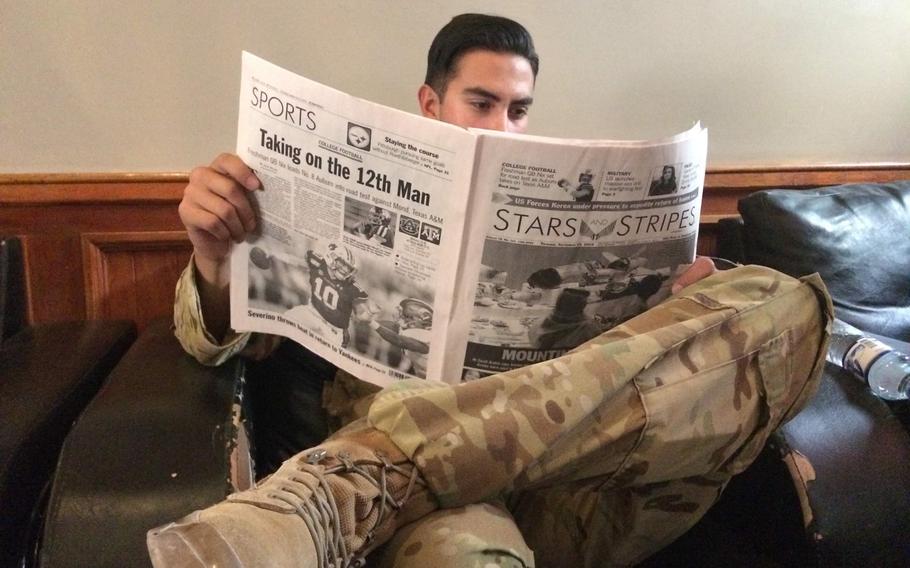 WASHINGTON — President Donald Trump vowed Friday not to allow the Pentagon's planned shutdown of Stars and Stripes, as senators this week implored Defense Secretary Mark Esper to continue funding the editorially independent news organization.
"The United States of America will NOT be cutting funding to @starsandstripes magazine under my watch," Trump tweeted Friday. "It will continue to be a wonderful source of information to our Great Military!"
In a memo sent last month to Stars and Stripes leadership, Pentagon officials ordered the organization to submit a plan by Sept. 15 for shuttering the news organization by January and called for it to discontinue publishing "in all forms" by Sept. 30, the end of fiscal year 2020. That order rankled some senators, who in recent weeks implored Esper not to close Stars and Stripes until Congress, which ultimately sets the government's budget, had finished weighing the issue.
Esper proposed in his February budget submission for fiscal year 2021 to end the Defense Department's funding of about $15.5 million to Stars and Stripes. He told reporters at the time that the savings would fund "higher-priority issues," like purchasing modern weapons. That funding accounts for about half of Stars and Stripes' budget and is primarily used to print and distribute the newspaper to troops scattered across the globe, including in warzones such as Afghanistan, Iraq and Syria.
Trump's statement Friday came as major news organizations — including USA Today, The Associated Press, The New York Times, The Washington Post and The Wall Street Journal — published stories on Stars and Stripes' apparent impending closure.
It also came as he fended off accusations first reported Thursday by The Atlantic that he called American service members killed in World War I "losers" and "suckers" during a 2018 trip to France, during which he canceled a trip to a cemetery there for Marines.
Trump adamantly denied the charge of disparaging military troops, telling reporters late Thursday that "there is nobody that respects them more" than he does. The AP and Fox News were among news organizations to report they had confirmed some of the accusations raised in The Atlantic story.
Republican and Democratic senators on Tuesday wrote a letter to Esper urging him to reverse his decision not to fund Stars and Stripes next year and delay any orders to shutter the organization until after Congress had fully considered his proposal.
Sen. Lindsey Graham, R-S.C., a Trump ally and Air Force veteran, sent a separate letter to Esper on Aug 26, telling him there was "strong support for Stars and Stripes within Congress." The organization, he wrote, has adapted to the modern digital age and provides "timely and accurate news for more than 1.3 million readers a day" in print and online.
"As a veteran who has served overseas, I know the value that the Stars and Stripes brings to its readers," wrote Graham, a former Air Force Reserve lawyer who retired as a colonel.
The Tuesday letter was signed by 15 senators — 11 Democrats and four Republicans.
Capitol Hill staffers said Friday that the Pentagon had not yet responded to either letter.
House lawmakers already have approved two bills that would provide funding for Stars and Stripes in fiscal year 2021. The bills now must be reconciled with the Senate.
House-passed versions of the fiscal year 2021 National Defense Authorization Act and the Department of Defense Appropriations Act with each including $15.5 million in funding for Stars and Stripes. The NDAA sets annual Pentagon policy and authorizes spending priorities while the appropriations bill funds the department.
The Senate-passed version of the NDAA did not authorize funding for the news organization. The Senate Appropriations Committee has yet to consider its version of the annual appropriations bill and it has not scheduled hearings to draft that legislation. Nine members of that committee — the four Republicans and five Democrats — were among the senators who signed the letter to Esper. They wrote there remained "a real possibility" Congress would continue to fund Stars and Stripes in 2021.
Ernie Gates, Stars and Stripes ombudsman, said he was pleased to see Trump pledged Friday to fund the news organization. But he said he also wants to hear from Pentagon officials. He called on Congress to continue funding Stripes when the two chambers craft their final fiscal year 2021 Pentagon bills.
"I've been saying that Secretary Esper should rescind the shutdown order and commit to funding Stars and Stripes, so I'm glad to see the president making that commitment first," Gates said. "I hope to see details beyond the [Trump] tweet from the Pentagon, to remove any uncertainty about what will happen when the fiscal year ends on Sept. 30."
A Pentagon spokesman Friday evening declined to comment, referring questions to the White House.
Stars and Stripes first appeared during the Civil War, and it has been published continuously since World War II.
Though Stars and Stripes retains its editorial independence and is congressionally mandated to be governed by First Amendment principles, it is part of the Pentagon's Defense Media Activity. It was that agency's acting director, Col. Paul Haverstick, who sent the memo last month to Stars and Stripes leadership that instructed the news organization to shut down.
"Shutting it down would be fatal interference and permanent censorship of a unique First Amendment organization that has served U.S. troops reliably for generations," Gates said. "I'm glad to have the president's commitment that it won't happen."
dickstein.corey@stripes.com Twitter: @CDicksteinDC