Trump to nominate Shanahan as defense secretary
by
Corey Dickstein
May 9, 2019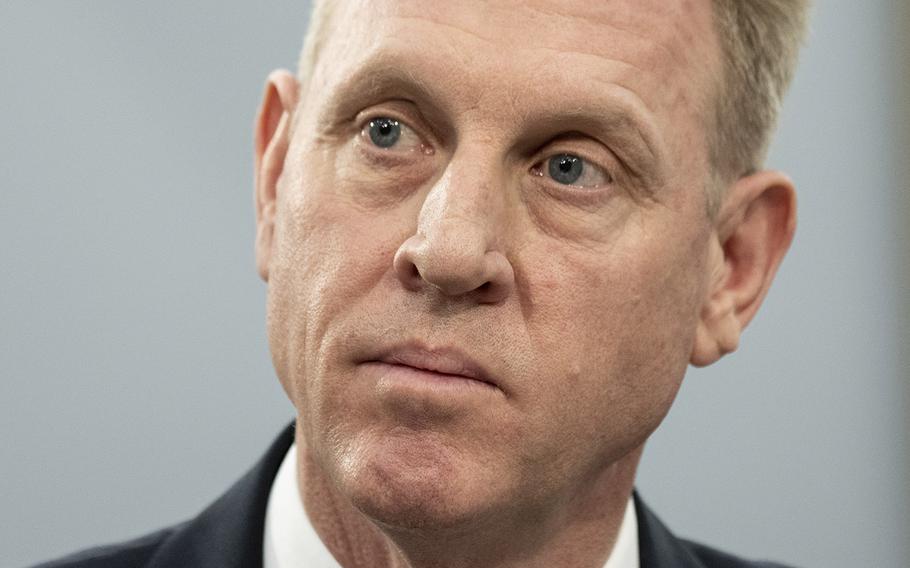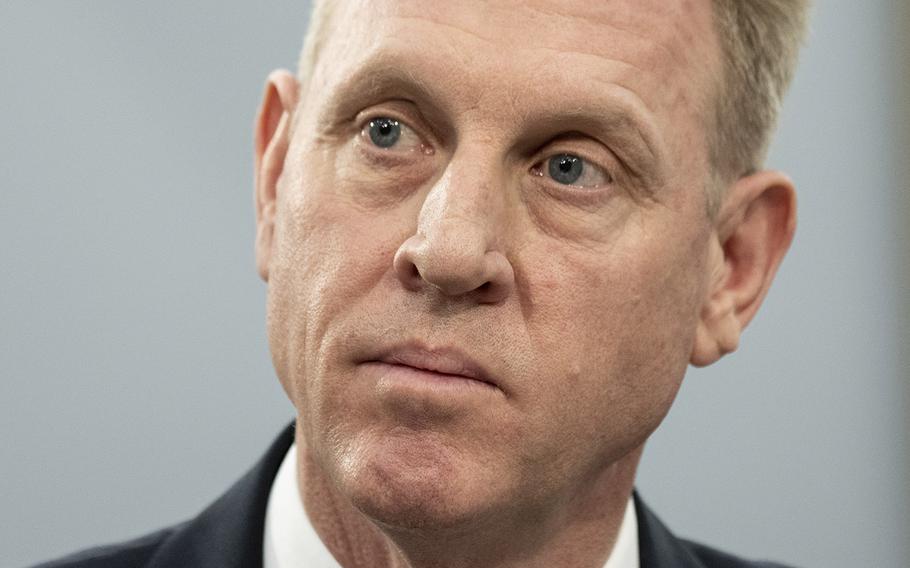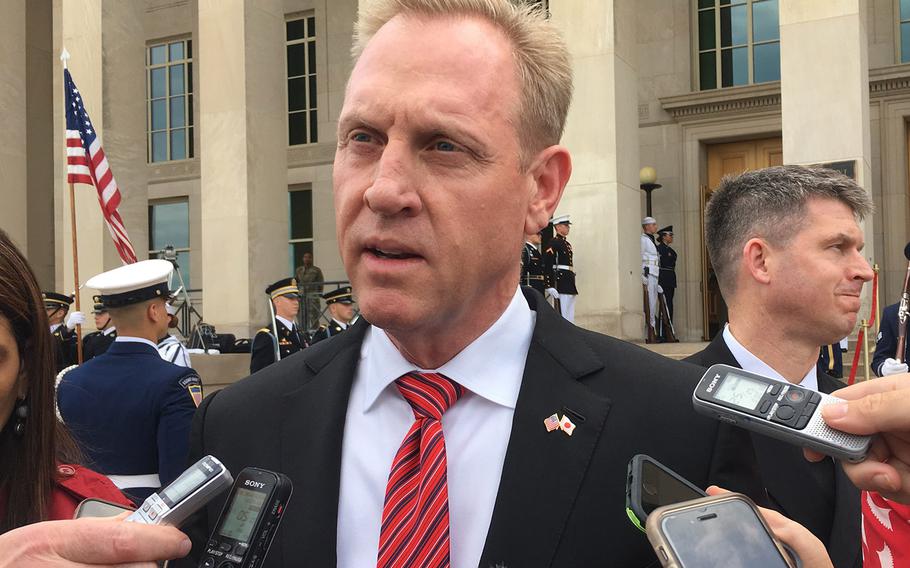 WASHINGTON — Pat Shanahan, who has led the Pentagon on an interim basis since January, will be nominated by President Donald Trump to take over as defense secretary permanently, the White House announced Thursday.
"President Trump intends to nominate Patrick M. Shanahan as Secretary of Defense," Sarah Huckabee Sanders, the White House press secretary, tweeted Thursday afternoon. She did not indicate when the nomination would be formally sent to the Senate.
Sanders announcement comes after months of speculation about Shanahan's nomination and two weeks after he was cleared by the Pentagon's inspector general of accusations that he favored his former employer, Boeing, in violation of the ethics pledge that he signed when he arrived at the Pentagon in 2017.
Shanahan, 56, joined the Pentagon in July 2017 as the deputy secretary of defense under then-Defense Secretary Jim Mattis. On Jan. 1, he took over Mattis' old job after the former Marine general resigned, citing deep policy differences with Trump.
"I am honored by today's announcement of President Trump's intent to nominate," Shanahan said in a statement sent to reporters following Sanders' tweet. "If confirmed by the Senate, I will continue the aggressive implementation of our National Defense Strategy. I remain committed to modernizing the force so our remarkable soldiers, sailors, airmen, and Marines have everything they need to keep our military lethal and our country safe."
Shanahan told reporters at the Pentagon that he learned he was to be nominated Thursday at the White House.
Before joining the Pentagon, his first job in government, Shanahan spent 31 years working for Boeing, leaving the massive aerospace company and key defense contractor as its senior vice president for supply chain and operations to become Mattis' No. 2.
In that role, Shanahan dealt largely with the business operations in the Pentagon and spearheaded reforms intended to smooth out the military's slow and bulky acquisition programs. He also shaped the Pentagon's $718.3 billion fiscal year 2020 budget request, which he has referred to as a "masterpiece" blueprint for rebuilding the military's combat readiness while also modernization its weapons inventory.
In more than five months as acting defense secretary, Shanahan visited the war zones in Afghanistan and Iraq for the first time and met with leaders of key NATO allies in Europe and the United States. But he has also faced scrutiny from lawmakers and independent government watchdogs, primarily over his ties to his former employer.
A complaint to the Pentagon inspector general sparked a nearly two-month probe into allegations that Shanahan had disparaged Boeing competitor Lockheed Martin in meetings as the Pentagon's No. 2 and that he had urged subordinates to buy Boeing products, including the F-15X fighter jet instead of the more modern F-35 Lightning II advanced fighters. Shanahan denied any wrongdoing.
The IG probe did not substantiate any of the allegations.
"We determined that Mr. Shanahan fully complied with his ethics agreements and his ethical obligations regarding Boeing and its competitors," the IG report stated.
The nomination comes as the Pentagon grapples with increasing tensions across the globe. The military in recent days has deployed a Navy carrier strike group and an Air Force bomber task force to the Middle East in response to potential threats against American troops from Iran, defense officials have said.
The Pentagon has also been busy preparing potential military options for the deepening political and economic crisis in Venezuela, where U.S. leaders have called for President Nicolas Maduro's resignation. And, in recent days, North Korea has fired several short-range projectiles, as talks between the United States and the North aimed at denuclearizing the Korean Peninsula have fizzled.
Shanahan acknowledged how demanding those challenges are for the Pentagon.
"The biggest challenge is balancing it all," Shanahan said Thursday at the Pentagon just before meeting with the Japanese chief cabinet secretary, Yoshihide Suga. "I'd say, for me, it's about practicing selectful neglect so that we can stay focused on the future but not ignore a lot of the emerging really important issues that pop up day to day that you don't plan for."
A native of Washington state, Shanahan holds a bachelor's degree in mechanical engineering from the University of Washington. He also holds two advanced degrees – a Master of Science in mechanical engineering and a Master of Business Administration, both from the Massachusetts Institute of Technology.
His positions at Boeing included senior vice president of commercial airplane programs, vice president and general manager of the 787 Dreamliner, vice president and general manager of Boeing missile defense systems and vice president and general manager of Boeing Rotorcraft Systems.
Shanahan was easily confirmed by the Senate for his job as deputy defense secretary in a 92-7 vote. But he had a rough start earlier this year winning key support on Capitol Hill, where lawmakers accused him of failing to provide them timely information, including about military construction projects that could be deferred so funds could be used to help build a wall along the U.S.-Mexico border. On Wednesday, Senate lawmakers criticized the Pentagon's failure to brief them about tensions with Iran.
Nonetheless, Sen. Jim Inhofe, R-Okla., chairman of the Senate Armed Services Committee, who initially bristled at the idea of Shanahan as defense secretary, said he was in full support now.
"I'm pleased that President Trump will nominate Patrick Shanahan to be the next Secretary of Defense. We need a confirmed leader at the [Defense] Department and, after working with him closely over the last few months, I welcome his selection," Inhofe said in a statement. "I look forward to talking with him at his confirmation hearing about how we can work together to implement the National Defense Strategy and care for our servicemembers, veterans and military families."
During a February breakfast meeting with reporters, Inhofe said he didn't foresee Shanahan getting nominated for the permanent post or even reaching a confirmation hearing. One issue, Inhofe said, was Shanahan's strong ties to Boeing.
Inhofe also said Shanahan wasn't as humble as Mattis. Rather, Inhofe hoped Mattis' humility would rub off on the next Pentagon leader.
"I don't think it's going to happen" Inhofe said Feb. 12. "Every time someone has any kind of background whether it's Boeing or regardless of what company it is … there's going to be kind of a built-in suspicion and I would say this will become very partisan."
Later that day, Inhofe appeared to back track on the comments, and the senator said he liked Shanahan, but the longer he stayed in the acting role, the less likely it was that he would get the post permanently.
Stars and Stripes reporters Claudia Grisales and Caitlin Kenney contributed to this report.
dickstien.corey@stripes.com Twitter: @CDicksteinDC