Trump to nominate former ambassador, astronaut for Air Force secretary
By
Corey Dickstein dickstein.corey@stripes.com
May 21, 2019
---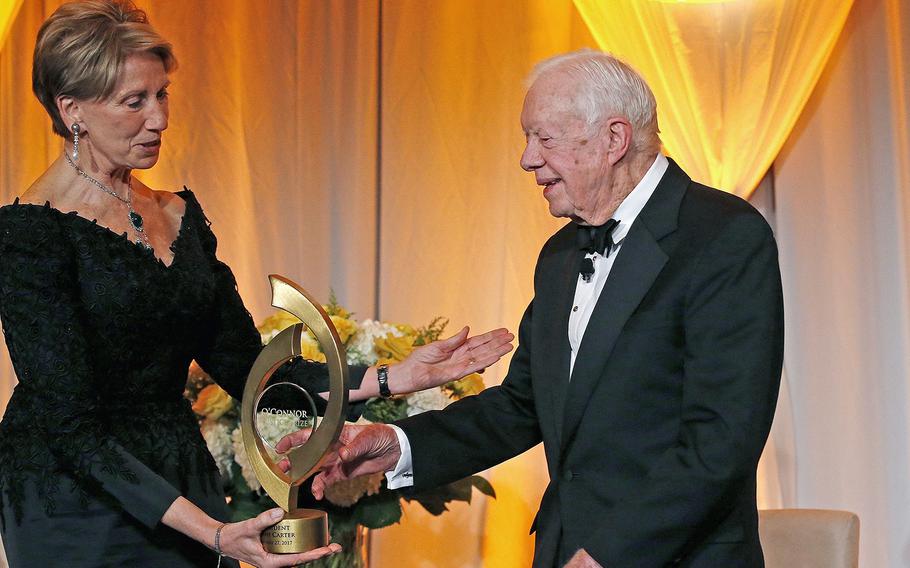 WASHINGTON – President Donald Trump on Tuesday announced he would nominate Barbara Barrett, a former ambassador to Finland and astronaut, to be the next secretary of the Air Force, replacing Heather Wilson who is slated to leave that post at the end of this month.
"I am pleased to announce my nomination of Barbara Barrett of Arizona, and former Chairman of the Aerospace Corporation, to be the next Secretary of the Air Force. She will be an outstanding Secretary!" Trump announced via Twitter late Tuesday afternoon.
Barrett, 68, is a businesswoman and pilot who has substantial government experience, according to a biography provided by Sen. Martha McSally's office. The Arizona Republican championed Barrett's nomination to Trump, calling Barrett, a fellow Arizonan, a close friend via a statement.
"Ambassador Barrett is a force to be reckoned with and who has the leadership, experience, and knowledge to lead our Air Force into the future during a time of increased global threats," McSally said in the statement. "I have confidence that Ambassador Barrett will lead the way in maintaining air and space dominance and continue to build upon the initiatives, leadership, and example set forth by Secretary Heather Wilson."
Last week, the Pentagon announced Matthew P. Donovan, the undersecretary of the Air Force, would become the service's acting secretary on June 1, following Wilson's departure.
Wilson announced in March that she would leave the job at the end of May to become the president of the University of Texas at El Paso. The service's 24th secretary, she will have served for just more than two years when she leaves the Pentagon.
If confirmed, Barrett would lead an Air Force looking to grow its ranks as it faces a shortage of pilots and as Congress considers adding a new uniformed service, the Space Force under the Air Force secretary's control. The Air Force also faces challenges rebuilding at least two major installations — Tyndall Air Force Base in Florida and Offutt Air Force Base in Nebraska — that suffered billions of dollars of damage due to natural disasters in recent months.
Barrett holds a bachelor's, a master's and a law degree from Arizona State University, according to the school. She has trained additionally as an astronaut and as a civilian pilot, according to her biography.
In 1994, she ran unsuccessfully for the Republican nomination for governor of Arizona.
In addition to her time serving as chairwoman of The Aerospace Corporation's Board of Trustees, a federally funded national security and military space research and development center, she spent time in 2012 as the interim president of Thunderbird School of Global Management and as the CEO of the American Management Association. She was the founding chairwoman of the Valley Bank of Arizona and a former partner at a large law firm in Phoenix, according to the biography.
Under President George W. Bush, Barrett served as the U.S. ambassador to Finland from 2008 to 2009 and later she was a senior adviser to the U.S. ambassador to the United Nations. She served as deputy administrator of the Federal Aviation Administration and as vice chairwoman of the Civil Aeronautics Board under President Ronald Reagan.
According to McSally's office, Barrett was the first female civilian pilot to land an F/A-18 Hornet fighter jet on an aircraft carrier. She told Business Jet Traveler in 2014 that she was challenged by a Navy admiral to attempt the landing while she advocated in the early 1990s to lift a law barring women from piloting fighter jets.
"There was a Navy admiral who had daughters [and was] not one to be told girls can't do these things," she told the magazine. "He invited me to train and qualify to fly an F-18 Hornet. I had the privilege of landing on the [USS] Nimitz."
dickstein.corey@stripes.com Twitter: @CDicksteinDC
---
---
---
---