Trump signs defense spending bill into law
by
Claudia Grisales
September 28, 2018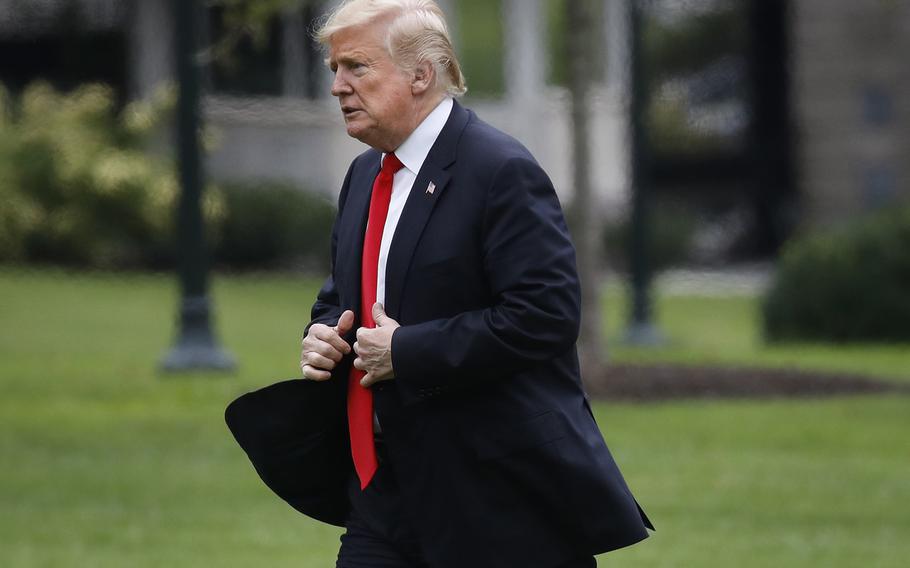 WASHINGTON – President Donald Trump on Friday signed into law a $670 billion defense spending measure that includes money for the largest boost to servicemembers' pay in nearly 10 years and increases in troops, equipment and weapons for the 2019 fiscal year.
The so-called "minibus" appropriations measure, H.R. 6157, is part of a larger package of more than $850 billion to fund labor, health and human services and education priorities. It also funds priorities directed in the 2019 National Defense Authorization Act.
Trump's approval Friday marks the first time in about 10 years that the Defense Department won't operate under a temporary funding measure, otherwise known as a continuing resolution, for the start of its fiscal year. The 2019 fiscal year begins Monday.
"Today, I signed into law important legislation to rebuild our military, protect our communities, and deliver a better future for all Americans," Trump said Friday in a statement.
Trump said the legislation secured funding to order 93 new F-35 Lightning Joint Strike Fighters, 142 Apache and Black Hawk helicopters and 13 Navy battle force ships.
"America is being respected again – and our people are being protected again. I am pleased to have signed this bill into law," he said.
Lawmakers lauded the news Friday.
"It is a monumental achievement. By funding our military in full and on time, we can begin to restore its strength, agility, and effectiveness. The president was right to make rebuilding our military a high priority," Rep. Mac Thornberry, R-Texas, chairman of the House Armed Services Committee, said in a statement. "As I have said before, the task before us now is to make full, on time funding of our military the rule in Washington, and not the exception."
On Wednesday, the House passed the measure by a vote of 361-61, sending the bill to Trump. Last week, the Senate approved the legislation in a vote of 93 to 7, sending the bill to the House.
"This package continues a historic increase in funding for our nation's defense, helping the president deliver on his commitment to rebuild the military," Sen. Richard Shelby, R-Ala., and chairman of the Senate Appropriations Committee, said Friday in a statement.
The defense budget moves on two tracks: the annual NDAA directs policy and spending plans for the military, while the defense appropriations bill is what actually moves money to the Pentagon.
Trump signed the 2019 NDAA, H.R. 5515, into law Aug. 13, which ushered through a series of new policy reforms, such as revamping the military's "up or out" promotion system and policies to reign in sexual misconduct and domestic abuse among the ranks. The $716 billion NDAA also authorizes a 2.6 percent pay raise for servicemembers, as well as new purchases of aircrafts, ships, submarines and weapons.
The NDAA directs funding for Defense Department, as well as atomic energy defense activities under the Energy Department. Because it funds additional agencies, the NDAA directs larger spending priorities than its appropriations counterpart legislation, H.R. 6157, said Andrew Sherbo, a University of Denver finance professor who has tracked government and defense budget issues.
Thornberry had said this week that he was confident Trump would sign the legislation into law.
"If you step back and look what are the two biggest accomplishments of the Trump administration, it's been economic growth and rebuilding the military," Thornberry said Wednesday. "Signing this bill that we are going to pass today is the most significant step towards rebuilding the military because they will have a whole year to efficiently use that money."
Several times this year, Trump threatened a veto of spending measures if Congress didn't include significant funding for a southern border wall, a move that could have triggered a government shutdown. But later Wednesday, Trump said he would keep the government open.
On Friday, Trump said H.R. 6157 includes additional funding for border security, "including $1.6 billion, annualized, to keep building the wall." He also said the Democrats refuse to support additional border security.
H.R. 6157 also includes a continuing resolution to fund agencies that aren't covered by the minibus appropriations bill until Dec. 7 to avert a partial government shutdown.
Lawmakers have also lauded the plan's boost to pay, troop levels, and equipment, including 18 C-130J aircraft, 13 V-22 aircraft and the upgrade of 135 Abrams tanks.
They have also praised the measure's efforts to fund research and development of new defense systems and technologies, including nuclear force modernization and the Ohio-class submarine replacement. The bill also funds cancer research, traumatic brain injury research, sexual assault prevention and veterans vocational education.
The plan builds on the momentum to increase the size and might of the military in response to China and Russia's growing capabilities as laid out in Trump's defense budget proposal earlier this year. The Trump request for the fiscal year included an increase of more than 15,000 active-duty troops, which lawmakers matched in the NDAA.
A two-year spending deal that lifted federal budget caps allowed the defense budget to expand. Coupled with approaching November midterm elections, lawmakers worked to pass the bills earlier than in past years.
grisales.claudia@stripes.com Twitter:@cgrisales