Trump says Clinton should apologize or end her campaign
---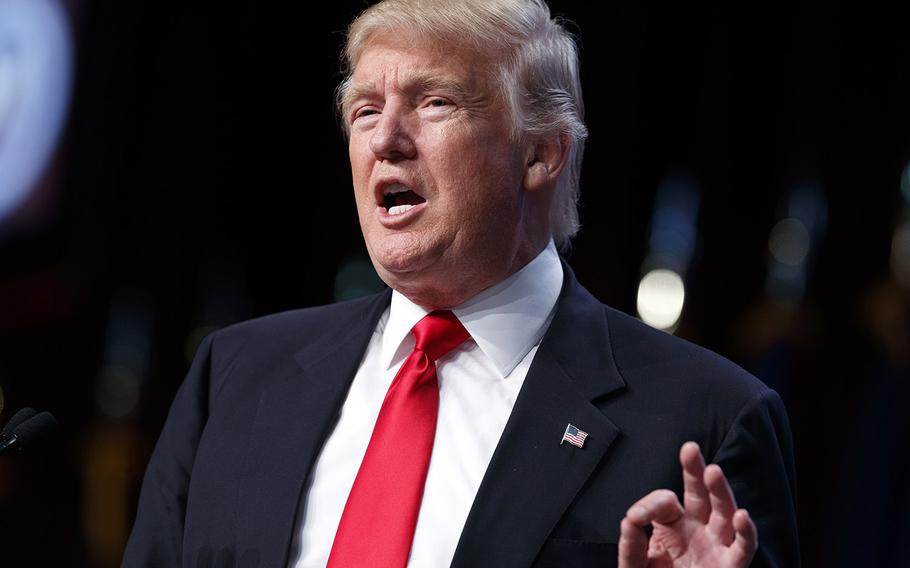 BALTIMORE — Donald Trump on Monday continued to hammer Hillary Clinton for calling his supporters "deplorables" while also pledging more support for the military to an audience of officers gathered for a National Guard Association convention.
The real estate mogul said the statements disqualify the Democratic nominee from public service and that Clinton should either apologize or end her campaign.
The speech in Baltimore came after a tumultuous week in the election race in which Trump dished out harsh criticism of top military leadership, calling U.S. generals an embarrassment to the country, and Clinton made the controversial statements Friday about Trump's supporters before falling ill Sunday with pneumonia.
"The disdain Hillary Clinton expressed towards millions of decent Americans disqualifies her from public service," Trump told the friendly convention audience. "You cannot run for president if you have such contempt in your heart for the American voter and she does. You can't lead this nation if you have such a low opinion for its citizens."
Trump has seized on the comments, which have widely been seen as potentially damaging gaffe by Clinton as the presidential race tightens. He claimed Clinton has refused to back down from her claims that about half of Trump voters are "irredeemable" and represent un-American political views.
"If Hillary Clinton will not retract her comments in full, I don't see how she can credibly campaign any further," he said.
The former secretary of state was speaking to donors in New York City on Friday when she lamented the bloc of voters Trump has managed to rally in his unlikely campaign success over the past year.
"You know, to just be grossly generalistic, you could put half of Trump's supporters into what I call the basket of deplorables. Right?" Clinton said. "The racist, sexist, homophobic, xenophobic, Islamaphobic -- you name it. And unfortunately there are people like that. And he has lifted them up."
Clinton said over the weekend that she regretted saying half of Trump's supporters are irredeemable, though she called out his campaign for being built on "prejudice and paranoia."
The controversy was compounded by new questions over Clinton's health after she abruptly left a 9/11 remembrance ceremony Sunday and was seen stumbling. Her campaign first said she was overheated but then acknowledged she had been diagnosed with pneumonia last week.
Clinton, who is 68, had spent recent weeks fending off speculation from the Trump campaign that she might be hiding a physical ailment or poor health. Trump is 70 years old and both are among the oldest candidates to run for the presidency.
Trump spent much of his speech Monday criticizing Clinton's comments, but he also appealed to the assembled National Guard voters who wanted to see the reality television star express his support for the military, especially support for repealing of defense budget caps in Washington. The caps have pressured decreases in defense spending since 2013.
"My plan calls for a major rebuilding of the entire military," Trump told members gathered in the audience by state. "We have been depleted as a military, we can't let that happen."
He called the spending caps and possibility of deeper across-the-board funding cuts called sequestration a "disaster," repeating comments he has made earlier on the campaign trail.
But Trump seemed to amend his comments from last week that U.S. generals are doing a poor job in U.S. foreign policy and that he might replace them once elected.
"I think under the leadership of Barack Obama and Hillary Clinton, the generals have been reduced to rubble. They have been reduced to a point where it's embarrassing to our country," Trump said last week during a commander in chief forum in New York City.
On Monday, he instead said he would "empower" the country's top military officers.
"We will empower our generals to do the job they were hired to do and that will begin with defeating and destroying [the Islamic State group]," he said.
David West, a retired lieutenant colonel from Bow in New Hampshire, said he thought Trump was on point and delivered the right message to get Guard association members on board with his campaign.
"For me, it was the funding we need and getting rid of sequestration," West said.
He acknowledged repealing the defense spending caps could be difficult — it will require a bargain in a divided Congress — but said Trump has a better chance than Clinton of leveraging the change as president.
"I don't trust her. I don't believe her," West said.
A poll last week showed Trump enjoys a sizable lead among military voters, who tend to skew more conservative and Republican.
Bob Holmes, a military retiree from Cheyenne in Wyoming, said he is a lifelong Republican who came to the convention backing Trump and after hearing the speech Monday feels the GOP nominee's campaign is improving.
"The last week, I've been impressed," Holmes said. "He's been saying the right things."
tritten.travis@stripes.com Twitter: @Travis_Tritten
---
---
---
---