Trump's signature extends full honors at Arlington to enlisted MOH recipients and former POWs
by
Matthew M. Burke
December 27, 2019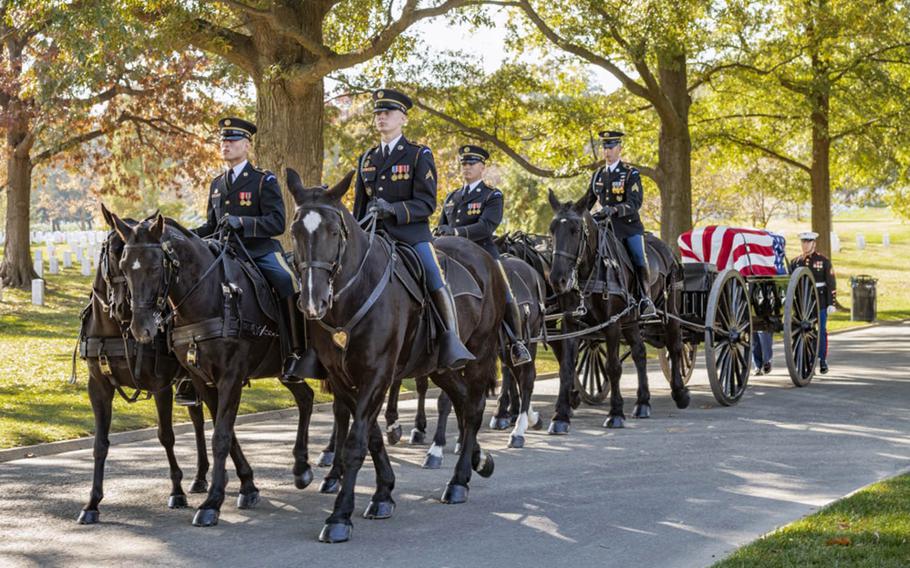 Former prisoners of war and enlisted Medal of Honor recipients are now eligible for burial with full military honors at Arlington National Cemetery, according to a provision in the National Defense Authorization Act signed recently by President Donald Trump.
The bill's passage capped a 20-month odyssey for Kanda Fletcher, whose father, former Korean War POW and Army Pfc. Robert Fletcher, was buried there but denied those honors after he died in February 2018.
Fletcher was so incensed that her father was not eligible for the same honors afforded some troops with no combat experience that starting in April 2018 she campaigned to extend them to men like her father. Her work was highlighted by Stars and Stripes, which caught the eye of several congressmen, resulting in a bill introduced in February by Rep. Jimmy Panetta, D-Calif.
"It's been a very emotional journey," Fletcher said this week after unveiling the news to her family on Christmas.
The provision for extended military honors was folded into the annual defense authorization act a year after Rep. Mike Bishop, R-Mich., introduced a bill to correct what he perceived as a slight. Bishop lost re-election in 2018 but Panetta reintroduced the bill and it made its way into the authorization act. Trump signed the act Dec. 20.
"Full military honors ceremonies remind us of the service and valor demonstrated by those who have defended, protected, and sacrificed for freedom and democracy," Panetta said in a statement Dec. 23 to Stars and Stripes. "I am humbled and honored to include my bipartisan legislation into the National Defense Authorization Act."
Any former POW who served honorably and died on or after Nov. 30, 1993, can be buried at Arlington. Recipients of the Medal of Honor, the Distinguished Service Cross, the Air Force Cross, the Navy Cross, the Distinguished Service Medal, the Silver Star or the Purple Heart are also eligible for burial there.
In August 2017, the Department of Veterans Affairs counted 5,017 former POWs living in the U.S. However, that number only includes POWs in the VA system.
The Congressional Medal of Honor Society counts 71 living Medal of Honor recipients of many ranks, according to the society website.
Kanda Fletcher said the family had to convince her father to agree to burial at the nation's most hallowed veterans' cemetery. They were later stung when they found out that he would not be afforded the horse and caisson of full military honors at his June 2018 interment.
He instead received the minimum honors for eligible enlisted servicemembers at the time, according to Army regulations: a casket team, a firing party, the playing of taps by a bugler and a chaplain.
"It still hurts very badly but I can't fix that," Kanda Fletcher said about the legislation coming too late for her father. "I could only move forward and try to ensure that this didn't happen to too many other people."
Commissioned and warrant officers and senior noncommissioned officers who are eligible for burial at Arlington may also receive "full honors," which includes an additional escort, a marching element, a band and the horse-drawn caisson.
Robert Fletcher was a Buffalo Soldier who endured starvation, freezing temperatures and physical and psychological torture during his three years of captivity, first at the hands of the Chinese and later with the North Koreans. Out of 8,000 prisoners taken with him, he would later tell documentary filmmaker James Militzer in 2013, only 3,000 came back alive.
"A lot of guys froze to death; a lot of guys starved to death; a lot of guys died from wounds," Fletcher recalled in the film. "I was 180 pounds and I went down to about 90 pounds... I don't know why I survived."
burke.matt@stripes.comTwitter: @MatthewMBurke1