Trump fires Esper via Twitter, replaces him with counterterrorism chief Christopher Miller
By
Corey Dickstein Caitlin M. Kenney
November 9, 2020
---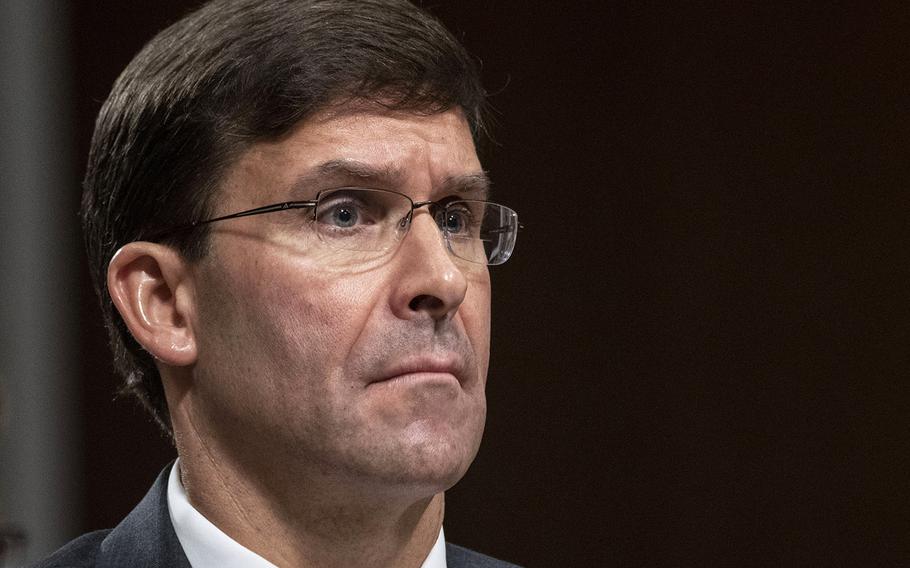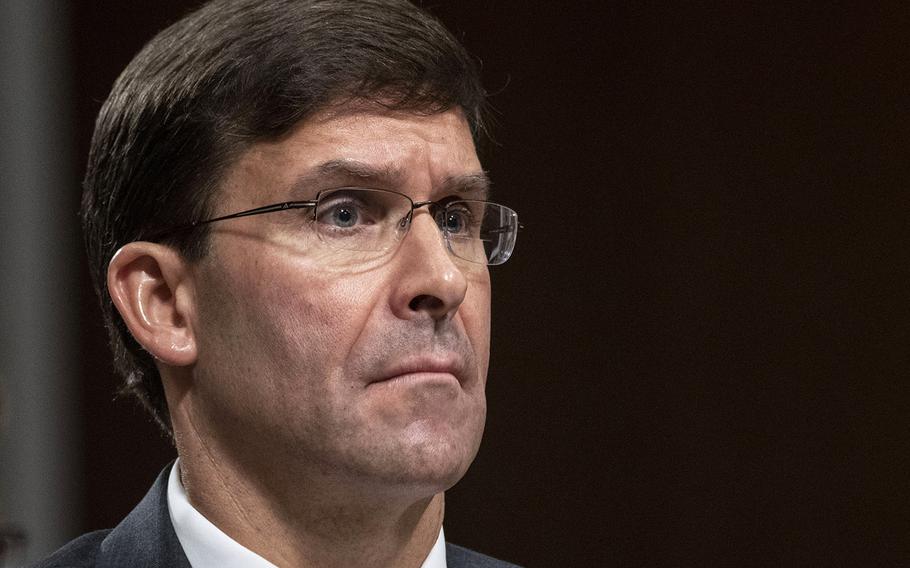 WASHINGTON — Defense Secretary Mark Esper was fired Monday by President Donald Trump, following recent speculation that his time as the top Pentagon official was drawing to a close.
Trump made the announcement on Twitter two days after the 2020 presidential election was called in favor of his Democratic opponent, former Vice President Joe Biden.
"Mark Esper has been terminated. I would like to thank him for his service," Trump tweeted Monday.
Trump wrote in his tweet that Christopher Miller, the director of the National Counterterrorism Center, would be the new acting secretary of defense "effective immediately." Miller was sworn into his current position in August, according to his official biography.
The Pentagon has referred all questions about Esper's firing to the White House. A defense official confirmed Miller had arrived at the Pentagon on Monday.
Esper's dismissal comes some five months after rumors of Trump's ire with his second Senate-confirmed Pentagon leader first began circulating throughout Washington.
Esper ascended to the position July 23, 2019, after the Defense Department waited seven months for an official nomination following the resignation of Jim Mattis on Dec. 20, 2018. Mattis was Trump's first defense secretary and a popular figure among troops. But Mattis resigned due to disagreements with Trump on views regarding the importance of allies and approach to adversarial countries, according to his resignation letter.
Before becoming the Pentagon's top official, Esper had served as Army secretary since Nov. 20, 2017. He is a 1986 graduate of the U.S. Military Academy at West Point and served as an infantry officer with the 101st Airborne Division during the 1990-1991 Gulf War, according to his official biography. He retired in 2007 after more than 20 years with the Army, first on active duty and then with the National Guard and Army Reserve. Before becoming Army secretary, Esper had been the top lobbyist for Raytheon, the country's third largest defense contractor.
Esper on Monday released a final memo to service members and Defense Department employees that highlighted the "solid progress" that they had made together in improving readiness, becoming closer with allies and partners, and taking care of service members and their families. He also mentioned standing up the newest military branch, Space Force, as well as proposing "a bold vision for a future Navy."
"I am particularly proud of these accomplishments in light of the challenges we faced along the way: a global pandemic; confrontations with Iran and its proxies throughout the Middle East; continued deployment of troops into conflict zones; domestic civil unrest; malign behavior globally by Russia and China, and a charged political atmosphere here at home. Through thick and thin, however, we have always put people and country first," he wrote.
Two top Republican lawmakers acknowledged Esper's service as defense secretary in prepared statements Monday but did so without mentioning Trump fired him.
"Mark Esper has served the nation well under very challenging circumstances. He has helped lead the Department of Defense toward being more efficient and better prepared to deter peer adversaries. He has been an effective advocate for the men and women in uniform and their families. He deserves the gratitude of every American," said Rep. Mac Thornberry of Texas, the top Republican of the House Armed Services Committee, who is retiring.
Sen. Jim Inhofe, R-Okla., the chairman of the Senate Armed Services Committee, thanked Esper for putting service members first and "thinking critically about how the Pentagon operates."
"I just spoke with acting Secretary of Defense Miller, and I look forward to working with him to ensure that these priorities remain paramount and to working with President Trump to maintain stability at the Pentagon, particularly as we work to enact the 60th annual National Defense Authorization Act," said Inhofe, who was reelected last week.
Like Esper, Miller also had a long career in the military, serving for slightly more than 30 years, from 1983 to 2014. He initially enlisted as an infantryman in the Army Reserve and also served in the District of Columbia National Guard as a military policeman, according to his biography. He eventually commissioned as an infantry officer in 1987 and transferred to Special Forces in 1993. As part of 5th Special Forces Group (Airborne), Miller participated in the initial invasions of Afghanistan in 2001 and Iraq in 2003.
After he retired from the military, Miller worked as a defense contractor for a company that is unnamed in his biography, "providing clandestine special operations and intelligence expertise" to the undersecretaries of defense for intelligence and policy.
Miller earned a bachelor's degree in history in 1987 from George Washington University in Washington, D.C., and he has a master's degree in national security studies from the Naval War College in Newport, R.I., according to his biography.
Miller would be the fifth official to be placed in the defense secretary position during the Trump administration, either as a confirmed nominee or as acting secretary. First was Mattis who served from January 2017 to December 2018. Patrick Shanahan, who had been deputy secretary, became the acting secretary from January 2019 to June 2019. Esper then replaced Shanahan as the acting secretary on June 24, 2019, following reports of family troubles in Shanahan's past.
Trump's nomination of Esper as defense secretary caused a shuffle of jobs at the top levels of the Pentagon due to the confirmation process. Esper had to step back into being the Army secretary on July 15, 2019, and Richard Spencer, then the Navy secretary, stepped in as acting defense secretary until the process was completed. Esper was eventually confirmed by the Senate and sworn in on July 23, 2019, as the 27th defense secretary.
President-elect Biden has been rumored to favor Michele Flournoy, a former Pentagon official, to be his pick for defense secretary. If nominated and confirmed, she would be the first woman in the top Pentagon position. Flournoy is known for co-founding the Center for a New American Security in 2007, a nonprofit think tank in Washington, D.C., focused on national security and defense policies.
News reports, citing unnamed administration officials, first signaled Esper's diminished standing with Trump in June, not long after the defense secretary publicly stated his opposition to using active-duty troops to quell civil unrest throughout the country. Esper, in a Pentagon news conference June 3, said he did not support invoking the Insurrection Act as civil unrest over systemic racism and police brutality spread through all 50 states in the wake of the killing of George Floyd by Minneapolis police. In some cases, protests became violent.
Trump had flirted with invoking the rarely used statute that would allow him to deploy federal troops to conduct certain domestic law enforcement duties, and was reportedly angered by Esper's decision to take a public stance against it.
Trump has also mocked Esper by calling him "Yesper," a nickname given to Esper by critics, referring to his apparent willingness to go along with Trump's policies without question. Esper has been criticized for moving military construction funds to help build the wall on the U.S.-Mexico border.
Esper seemed to reflect on his approach to Trump in an interview released Monday with Military Times.
"At the end of the day, it's as I said — you've got to pick your fights," he said Wednesday. "I could have a fight over anything, and I could make it a big fight, and I could live with that — why? Who's going to come in behind me? It's going to be a real 'yes man.' And then God help us."
Last week, news outlets had also reported Esper had written a resignation letter in anticipation that his time as defense secretary was ending. It is not uncommon for administration officials to prepare a resignation letter, especially as an administration prepares for a second term. But the news reports, citing unnamed defense officials, described the reasoning for Esper's preparation of a letter was in case Trump fired him.
Democratic lawmakers on Monday were quick to condemn Esper's unceremonious removal. They included Rep. Adam Smith, D-Wash., chairman of the House Armed Services Committee, who called the move "destabilizing" amid a transition of presidential administrations.
He warned in a statement that such moves could embolden adversaries as administrations change over.
"In the national security community, it is well known that periods of presidential transition leave our country exposed to unique threats. Until President-Elect Biden is sworn into office next January, it is imperative that the Pentagon remain under stable, experienced leadership," Smith said. "President Trump's decision to fire Secretary Esper out of spite is not just childish, it's also reckless."
Speaker of the House, Rep. Nancy Pelosi, D-Calif., called Esper's firing "disturbing evidence" that Trump would attempt to "sow chaos" in his final days in office.
"Again and again, Trump's recklessness endangers our national security," she said in a statement. "It is disturbing and dangerous that, at this precarious moment, our military will now be led by an official who has not been confirmed for this position by the Senate."
Sen. Mark Warner, D-Va., also condemned Esper's removal, saying the former defense secretary is owed thanks for his time in the office.
"This president can still do a lot of damage between now and January," Warner, the vice chairman of the Senate Intelligence Committee, wrote on Twitter. "We can't take our eyes off the ball yet."
Rep. Elissa Slotkin, D-Mich., said she worried Esper was removed either out of "vindictiveness" or because Trump believed he would block actions that the president was considering.
Slotkin, a former CIA officer who also served in senior Pentagon posts during former President Barack Obama's administration and was elected last week to a second term in Congress, said she did not always agree with Esper but he meant well for troops.
"Whatever the reason, casting aside a secretary of defense during the volatile days of transition seems to neglect the president's most important duty: to protect our national security," tweeted Slotkin, a member of the House Armed Services Committee.
She added she had worked previously with Miller.
"It is critical that he, and all senior Pentagon leaders, remember that they swore an oath to the Constitution, not any one man," Slotkin wrote. "With that oath comes a commitment to the peaceful transition of power."
kenney.caitlin@stripes.com Twitter: @caitlinmkenneydickstein.corey@stripes.com Twitter: @CDicksteinDC
---
---
---
---