Trump calls US generals 'embarrassing'
---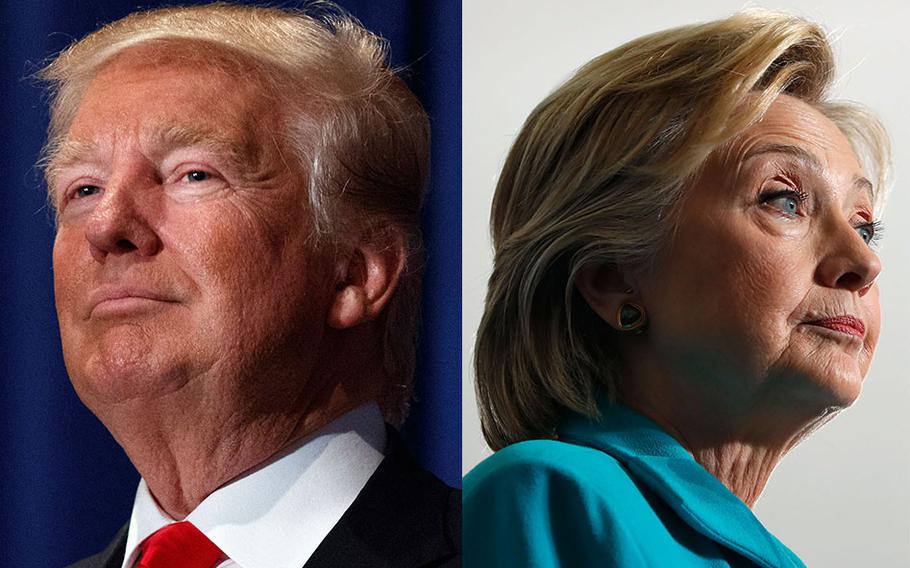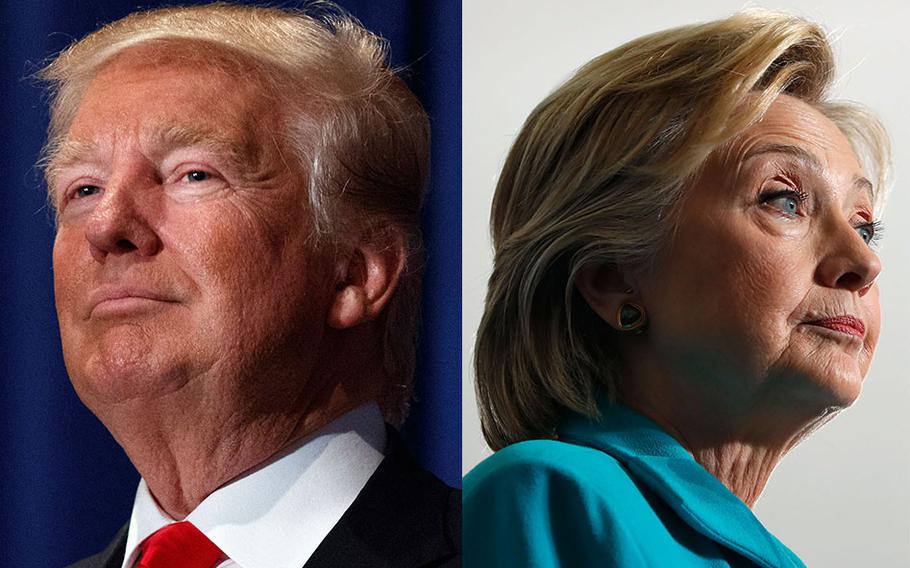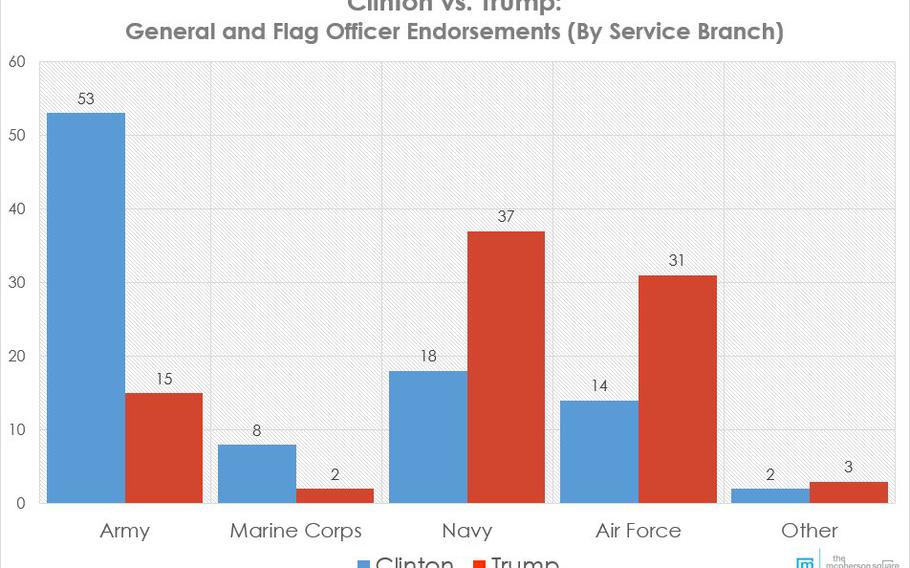 WASHINGTON — Donald Trump and Hillary Clinton staked out starkly different visions of U.S. foreign policy Wednesday in an attempt to sway wary veteran voters during back-to-back appearances in a nationally televised forum.
Trump said the country's military leadership under President Barack Obama has deteriorated and is an embarrassment, insisting he has a secret plan to defeat the Islamic State group and could better deal with foreign adversaries such as Russian President Vladimir Putin whose leadership he praised.
Former Secretary of State Clinton was often on the defensive over her email scandal and 2003 vote for the invasion of Iraq during the forum with an audience of veterans aboard the USS Intrepid aircraft carrier museum in New York City.
With just two months until the election, the candidates made their bid to convince traditionally Republican-leaning military voters — as well as the many distrustful general election voters — that they would be better at keeping the country safe, employing troops abroad and caring for the men and women who served.
"I think under the leadership of Barack Obama and Hillary Clinton, the generals have been reduced to rubble. They have been reduced to a point where it's embarrassing to our country," Trump said. "I can just see, as an example, Gen. George Patton spinning in his grave."
The Joint Chiefs of Staff who advise Obama are led by Marine Corps Gen. Joseph Dunford, who is the chairman as well as former commander in Afghanistan, as well as Vice Chairman Gen. Paul Selva. The service chiefs are Army Gen. Mark Milley, Marine Corps Gen. Robert Neller, Navy Adm. John Richardson, Air Force Chief of Staff Gen. David Goldfein and National Guard Chief Gen. Joseph Lengyel.
"The fact is we have had the worst, and you could even say the dumbest, foreign policy. Our results are so bad," Trump said.
The real estate mogul and reality television star told forum moderator Matt Lauer that he has a plan for defeating the Islamic State group but that he will not make his plan public. Earlier Wednesday, Trump said as president he will ask generals – perhaps a new group – to draft a second strategy within 30 days that could supplement his secret plan.
"If I win, I don't want to broadcast to the enemy exactly what my plan [is]. If I like the general's plan or I like my plan or a combination … I'm not going to call you up and say, 'Matt, we have a great plan.' This is what Obama does," Trump said.
Trump said the United States failed to capitalize on the earlier ground war in Iraq and should have seized and profited from that country's oil reserves, a suggestion he has repeated on the campaign trail.
"I've always said we shouldn't be there but if we're going to get out, we should take the oil," he said. "You would leave a certain group behind and you would take various sections where they have the oil."
Also, Trump again bucked foreign policy convention and heaped praise on Putin, saying the former KGB officer is a better leader than Obama and that he would forge a close partnership with Moscow to defeat the Islamic State group.
Milley, the Army chief of staff, has named Russia the top conventional threat to the United States. Republicans and foreign policy experts have decried Russia's annexation of Crimea, support for Syrian and Iranian regimes, likely computer hacking in the United States and curbs on press freedom.
"Russia wants to defeat ISIS as badly as we do. If we had a relationship with Russia, wouldn't it be wonderful if we could work on it together and knock the hell out of ISIS?" Trump said.
As Trump laid out brash new plans, Clinton was dogged by questions over her record.
Her use of a private email server during her time as Obama's secretary of state from 2009-2013 consumed one-third of her time on stage in the Intrepid's hangar bay.
Clinton was asked by a retired naval flight officer why servicemembers should have any confidence in her ability to be president after her mishandling of sensitive information. The sailor said he would have been "prosecuted and imprisoned" for not following proper protocols.
Clinton insisted she had sent no classified documents through her private server. The email traffic was investigated by the FBI and strongly criticized, though no charges were filed, and has been the subject of congressional inquiries.
"You know and I know, classified material is designated, it is marked, there is a header so there is no dispute at all that what is being communicated to or from someone that has that access is marked classified," Clinton told the veteran. "And what we have here is the use of an unclassified system by hundreds of people in our government to send information that was not marked. There were no headers, there was no statement 'top secret,' 'secret' or 'confidential.'"
The former senator was questioned over her hawkish position on toppling the government of Moammar Gadhafi in Libya – a U.S. intervention that has destabilized the country -- and was again pressed to admit her vote authorizing the 2003 U.S. invasion of Iraq was a mistake. The vote has drawn criticism from Democrats who opposed the war and Republicans who have grown weary of years of foreign conflicts since 9/11.
A veteran who served as an Air Force intelligence analyst questioned Clinton's "extensive record" of military interventions.
"How do you respond to progressives like myself who worry and have concerns your hawkish foreign policy will continue and what is your plan to end wasteful war campaigns in which our peers, service women and men continue to be killed and wounded?" she asked.
Clinton said as president she would use military force only as a last resort.
"I will do everything in my power to make sure that our men and women in the military are fully prepared for any challenge that they may have to face on our behalf but I will also be as careful as I can in making the most significant decisions any president and commander in chief can make about sending our men and women into harm's way," she said.
Clinton has pledged on the campaign trail to intensify the Obama administration strategy against the Islamic State group in Iraq and Syria by waging more airstrikes and sending more trainers and advisers. At least 4,460 troops are now deployed in the war against the Islamic State group, including special operators fighting on the ground.
But Wednesday, Clinton vowed to avoid another large-scale ground war.
"We are not putting ground troops into Iraq ever again and we are not putting ground troops into Syria," Clinton said. "We are going to defeat ISIS without committing American ground troops."
The forum sponsored by Iraq and Afghanistan Veterans of America served as a preview of how the upcoming face-to-face presidential debate might play out, but it was still unclear how the two candidate's performances will affect voters.
Past Republican candidates have enjoyed a wide advantage among military voters and Trump, despite the widespread controversy his campaign has stirred up, seemed to be continuing that trend this week.
Trump leads Clinton by 19 points among troops and veterans, according to a poll Wednesday by NBC News and Survey Monkey. Of the 3,358 polled, 55 percent said they would vote for Trump and 36 percent said they support Clinton.
"I think we have a traditionally more conservative military. [But] I am surprised by those numbers," said retired Army Maj. Gen. Donna Barbisch, who warned a Trump presidency could endanger troops.
Barbisch, a Republican, was campaigning Wednesday for the Democratic Party and said she will vote for Clinton.
The candidates have so far split general and flag officers who have made endorsements.
Trump announced endorsements this week from 88 top officers — important progress for a campaign that has faced defections by Republicans and opposition from national security experts due to Trump's controversial statements and brash foreign policy proposals, such as abandoning NATO allies that do not pay for military funding.
His endorsements came much more from generals and admirals in the Air Force and Navy, according to an analysis by the McPherson Square Group, a public relations firm with clients that include a liberal veterans group and a Democratic congresswoman.
Clinton has endorsements from 95 top officers. She has won much more support from Army and Marine Corps generals than Trump.
Still, both are disliked by many voters and have fewer endorsements than past candidates. In 2012, GOP candidate Mitt Romney received endorsements from 500 generals and admirals.
---
---
---
---