Trump calls Syrian Kurds 'no angels' as he defends decision to withdraw US troops
---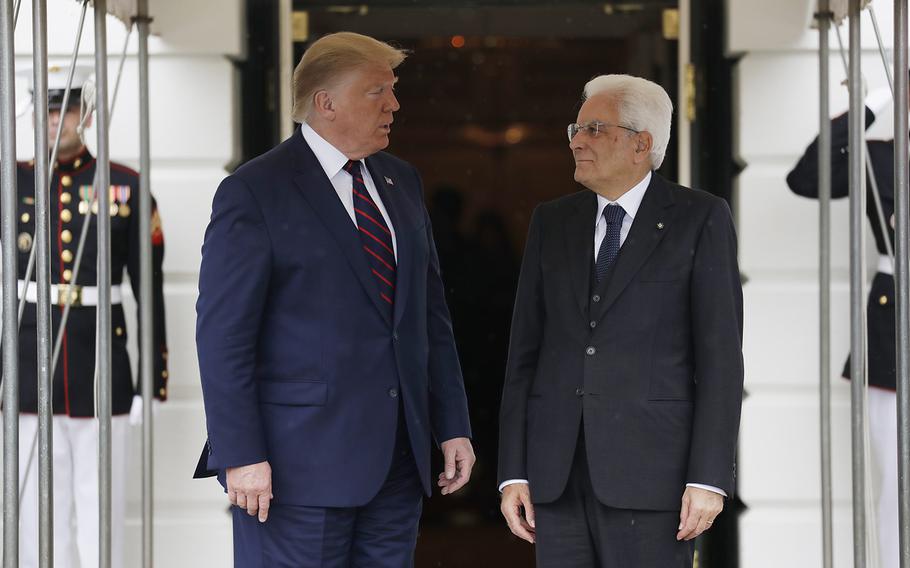 WASHINGTON— President Donald Trump on Wednesday called Syrian Kurds "no angels" as he defended his recent decision to remove American troops from the war-torn country, leaving the U.S. ally to fight off an invading Turkish force.
"We've been a police force. It's time to bring our soldiers back home. That's the way it is," Trump said at the White House during a news conference with Italian President Sergio Mattarella. "We've had no soldiers injured or hurt. That's because I'm president. And we're the boss, just remember that."
After the fall of the Islamic State caliphate in Syria in March, the United States kept military forces in northeast Syria to ensure that the remaining fighters of the terrorist group did not reform. The Kurdish-led Syrian Democratic Forces was instrumental in the fight against ISIS and worked alongside U.S. forces.
For months, there have been about 1,000 U.S. troops operating in Syria carrying out the Defeat-ISIS campaign, with 28 soldiers mentioned by Trump on Wednesday stationed at outposts near the Turkish border.
Those 28 soldiers who were withdrawn from northeast Syria ahead of Turkey's invasion a week ago are now out of harm's way, Trump said. The soldiers should not be there "as two countries fight over land than has nothing to do with us," he said earlier in the Oval Office during a meeting with Mattarella.
But Turkey President Recep Tayyip Erdogan has said the invasion into Syria is an attack on the Kurds, who are considered terrorists by the Turks.
Turkey, a NATO partner, has raised security concerns about the Syrian Kurdish forces, specifically the YPG forces that make up the SDF, near its border. Turkey associates the YPG forces with the Kurdistan Workers' Party, or PKK, which the United States and Turkey consider a terrorist group.
During Trump's meeting with Mattarella, he also wished "a lot of luck" to Syria and Russia, which also have forces into the region where U.S. troops have withdrawn.
Syria has been engaged in a civil war since 2011. The war has killed more than 400,000 and displaced millions, according to the Council on Foreign Relations, a New York think tank. Russian forces have been assisting Syrian President Bashar Assad's forces fight anti-government rebel groups.
"So, if Russia wants to get involved with Syria, that's really up to them…It's not our border. We shouldn't be losing lives over it," Trump said.
Yet Trump said the United States is talking with Turkey about their actions in Syria and has put "massive sanctions" on them to impact their economy.
"Sanctions work frankly better than fighting," he said.
However, Erdogan told reporters Tuesday that Turkey "will never declare a ceasefire" and he was not worried about U.S. sanctions, Reuters reported. Vice President Mike Pence will travel to Turkey with Secretary of State Mike Pompeo to meet with Erdogan about Syria.
In a series of tweets Wednesday, Sen. Lindsey Graham, R-S.C., criticized Trump's statements on Turkey's incursion and abandoning the Syrian Kurds.
"I firmly believe that if President Trump continues to make such statements this will be a disaster worse than President [Barack] Obama's decision to leave Iraq," Graham wrote. "I fear this is a complete and utter national security disaster in the making and I hope President Trump will adjust his thinking."
He also tweeted the statements "completely undercut Vice President Pence and Sec. Pompeo's ability to end the conflict."
The House also banded together for an overwhelming 354-60 denunciation of the U.S. troop withdrawal, The Associated Press reported. Many lawmakers expressed worry that it might lead to revival of ISIS as well as Russian presence and influence in the area — in addition to slaughter of many Kurds.
Mattarella also condemned Turkey's incursion into Syria, saying in just a few days it has "already caused a number of causalities and tens of thousands of refugees and displaced people."
"This is an attack which also has another risk, namely that of offering new space which was unthinkable a few days ago to ISIS and to its criminal terrorist activities in Syria, in the Middle East…also in other continents around the world," he said.
Trump accused the Syrian Kurds of purposely releasing ISIS fighters, thousands of whom have been detained in camps in northeastern Syria, "to make a little bit stronger political impact."
---
---
---
---