Troops to remain at US-Mexico border through 2021
by
Rose L. Thayer
June 25, 2020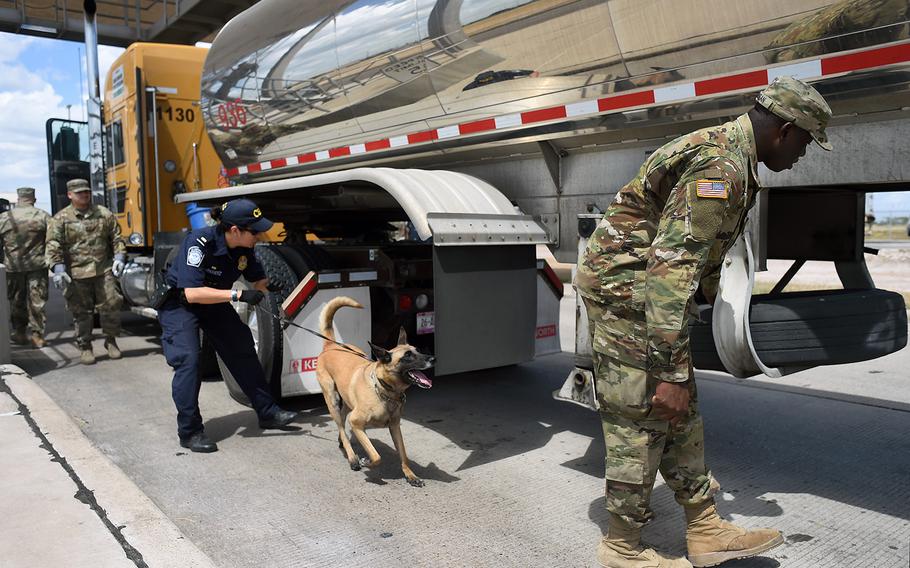 AUSTIN, Texas — Up to 4,000 troops will remain at the U.S. border with Mexico until at least Sept. 30, 2021, continuing the more than 2-year-old mission that has cost the Pentagon nearly $745 million.
Defense Secretary Mark Esper approved the request for assistance from the Department of Homeland Security that puts National Guard and active-duty service members in a support role to U.S. Customs and Border Protection agents at the southern border, Lt. Col. Chris Mitchell, a Pentagon spokesman, said Thursday. This new authorization, which is down 1,500 troops from the previous fiscal year, will take effect in October. Troops will come primarily from the National Guard operating in a federal status known as Title 10, Mitchell said.
"[Defense Department] and DHS constantly review the situation along the border, adjusting requirements as necessary to maintain the safety and security of the American people," Mitchell said in a statement.
As troops have during the last two years, military personnel will provide detection and monitoring, logistics and transportation support, he said.
"Military personnel will not directly participate in civilian law enforcement activities," Mitchell said.
President Donald Trump first ordered National Guard troops to the southern border in April 2018 and added active-duty personnel to the mission about six months later. Since then, numbers have remained at or near the same level.
About 2,600 active-duty personnel and about 2,450 National Guard members are now deployed to the southern border, Mitchell said. An additional 600 active-duty troops also are deployed "to help address [coronavirus] health protection measures," he said.
During fiscal year 2018, when only the National Guard was deployed on the mission, it cost the Pentagon about $103 million. In fiscal year 2019, active-duty personnel were added to deployments and the cost for a full year of support rose to $380.3 million.
In fiscal year 2020, which began Oct. 1, the National Guard has spent about $190.8 million as of April. The active-duty units have spent about $70.5 million as of late March, Mitchell said.
Deployments initially began to support Border Patrol agents as apprehensions along the southern border jumped to historic levels, peaking to more than 144,000 people apprehended in May 2019, according to Customs and Border Protection data.
Since then, the number of apprehensions has continued to decline with a sharp drop from March to April, when about 16,000 people were detained. That drop coincided with the coronavirus pandemic taking hold in America. May saw the first month-to-month increase of apprehensions in fiscal year 2020 with about 21,475 people found crossing between ports of entry along the southern border.
Thayer.rose@stripes.com Twitter: @Rose_Lori