Tricare will now pay for some service members to treat razor bumps with lasers
by
Jennifer H. Svan
December 31, 2019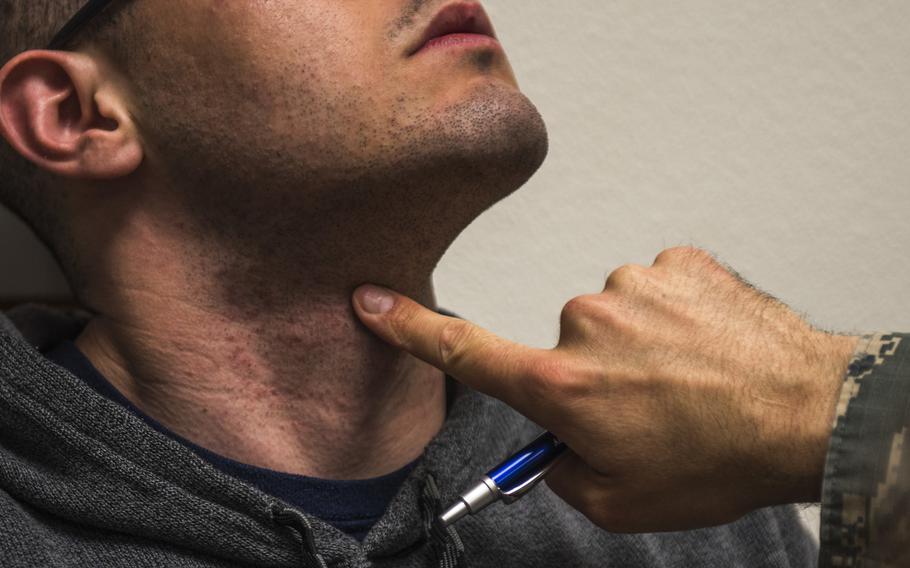 The military's health care system will now pay for some service members with severe razor bumps to receive laser therapy treatment at civilian facilities.
Tricare says it will foot the laser bill for active duty personnel suffering from pseudofolliculitis barbae, or PFB, once skin creams and other conservative treatments have failed.
Laser therapy can be expensive but it's considered the most effective treatment for severe PFB, a persistent irritation most common on the face and neck caused by shaving.
The new Tricare policy was announced in December and first reported by Military.com. It follows the Navy's decision in October to end permanent shaving waivers for sailors, after concluding that facial hair can hinder the effectiveness of breathing mask and respirator seals.
Such problems have led the Army to study alternative systems and others, such as Canadian Defense Minister Harjit Sajjan, a Sikh former soldier who deployed to Afghanistan three times, to develop beard-friendly, hooded gas masks.
To qualify for laser therapy coverage outside the military medical network, service members must work in an environment where breathing protection may be required and laser therapy isn't available on base, according to the policy change, which is backdated to July 17, 2019.
Razor bumps are caused when curly hair curves back into the skin after being shaved, causing inflammation. The condition, which can be painful, affects many African Americans, according to past studies.
The Navy estimates that of more than 337,000 sailors in its ranks, about 6,000 are treated for the condition annually.
Some sailors with the condition previously received a shaving waiver, or "no-shave chit." Under the new Navy policy, sailors are only able to obtain a temporary shaving waiver and must see a doctor every six months if the condition continues.
The Navy says treatment options include the use of medicated creams to make hair easier to shave; shaving with gentle equipment; and shaving techniques to minimize the risk of irritation and hair reentry into the skin.
The service said in October that laser hair reduction "is the most reliable approach allowing a return to Navy grooming standards."
Laser therapy may take up to three to seven sessions to be effective, said a study published in April by the U.S. National Library of Medicine, National Institutes of Health.
The average cost of a laser hair removal session in 2016 was $306, according to the American Society of Plastic Surgeons.
svan.jennifer@stripes.com Twitter: @stripesktown