Training on hold as Air Force unit in Texas assesses cause of Tuesday aircraft crash
by
Rose L. Thayer
September 18, 2018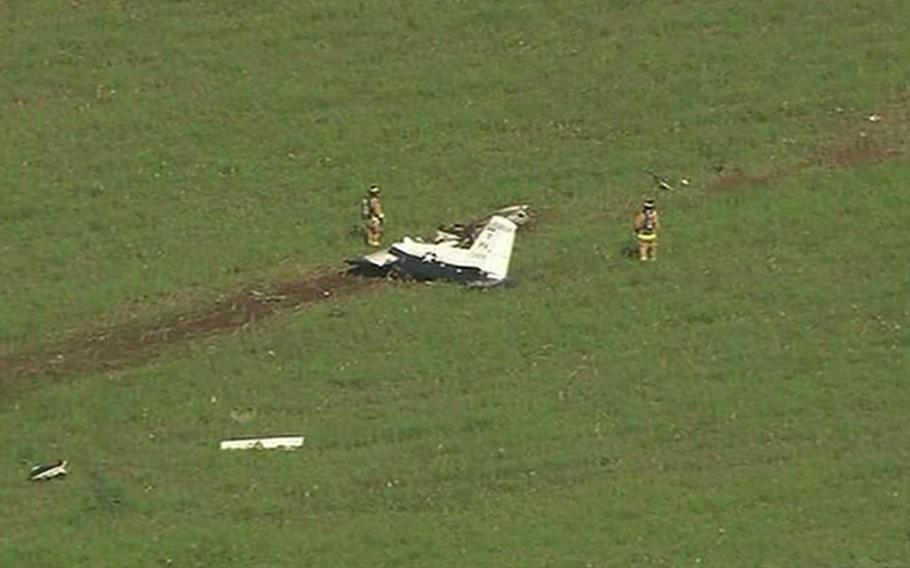 AUSTIN, Texas — Flight training is suspended for an Air Force unit in Texas after one of its aircraft crashed Tuesday afternoon near a shopping mall, according to officials at Joint Base San Antonio-Randolph.
Two pilots, a trainer and a student flying a T-6A Texan II aircraft ejected safely from the plane before it crashed near Rolling Oaks Mall in San Antonio at about 4 p.m. The pilots, who are part of the 12th Flying Training Wing at Randolph Air Force Base, sustained minor injuries and were treated at the scene, about 10 miles from the joint base.
The aircraft was returning to base at the time of the crash, said Randy Martin, a spokesman for the training wing.
Col. Mark Robinson, commander of the 12th Flying Training Wing, suspended the training and will decide when to continue "over the coming hours," according to a news release issued by Randolph Air Force Base. Robinson's decision will be based on initial feedback from the ongoing investigation.
No civilian casualties were reported and damage to property has not been assessed, according to the release. The accident is under investigation. Fire and safety personnel from Joint Base San Antonio, the 12th Training Wing and the local community responded to the crash.
Randolph Air Force Base is located in the northeast corner of San Antonio. It consists of three flying groups and a maintenance directorate. Each year, the 12th Flying Training Wing graduates more than 1,200 instructor pilots and combat systems operators, undergraduate drone pilots and enlisted sensor operators, according to information on the base's website. The wing also trains more than 2,500 U.S. Air Force Academy cadets and 2,200 undergraduate flight training candidates.
This is the third crash of a training aircraft during the last month.
On Sept. 11, a T-38C Talon aircraft crashed shortly after takeoff from Sheppard Air Force Base near Wichita Falls, Texas. Both pilots were in stable condition following the accident, which remains under investigation.
On Aug. 17, another T-38 crashed near Vance Air Force Base near Enid, Okla. The pilot ejected before the crash. The investigation into the incident is ongoing, according to Sheppard's public affairs office.
thayer.rose@stripes.com Twitter: @Rose_Lori