PHOTOS
Thousands wait in Washington rain, heat to bid John McCain goodbye
by
Claudia Grisales
August 31, 2018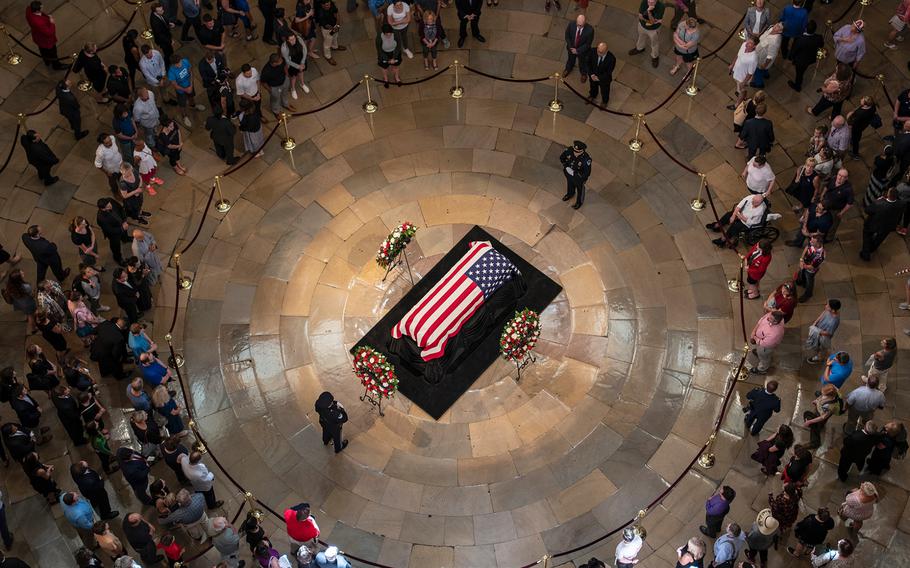 WASHINGTON – Thousands of mourners lined up for hours outside the U.S. Capitol, braving rain and broiling heat, to bid farewell to Sen. John McCain.
They lined up in the dark starting about 5:30 a.m., stood in lines that snaked around the Capitol, faced downpours and subsequent sun and heat, and climbed staircases to get a glimpse of the casket draped in an American flag that held the 31-year senator, former Vietnam prisoner of war and naval aviator.
Finally, at 1 p.m., doors to the Capitol opened to the mourners to pay their respects to the Arizona Republican lying in state in the Senate Rotunda as the Capitol Police Guard of Honor kept watch.
"He spent five years in a POW camp, so we can stand five hours in line," said mourner Paula Malone, 57, of Huntsville, Ala.
McCain died Saturday after a 13-month battle with glioblastoma, an aggressive form of brain cancer. His final year was a political tour de force, railing against President Donald Trump's nationalistic policies, defense budget cuts, wasteful Pentagon spending, a murky shift in war strategy and the non-combat deaths of military servicemembers.
"I, from time to time, found myself on the receiving end of John's distinct brand of candor. Happily so," outgoing House Speaker Paul Ryan, R-Wisc., told a crowd of family, friends and other dignitaries attending a ceremony for McCain's lying in state. "I remember thinking more than once, 'yeah, he really does talk like a sailor.'"
As McCain's condition worsened, he was restricted to crutches, then a wheelchair by late fall 2017. In December, he left the Capitol to continue his cancer fight from his home in Cornville, Ariz.
His family revealed the day before he died that he had discontinued treatment for the cancer.
On Wednesday, his adopted state of Arizona gave him a sendoff that included several ceremonies from the state Capitol and his family's North Phoenix Baptist Church.
McCain's casket arrived to Joint Base Andrews on Thursday evening, which was followed by Friday's lying in state.
In remembering McCain, Ryan quoted author Ernest Hemingway's writings on how "the world breaks everyone, and afterward many are strong at the broken places." He said McCain is one of the bravest souls the nation has ever produced.
"No one was stronger at the broken places than John McCain. The brokenness was his ballast," Ryan said. "He never lost the joy that time can dull, or the edge that political life so often sands away."
On a train from New YorkMark Schivley, 61, an Army veteran from Westchester County, N.Y., lined up Friday morning at 5:30 a.m. to make certain that he could say goodbye to McCain.
Schivley said he began telling family in the wake of McCain's death of his plans to buy an Amtrak ticket and take the train down to Washington D.C. for the lying in state.
Schivley, wearing an Army veteran's cap, stood in the dark, was soaked by rain, and then stood in soaring heat, before he finally made it inside to the Senate Rotunda.
"I wanted to pay respects to the senator," the retired Army captain said. "He was always trying to do the right thing… This is about anybody who has dedicated their lives and served our country."
About six hours after he began waiting in line, Schivley, who made friends along the way as he waited, signed a guest book thanking McCain for his service.
McCain died on the same day that Schivley's father, a Navy World War II veteran, who passed years earlier.
"It's a sad time. Not just with McCain, but with what's going on with the country," Schivley said. McCain's death "shouldn't be politicized and it was politicized."
A daughter and her fatherDaughter Kristina Hoti, 38, of Orange County, N.Y., knew McCain's death was especially painful for her father, a Vietnam War veteran.
So Hoti drove from their New York home to Washington, D.C., with her 71-year-old father, Carmine Garritano, 71, who was drafted into the Army in 1966 during the Vietnam War.
"Dad was hit hard," Hoti said from outside the Capitol building after they viewed McCain's casket. "I'm happy to be here."
As they walked out into the hot sun, Hoti and Garritano were amazed to see thousands more had lined up to see McCain, and how the new lines extended even further than the lines that they stood in earlier Friday.
Garritano said it was important to travel down to the Capitol for the late senator and war hero.
"He was a great American. We owe him a lot," Garritano said. "I wanted to pay tribute to John McCain. He was a great American."
Garritano worn his Veterans of Foreign Wars member cap to Washington since it was the closest thing he had to a military uniform. The viewing in the Senate Rotunda was touching, he said.
"It was solemn," Garritano said of the lying in state. And "very respectful."
'I would have crawled here'Victor Guido, 76, a former plumber who worked at the Capitol Hill complex, told his wife that they had to come to McCain's lying in state.
Guido, who comes from a military family, said he grew up knowing about McCain and his influence at the Capitol and beyond.
Guido and his wife Barbara McLean-Guido, 53, who are from the Washington D.C. area, promptly got in line at 10 a.m.
By the end, the couple was exhausted after making their way through lines for more than two hours. Guido is restricted to a wheelchair.
Still, he was all smiles after the couple was able to make it to the Senate Rotunda to pay their respects.
"I would have crawled here if I had to," Guido said. "I had to be here."
McLean-Guido, a former federal employee, who like her husband has lived in the D.C. area all of her life, said she's never come to any service or ceremony at the Capitol.
But McCain was different, especially for her husband.
"We had to come," McLean-Guido said.
A trip from AlabamaTimothy Malone, 70, a Marine Corps veteran, and Paula Malone, 57, of Huntsville, Ala., have been planning to come to Washington D.C. since McCain revealed his brain cancer diagnosis in July 2017.
Timothy Malone, who wore his veteran's cap to Friday's lying in state, said McCain's death was a shock, and even with the deadly diagnosis, he didn't expect it to happen so soon.
But soon after the news broke of McCain's death Saturday, Paula Malone quickly booked the couple's flight to D.C.
"I'm good at the Internet," Paula Malone said smiling.
She remarked McCain spent five years in a POW camp, so they could handle five hours in a line.
Timothy Malone was emotional after his visit to the Senate Rotunda. He said he had to pay his respects to McCain.
"Last night, I was close to tears," Timothy Malone said in thinking of coming to the Capitol on Friday. The lying in state was "very moving."
He said he voted for McCain when he ran for president, though he disagreed with some of his policies.
"He represents the virtues of America," Timothy Malone said. "The civility, the honor, the courage."
An Army man said goodbye to a Navy manArchie Elam, 63, an Army veteran of Stamford, Conn., once saw McCain give a pep talk to players before the Army-Navy game in 2016.
Elam said McCain's talk with players was memorable, and he continues to hold him in high esteem.
"There were no phones, no cameras," said Elam, who retired as a major from the Army.
The Army-Navy game was a favorite of McCain's, and he attended the annual face-off regularly, extending to his earliest days as a Naval aviator.
Elam, who is director of the West Point Association of Graduates, an alumni group, wore his VFW member's cap, and brought a Navy cap, with hand writing dedicated to McCain.
McCain had worn a similar cap, and Elam wanted to bring one along in turn. The handwritten message thanked McCain for his service.
"It hurts to lose him," said Elam, who drove to D.C. from Connecticut. "We are going to spend years realizing what he did."
Elam said McCain brought courage and influence badly needed around the world, to places where there is conflict and places that have yet to see prosperity like the United States.
"Once in a great while, we get to live in the company of someone who lived the best of what Americans are supposed to be," said Elam, who visited the "Hanoi Hilton" where McCain was a POW in Vietnam. "He was a hero."
grisales.claudia@stripes.com Twitter: @cgrisales