Terrorism, cybersecurity likely to supersede military topics in State of the Union
---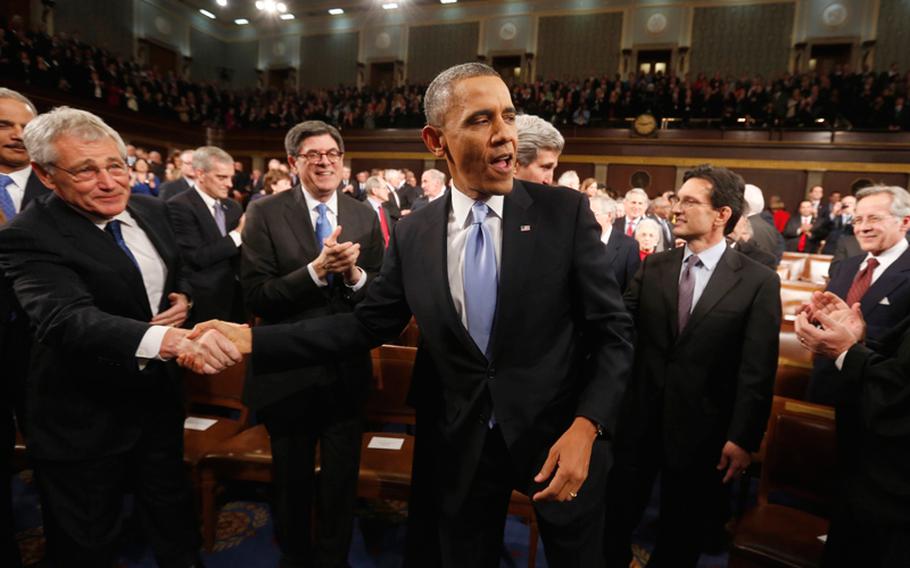 WASHINGTON — Servicemember and veteran groups say looming budget cuts and health care services will be their top concerns when President Barack Obama takes the podium Tuesday night for his State of the Union address.
Caps on federal spending are set to kick in this year and will increase pressure for tough defense budgeting choices, including potential reductions in pay and benefits for troops.
The Obama administration and Congress have also been wrestling with an overhaul of the troubled Department of Veterans Affairs and providing better mental health services for vets.
Groups such as the Military Officers Association of America and the VFW said Friday that they want Obama to show a willingness to compromise on spending cuts and to vow support for veterans' health care struggles.
The White House has been dropping hints in recent days about which issues will be included in the annual speech to the nation, and the president appears poised to focus on cybersecurity, terrorism and domestic civilian issues such as broadband Internet service, paid leave for federal workers and community college tuition.
"I think the president really needs to say some valid things about what the armed forces have done for us over the last year, and that something must be done with sequestration," said Vice Adm. Norbert Ryan, president and CEO of the MOAA, the military officers organization.
Sequestration is shorthand for the mandatory spending caps that Congress has imposed to reduce the federal deficit. After being put off for two years, the caps will return during budgeting this year and set the Department of Defense base budget at $523 billion, allowing a $1.7 billion increase.
Last year, Pentagon brass lobbied successfully for some cuts to troop pay and benefits, citing ballooning costs and shrinking budgets.
The drumbeat for more reductions has been growing louder this month, with warnings to troops by outgoing Defense Secretary Chuck Hagel and mentions of coming debates by lawmakers in the House and Senate.
Ryan said Obama could use the address to signal he will work with Republican majorities in both chambers of Congress to raise the cap on defense spending so personnel cuts are not necessary. The GOP has been discussing modifications or an end to the caps.
It would be a message to servicemembers that the deficit-reduction caps will not come on their backs, Ryan said. "We have to be very careful about the morale and longtime readiness of these troops."
Health careVeterans want to see Obama focus on health care issues.
"The VFW would appreciate hearing support for the VA, which provides an unequaled service to disabled veterans and their families," VFW spokesman Joe Davis wrote in an email to Stars and Stripes.
The department provides health care to about 9 million vets and beneficiaries annually and was engulfed in a scandal last year over long patient wait times and widespread records manipulation. Obama chose new VA Secretary Bob McDonald, who is working to fix the agency and implement a $16.3 billion emergency overhaul passed by Congress last summer.
AMVETS, a veteran service organization, wants the president to voice new support and confidence in McDonald and his ability to turn the VA around following one of its lowest points, said David Gai, the group's national communications director.
"We don't want to see the president stand up and take credit" for progress on the VA, Gai said.
Veterans have also been calling on Congress and the VA to expand its mental health services for hundreds of thousands of troops who served in Iraq and Afghanistan.
A number of bills were filed on Capitol Hill last year attempting to alleviate a suicide rate of 22 veterans per day, including the wide-ranging Clay Hunt SAV Act, which calls for a variety of improvements. It was reintroduced in Congress this month.
Bill Rausch, political director for Iraq and Afghanistan Veterans of America, said the president should reach out to veterans by mentioning the need for mental health services — and possibly supporting passage of the Clay Hunt bill.
"I think the message he could send by mentioning mental health challenges is a powerful message for our community," Rausch said.
Military omission likelyThe presidential address is a showcase of top policy issues for the general American public, and the White House has not signaled that it will discuss more military-centric issues such as troop compensation or veterans' issues.
"I don't think either will make it into the State of the Union. The public doesn't know or understand what is going on with these sorts of things," said Kenneth Gold, director of the Government Affairs Institute at Georgetown University in Washington.
Gold said the president could stake out some ground on the defense budget cap issue and send a message to Congress. But he is likely to come down against lifting or relaxing the imposed limit this year.
Any mention in the speech will likely come as a nod to the importance of domestic and social programs, which the Democrats do not want to see cut to increase the defense budget. Many Republicans see defense as a higher priority.
Obama is likely to talk about cybersecurity following the Sony Pictures hacking incident, progress in easing relations with Cuba and the attack by Islamic fundamentalists on the Charlie Hebdo newspaper in Paris.
"I think that terrorism will be a major one for him as well," Gold said.
---
---
---
---