'Terminal Lance' author returns with graphic novel featuring 'indomitable' Marine hero
by
Matthew M. Burke
October 5, 2020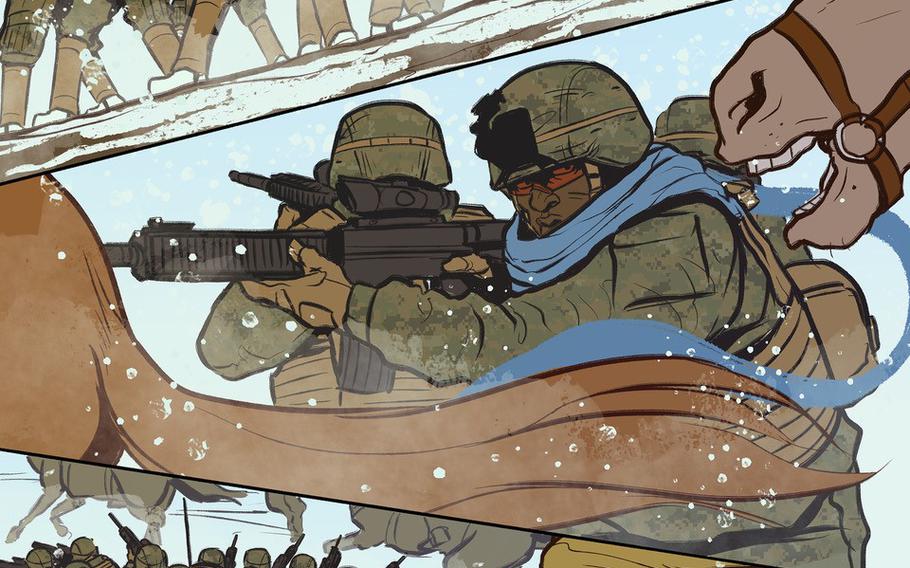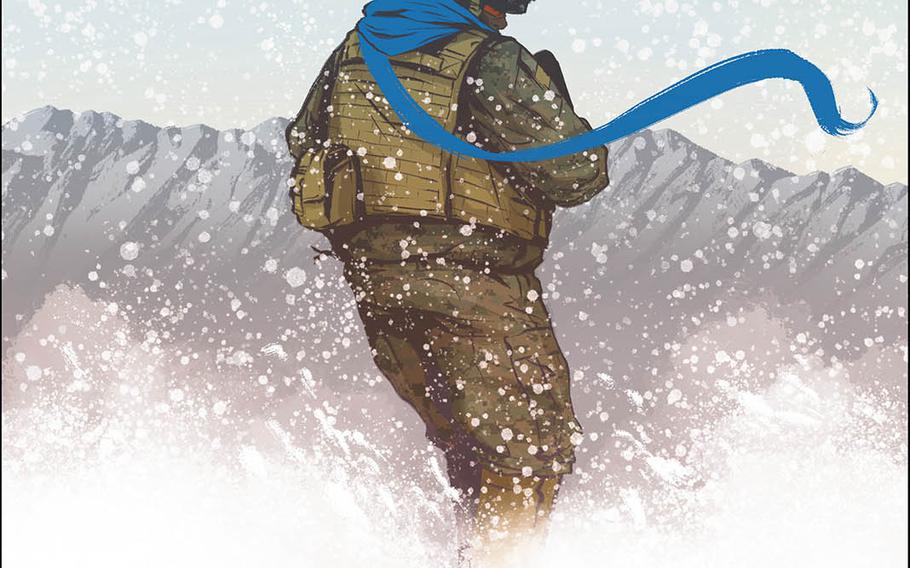 Maximilian Uriarte has spent the past 10 years bringing the realities of Marine Corps service to life.
In 2010, he debuted the comic strip "Terminal Lance," which became a cultural phenomenon, illuminating the humor and daily absurdities of the grunt existence. He became a New York Times bestselling author in 2016 with the release of "The White Donkey: Terminal Lance," a graphic novel examining the realities of war and its effects on the psyche.
Now, the 33-year-old is back with another graphic novel, "Battle Born: Lapis Lazuli," and a new archetype that mines the "indomitable" Marine hero.
"Battle Born" follows the exploits of the sensitive-yet-Herculean, African American squad leader Sergeant King, as he deftly attempts to win hearts and minds in the mountains of Afghanistan while combating the Taliban and the conflict mineral trade. This mysterious new character without a first name also faces issues like racism and sexism within his squad.
Unlike Uriarte's past works, King's anguish manifests itself not in jokes, nervous banter between Marines or the outpouring of emotion, but in blank stares, long silences, a clenched jaw and brute violence. King is roughly based on Robert E. Howard's "Conan the Barbarian," Uriarte said by phone Sept. 15 from his home in Santa Monica, Calif.
"I wanted to create a kind of modern mythical hero like Conan in a contemporary realist setting," he wrote in the book's afterword. "Sergeant King became that character."
The novel is a departure from Uriarte's previous works, which are mostly black and white. Each of its 352-pages pop with rich, vibrant color. There are some sections where mountain landscapes or facial expressions tell the story with no dialogue.
"I really wanted this to be like a purely visual experience," Uriarte said during the phone interview. "I didn't want this to feel like reading a book. I wanted it to feel like you are watching a movie."
Terminal Lance Uriarte's previous works closely mirrored his own journey, he told Stars and Stripes in 2016. He enlisted in the Marine Corps in 2006 at age 19 to gain "worldly experience," which he hoped would inform "better art."
He said he soon began to see flaws in the Corps and in his naive way of thinking. There was very little romanticism to be found sleeping in the mud.
Uriarte put pen to paper and began to satirize the absurdities he was seeing, from green officers to forced motivation, the invasion of political correctness or grooming standards. "Terminal Lance" was born.
He did tours in Iraq in 2007 and 2009. He got out in 2010 and signed a contract with Marine Corps Times. Since then, the paper has run hundreds of Uriarte's "Terminal Lance" comic strips.
Uriarte does not have an active contract with the paper and is the strip's sole owner, he said. The strip also appears on the TerminalLance.com website and its social media platforms.
In 2016, Uriarte self-published "Terminal Lance: The White Donkey." The book sold out of 3,000 copies on Amazon.com after only 36 hours, which led to a publishing deal with Little, Brown and Co.
Lapis lazuli Uriarte came up with the idea for "Battle Born" in 2014 while working on "The White Donkey," the afterword states. He felt artistically compelled to set the book in the mountains, so he began researching Afghanistan's tragic history, looking for potential story angles.
He came across a New York Times article about how the Taliban had taken over large swaths of Afghanistan's Badakhshan province and were funding operations through the sale of the blue, semi-precious gemstone, lapis lazuli, which is found at Sar-i-sang, deep in the mountains.
"People know [the Taliban] make their money from opium and drugs and other illegal activities, but this was kind of a new thing," Uriarte said by phone. "It was gemstones and they had kind of taken over the whole area … I got really intrigued by it."
Uriarte began writing the script in earnest in 2018, he said.
"Battle Born" sees King and a diverse platoon dropped into the mountains outside Sar-i-sang, where they build a combat outpost and begin operations to deter Taliban mining and restore order. Their culture and ideals run headlong into that of the remote local population.
King becomes close with the family of a local village elder, who is then punished by the Taliban. He enacts vengeance while ultimately facing a dilemma over doing the right thing or following the rules.
Uriarte once again captures the feel and banter of a Marine unit and addresses true-to-life social issues through characters like the naive 1st Lt. Roberts, a gay female Marine named Chavez and a Confederate-flag-loving racist named Forrest.
"You're black now," King tells Chavez after explaining that she'll have to work twice as hard to earn the men's respect.
At one point, after the Taliban infiltrate the outpost, King rips the jaw off a Taliban fighter in hand-to-hand combat.
The book was released July 28 and has received positive reviews thus far. Hollywood took notice and "Battle Born" is already in development for a film, Uriarte said.
"The experience of writing the book through the eyes of King had a profound impact on me," he wrote in the afterword. "Rest assured, Sergeant King will return."
burke.matt@stripes.com Twitter: @MatthewMBurke1