Success of Army's increase to basic infantry training fuels more training for armor, cavalry recruits
by
Corey Dickstein
January 25, 2019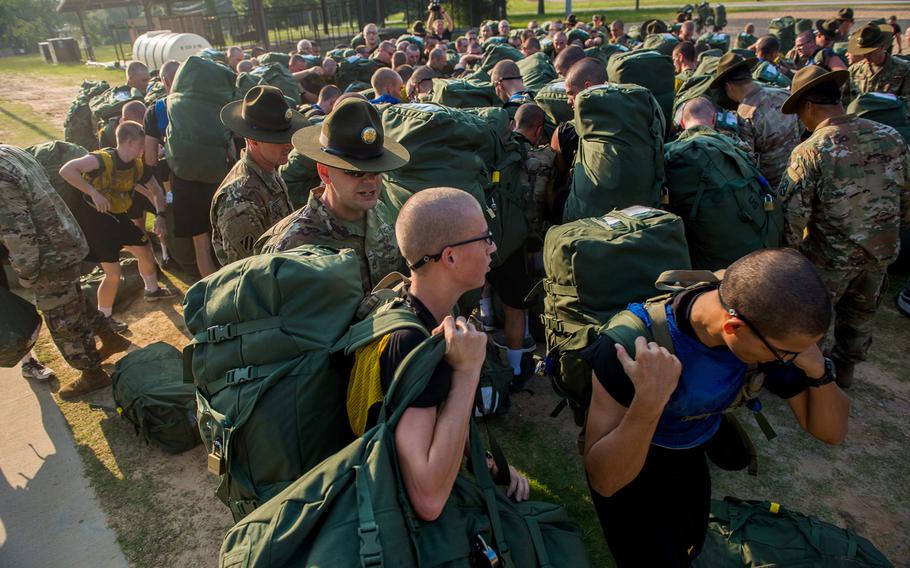 WASHINGTON – Extending basic training by eight weeks was a success for the infantry and the Army plans to test longer training programs for future armor and cavalry soldiers as well, Army Secretary Mark Esper said Thursday.
Esper has signed off on the Army's extension of infantry One Station Unit Training from 14 to 22 weeks after some 400 soldiers last month completed the service's test run of the extended basic training program, he told reporters at the Pentagon. In the fall, the Army will also extend One Station Unit Training for armor and cavalry recruits. Training for combat engineer and artillery recruits is also likely to be extended on a trial basis after those pilot programs are completed, the Army secretary said.
The protracted infantry training pilot program was an overwhelming success, Esper said. Recruits who went through the 22-week program posted higher fitness scores on average than their peers in the 14-week program. Additionally, their dropout rate was less than 6 percent, compared to a typical attrition rate of about 12 percent in the shorter training program, according to the Army.
"And their tactical performance was exceptional," Esper said of the soldiers in the pilot program at Fort Benning in Georgia. "I was very impressed by the results that we found."
He anticipated the pilot programs for armor and cavalry recruits, which will also be conducted at Fort Benning, will be equally as successful.
The changes mark the first major overhaul of the Army's initial entrance training programs since the 1970s, according to the service. Part of the thought process is the extended training provides recruits more time to adjust physically and mentally to Army life, meaning soldiers will be better prepared for battle as soon as they join their first units, Army officials have said.
The new infantry program extends the amount of time that soldiers spend training on weapons, including the M4 rifle, the M240 machine gun and the M249 squad automatic weapon. It also adds specific vehicle training, combative training, a 40-hour combat-lifesaving course, a combat water survivability test and more time conducting land navigation, according to the service.
Moreover, the new program provides recruits more time with their instructors. For the pilot program, the Army decreased the recruit-to-drill sergeant ratio from more than 20 to one to about 12 to one. Esper said the service is working to move more noncommissioned officers into drill sergeant positions to support better ratios across all of its recruit training programs.
"That personal attention, the extended time they have to bring their physical fitness up – it's really all proved itself out," he said. "Depending on how [the additional pilots programs] prove out we will likely make that [extended training] par across the entire Army."
dickstein.corey@stripes.com Twitter: @CDicksteinDC
---
---
---