2013 IN REVIEW
Stripes' most watched videos of 2013
by
Toshio Suzuki suzuki.toshio@stripes.com
December 19, 2013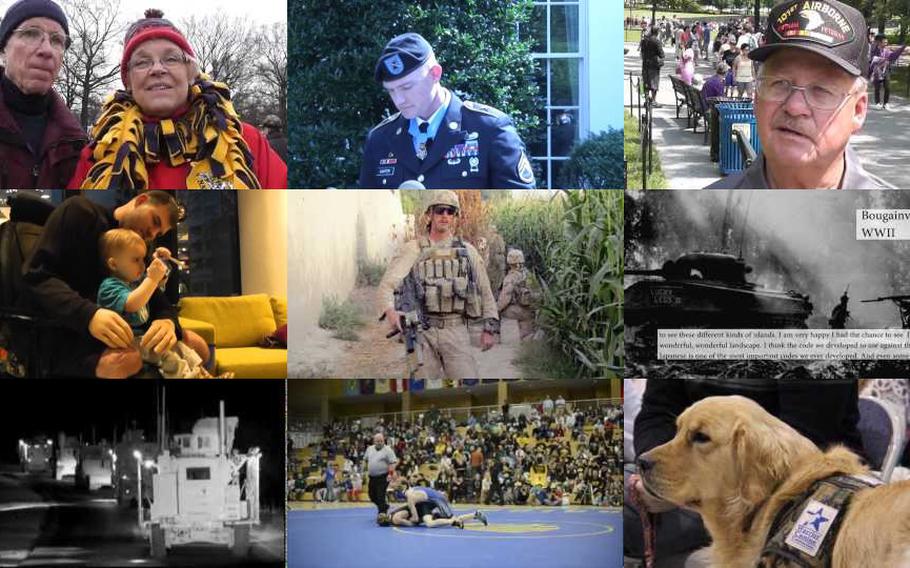 Stories about veterans, both living and departed, dominated Stars and Stripes' list of most watched YouTube videos for 2013.
Stripes' YouTube channel produced over 200 videos in 2013 from bureaus in the U.S., Europe, Pacific and Afghanistan, but only a few can make the most watched list. And with over 1.5 million views accumulated for the channel, not every video topic can be represented.
Besides the Top 10 most popular videos below, Stripes staffers took their cameras inside a Shia mosque for holy day prayers in Afghanistan, on a Navy riverine boat for shooting practice in the Persian Gulf, and on a 'full ruck' 18-mile hike in Germany – just to name a few.
There were also noteworthy interviews not on the list below: Stephen King speaking at Ramstein Air Base; Navajo Code Talker Chester Nez telling his tale of bravery; and a survivor of the Great Tokyo Air Raid commenting on the ramifications of war.
Enjoy the collection and thanks for watching:
--Wreaths Across America, published Dec. 14, 2013, with 4,000+ views: Organization delivered more than 143,000 wreaths with the help of more than 30,000 volunteers to Arlington National Cemetery.
--Travis Mills, quadruple amputee carries on in hope, published April 5, 2013, with 4,000+ views: On April 10, 2012, Staff Sgt. Travis Mills stepped on an IED in Afghanistan. He lost four limbs but not his will to live.
--Representative Michele Bachmann taunted by DC resident at National World War II Memorial, published Oct. 2, 2013, 4,000+ views: A day after hundreds of tourist veterans took over the closed down World War II Memorial in the heart of the Nation's Capital, the United States Park Police announced that planned Honor Flight visits to the monument are considered "First Amendment activities," which are allowed regardless of the government's operating status.
--Crafting body parts with 3D printing, published July 17, 2013, with 4,000+ views: At the Walter Reed National Military Medical Center, custom prosthetic attachments, cranial-facial implants and surgical models are constantly being churned out, layer by layer, in an additive manufacturing process commonly referred to as 3D printing.
--Vietnam veterans get stirring reception in D.C., published on Aug. 9, 2013, with 4,500+ views: More than 100 Vietnam Veterans were treated to some rousing receptions as special guests on an Honor Flight tour to Washington, D.C., on Aug. 2, 2013.
--Former Army Staff Sgt. Clinton Romesha remarks after MOH ceremony, published Feb. 11, 2013, with 6,500+ views:
--Heroes 2013: Ordinary people or something more?, published June 13, 2013, with 9,000+ views: For the men and women taking part in Operation Enduring Freedom in Afghanistan, each day brings the possibility for tragedy or victory, death or heroism. They are not mutually exclusive, and often a single instant produces them all. These themes run through the pages of the ninth edition of Stars and Stripes' annual Heroes special section.
--U.S. Marines in Jordan, published June 18, 2013, with 12,000+ views: U.S. Marines assigned to the 26th Marine Expeditionary Unit go on joint patrol led by the Jordanian army. With a civil war raging in Syria that threatens the security of the entire region, these Marines are participating in Eager Lion, a 12-day multinational annual exercise in Jordan as uncertainty with the civil war raging neighboring Syria looms.
--Veterans storm barricaded WWII memorial, published Oct. 1, 2013, with 30,000+ views: All it took was a pair of scissors to cut through the police tape which was part of the barricade preventing entry into the World War II Memorial in Washington, D.C.
--Army Staff Sgt. Ty Carter gives his remarks to the press outside the White House after receiving the Medal of Honor, published Aug. 26, 2013, with 160,000+ views:
suzuki.toshio@stripes.com Twitter: @ToshJohn